Gunkholing with Gizmo: Scarborough Marsh
Gunkholing with Gizmo: Scarborough Marsh
By Ben Ellison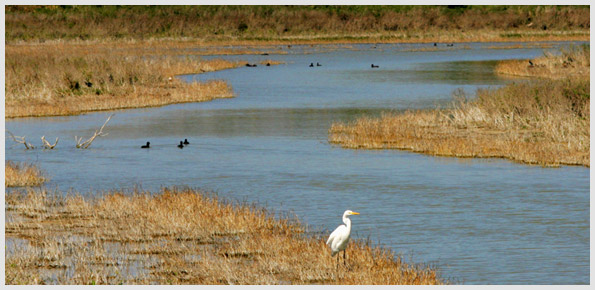 Visible from busy Route One, yet a sanctuary for wildlife and visitors.
Photo courtesy U.S. Dept. of Fish & Wildlife/Steve Hillebrand
I suppose every sprawl-weary driver experiences a moment of relief when they cross the Dunston River (1) on Route One. This large sweet spot along Maine's bustling south coast is a meander of the vast Scarborough Marsh Wildlife Management Area. The day I visited by boat, I fantasized that the snowy egret standing on the grassy clay bank had a message just for me, something like: "Relax, bro, you've almost arrived into 3,100 fecund and peaceful acres inhabited nearly exclusively by creatures that swim, fly, or use small boats." Sure enough, I learned right off at the Audubon Center (2) that these striking birds—once nearly extinct and still quite rare in Maine—are considered the symbol of the marsh's special habitat. That habitat comprises a full 15 percent of all the salt marsh in Maine and hosts our "highest diversity of water-dependent bird species." Aside from a short trail, the center offers canoe rentals, with or without guides, and a public launching area. The marsh is limited to paddle craft only until you get down to the handsome footbridge that's a literal high point along the Eastern Trail (3), an ambitious project that one day may host hikers and bikers from Kittery to Portland. This section, obviously built on an old railroad bed, was one of the first to be opened and is understandably popular.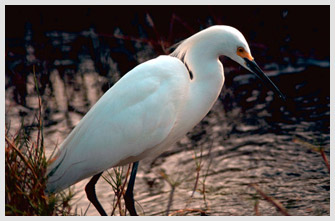 The snowy egret has made a comeback in Maine.
Photo courtesy U.S. Dept. of Fish & Wildlife/Gary M. Stolz
The Scarborough River Wildlife Sanctuary (4), higher and more wooded than most of this area, has some nice views of its namesake, which like all the "rivers" in the marsh is actually a tidal estuary. However, for reasons unknown, the pertinent nautical chart greatly exaggerates the extent of the low-tide flats. Scarborough Harbormaster David Corbeau reports that a small boat could motor all the way to the Audubon Center regardless of tide, if that were allowed (it's not) and "if you know where you're going." The same navigational possibility also applies to the Nonesuch River, at least as far as the well-appointed Clay Pits Road public landing (5), though more than mid-tide is needed to use the trailer ramp there. While the rougher Seavey Landing Road (6) and Ferry Beach (7) ramps are similarly tide constrained, the Pine Point public landing (8) has dual all-tide ramps along with ample parking and a substantial dock. This busy facility also has guest moorings and short-term dockage for passing cruisers that want to sample the local seafood or the big ocean beach, though the harbor and approaches are tight for anything much bigger than a lobsterboat. See last issue's look at Prouts Neck (9), (
click here to view Gizmo: Prouts Neck
), for alternative mooring possibilities, or call the good Mr. Corbeau (207-671-2821) for advice. Thanks to shifting sand and muck, the Scarborough River and Marsh are not nearly as stable as most of Maine, but that is part of what makes them such a happy place for fish, birds, and small craft.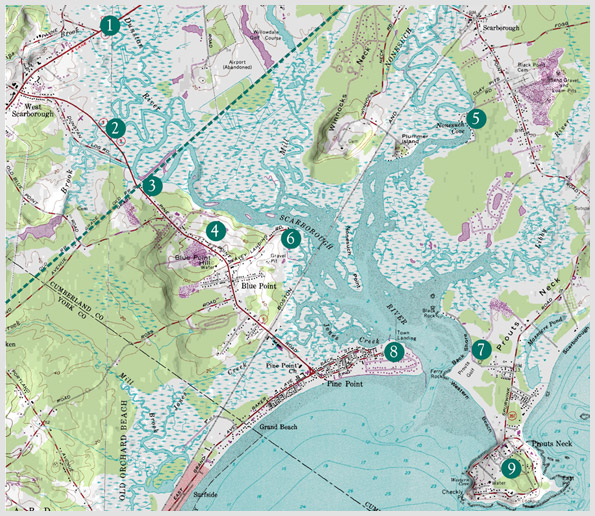 Charlet Key:
2)
Maine Audubon Scarborough Marsh Center
(207-883-5100) 3)
Eastern Trail
4) Scarborough River Wildlife Sanctuary
http://www.scarboroughcrossroads.org/sos/index.html
http://www.scarborough.me.us/commserv/trails/maps.html
5)
Clay Pits Boat Ramp
6) Seavey Landing Road launch ramp 7)
Ferry Beach launch ramp (and public beach)
8)
Pine Point Public Landing, Scarborough Harbor Master David Corbeau
(207-671-2821) 9)
Prouts Neck
Other Resources:
Friends of Scarborough Marsh:
http://www.scarboroughcrossroads.org/marsh/index.shtml
Scarborough Wildlife Management Area:
http://www.maine.gov/ifw/wildlife/management/wma/region_a/scarborough.htm
Birding in Scarborough Marsh:
http://www.mainebirding.net/birdsites/scm
Chart: Ben Ellison, based on the 1:24,000 Saco topo map, 3D by Memory Map



Share this article:
2023 Maine Boat & Home Show

Join Us for the Maine Boat & Home Show!
Art, Artisans, Food, Fun & Boats, Boats, Boats
August 11 - 13, 2023 | On the waterfront, Rockland, Maine
Click here to pre-order your tickets.
Show is produced by Maine Boats, Homes & Harbors magazine.