Maine Events - February 2009
This month:
February 4, 2009: Portland
Wine & Beer Tasting/Silent Auction to benefit Maine Children's Cancer Program
Attend this annual tasting and silent auction and lend your support to the Maine Children's Cancer Program. Sportscaster Lee Goldberg emcees and Steve DiMillo donates a wonderful buffet of finger foods, a carving station and much more. A diamond surprise is sponsored by Day's Jewelers and Nappi Distributors provides a great opportunity to try some wines and beer and bid on unique items, all for a good cause. $25. 5:00 - 8:00 pm. DiMillo's Floating Restaurant, Commercial Street.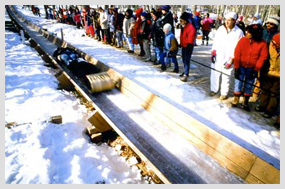 National Geographic will be documenting the
2009 Toboggan Championships.
February 6 - 8, 2009: Camden
19th Annual U.S. National Toboggan Championships
The 19th annual U.S. National Toboggan Championships is still seeking sponsors as organizers prepare for this year's races at the Camden Snow Bowl. A unique tradition in Maine, and the only official, traditional wooden toboggan races in the country, the U.S. National Toboggan Championships are geared up for some gorgeous Maine winter weather, which will undoubtedly yield fast racing times and plenty of enthusiastic spectators. Annually a sell-out for the 400 available team slots, the Toboggan Nationals also bring approximately 5,000 fans to the area for the two days of racing, with Friday's prep day a local business boon for those traveling to the Midcoast from out of the area. Consider acknowledging the Toboggan Nationals this year by joining the team and being a sponsor at some level. For more info, contact Holly Anderson at
holly@villagesoup.com
or 207-542-9149. Register online at
www.camdensnowbowl.com
.
February 7, 2009: Camden
Winter Ecology Festival at Merryspring Nature Park
Sponsored by the Mid-Coast Audubon, this winter festival offers dog sled demonstrations, live owls, Maine mammals, birds, bird feeding, hot drinks and refreshments throughout the day. A free event for the entire family, contributions welcome.10:00 am - 3:00 pm. Call 207-338-5675 or 236-2239 for more information.
www.merryspring.org
February 7, 2009: Bath
Starlight Cafe Benefit Breakfast for Pine Tree Society
Starlight Café will be hosting a Project Breakfast to benefit Pine Tree Society with a portion of the proceeds going to help support their mission to provide Maine children and adults with disabilities the opportunities and the means to create better lives for themselves and their families. Pine Tree Society helps Maine people lead richer, more socially connected lives while sharing a spirit of innovation and desire to discover new ways to break down barriers that many find insurmountable. It started as a bold new idea in 1936 and it continues today. Be sure to join the fun at the Café in downtown Bath, 15 Lambard St. Breakfast tastes even better knowing that you are supporting a great cause. 7:00 am - 2:00 pm. For more information, visit
www.pinetreesociety.org
.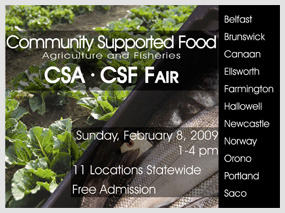 February 8, 2009: throughout Maine
Attend a CSA Fair in your community and learn about CSAs, become acquainted with local seasonal foods, buy a share in a farm's weekly harvest, and discover how you can grow a relationship with a Maine farm. 1:00 pm - 4:00 pm at participating locations. For more information, email mofga@mofga.org. 207-568-4142; Click here for more information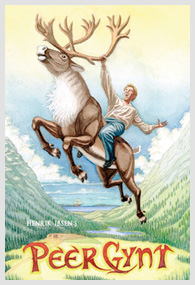 Henrik Ibsen's Peer Gynt

through February 22, 2009: Portland Henrik Ibsen's "Peer Gynt" Portland Stage partners with nationally renowned, Figures of Speech Theatre, to present a breathtaking journey of folklore and imagination. Peer Gynt, a charmer, rogue, and storyteller, chases adventure from his home in Norway to troll caves, oceans, and the African desert. Actors, puppets, and shadows magically weave together to animate Peer's search for answers to life's biggest questions. $13-$36. Portland Stage Company, 25A Forest Ave. 207-774-0465; www.portlandstage.com February 11, 2009: Bath Downeast Shipmodelers' Guild Downeast Shipmodelers' Guild meets at Maine Maritime Museum's Education Building at 6:30 pm on the second Wednesday of each month. The club, comprised of amateur and professional modelers, has met at the Museum since 1994. Meetings feature a demonstration of modeling techniques, a speaker or "show and tell" of current projects by Guild members. All skill levels and modeling interest are welcome, including traditional "admiralty" style, rigged models, plastic models, half-hull models, radio controlled pond yachts and powerboats. Come check out some great models and meet some great model builders.6:30 pm. 229 Washington Street. For more information, contact Tad Lyford at 207-443-1316 ext. 339 or lyford@maritimeme.org.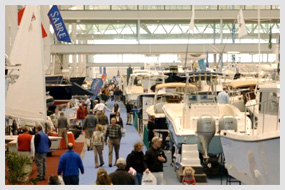 The New England Boat Show

February 14 - 22, 2009: Boston 2009 New England Boat Show The New England Boat Show is held annually at the new, state of the art, Boston Convention & Exhibition Center, with more than twice the available space of any other exhibition hall in the state, this is truly an event that the boating enthusiast will not want to miss. The show combines over 500,000 square feet of exhibit space and ceiling heights to over 90 feet with powerboats and fully rigged cruising sailboats up to 50 feet, as well as over 350 exhibits of marine accessories and it's an easy day trip from anywhere in New England. 415 Summer St. http://naexpo.com/boatshow/flash_hompage.html through April 19, 2009: Bath The Sea Within Us: Iconically Maritime in Fashion and Design The Sea Within Us : Iconically Maritime in Fashion & Design will explore the connections between the historical artifacts in the collection to modern objects and everyday aspects of culture, that transform and exploit the symbolism, design, and utility inherent in the maritime world. Included in The Sea Within Us will be a display of apparel, from never-before exhibited naval uniforms and the 19th and 20th century, womens' and children's-wear that was inspired by them, to present-day fashion trends that owe their 'look' to the maritime world, including an major loan of early and contemporary Jantzen swimwear. www.mainemaritimemuseum.org February 14, 2009: Freeport Love at First Sip: A Valentine's Day Wine Tasting Fundraiser Come celebrate an evening of romance at Freeport Cabaret with a fundraiser for Hour Exchange Portland. Ticket holders will enjoy a flight of wine tasting with light appetizers and a musical performance by nationally-acclaimed acoustic guitarist, David Bullard, at 6:00 pm. 5 Depot Street. www.thefreeportcabaret.com February 15, 2009: Bethel Sugarloaf hosts Maine Ski Heritage Classic Maine skiing & snowboarding kicks of the February vacation week with the first annual Maine Ski Heritage Classic at Sugarloaf. This fundraising event will benefit the Ski Museum of Maine, located in Farmington, whose mission is to is to preserve and publicize the business of skiing in Maine, while celebrating Maine's ski history and heritage. Glenn Parkinson, author of Maine's ski history book, First Tracks, and a group of skiers will bring Maine ski history to life as they use vintage ski equipment and dress in period ski outfits. The Classic Equipment and Clothing "exposition" will take place at the base lodge from 2:00 - 3:30 giving skiers and riders a chance to see the equipment that sparked the sport from the 1930's. Glenn's vast knowledge of the sport's history will provide insight to the major innovations that have taken place along the way. Inside the Base Lodge, the Ski Museum's traveling display titled "patches and pins" will intrigue young and old enthusiasts with designs from new and old Maine ski areas. The Maine Ski Heritage Classic event moves to the Sugarloaf Hotel for an Apres Ski Fondue Party and fundraising auction from 4:00 - 6:00 pm. www.sugarloaf.com/Events/Calendar/Maine_Ski_Heritage_Classic_.html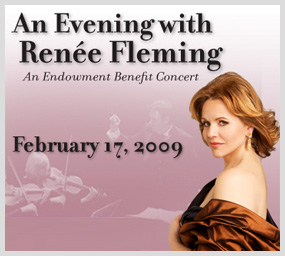 Soprano, Renée Fleming

February 17, 2009: Portland Portland Symphony Orchestra presents An Evening with Renée Fleming At a once-in-a-lifetime event, superstar soprano Renée Fleming, who charms audiences with her performances throughout the world, makes her Maine debut with the Portland Symphony Orchestra (PSO) for their first endowment benefit concert. The PSO's endowment provides financial security for the PSO's concert and education activities, and acts as a safety net especially during fluctuations in the economic climate. The event will be held at Merrill Auditorium at 7:30 p.m., with a Concert Conversation, in partnership with PORTopera, in the Rehearsal Hall at 6:15 p.m. Tickets to 'An Evening with Renée Fleming' range from $65 to $140 and are available through PortTix at 207-842-0800 or www.porttix.com. Tickets may also be purchased in person at the box office at 20 Myrtle St., Monday through Saturday, noon to 6 p.m. For complete season information, including artist biographies and program notes, visit www.portlandsymphony.com.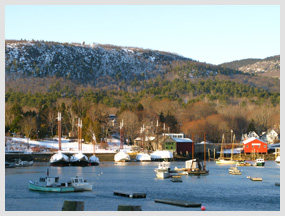 The Camden Conference, Feb 20-22.

February 20 - 22, 2009: Camden 2009 Camden Conference The 22nd Annual Camden Conference, "Global Leadership and the U.S. Role in World Affairs", is the three-day highlight of the conference year, which takes place the third weekend in February at the Opera House in historic downtown Camden. The Conference believes that a public educated about and concerned with world affairs is critical in this environment. Held each February since 1988, The Camden Conference provides an opportunity for experts and interested individuals to share concerns and expertise on a range of global issues. 207-236-1034; www.camdenconference.org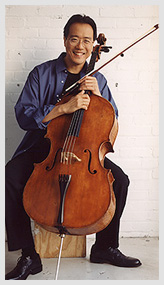 Yo-Yo Ma

February 26, 2009: Portland Yo-Yo Ma performs at Merrill Auditorium PCA Great Performances proudly presents the peerless musicianship of one of the most treasured, accomplished, and beloved artists in history. Yo-Yo Ma's multifaceted career is a testament to his exploration of music as a means of communication, personal renewal, and artistic growth. This will be Yo-Yo Ma's seventh performance with PCA Great Performance. $35, $55, $80. 7:30 pm. 20 Myrtle St. pcagreatperformances.org February 28, 2009: Portland Going Nowhere Fast Corporate Challenge Indoor Triathlon The Cumberland County YMCA will be holding its inaugural "Going Nowhere Fast" Indoor Triathlon Corporate Challenge where competitors will be competing against each other in a heated swimming pool, on treadmills and stationery bikes. Going No Where Fast is open to up to 15 corporate teams or corporate-sponsored teams of three. Held at the Portland branch of the YMCA, this indoor triathlon is designed to increase awareness of the work the Y does that most people are unaware of, as each year the Cumberland County YMCA spends about $600,000 on scholarships to allow children and families that could not normally afford to use the Y's facilities and services, the opportunity to do so. These include the opportunities for children from low income families to experience summer camp and also Y's adaptive services program which helps people with disabilities lead a more active life. All participants in the challenges will receive event t-shirts, and the winners take home a trophy plus the chance to win tickets to the Y's major inaugural corporate fund raising dinner to be held this coming summer. $50 per team of three. 8:00 am. 70 Forest Ave. More information at 207-874-1111 ext. 112 --- Events compiled by Nadine Gallagher. To send us details on an event for possible inclusion, e-mail a short description to: events@maineboats.com. Submissions may be edited for length and clarity.