Schooner chef pens new cookbook
Schooner chef pens new cookbook
Wednesday, November 30th 2016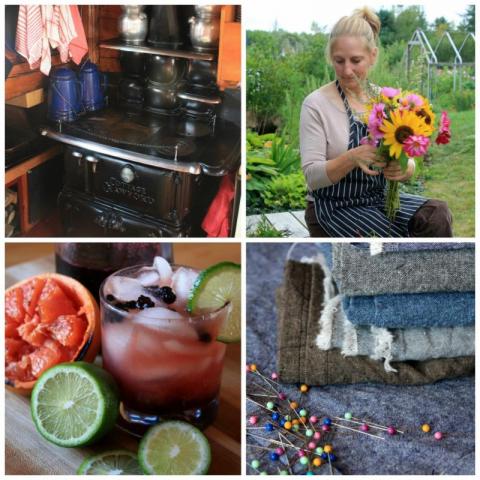 Maine Chef Annie Mahle has added a new cookbook to her Sugar & Salt series. Sugar & Salt: A Year At Home and At Sea - Book Two is the second in a series of cookbooks featuring a collection of recipes, crafts, thoughts, and stories from Chef Annie's adventurous life on the coast of Maine. More than just a cookbook, Sugar & Salt is a story of a lifestyle that is seasonal and sustainable.
"In Sugar & Salt I share more memories, stories, and recipes that are inspired by my life on the coast of Maine," said Mahle. "Whether it's through my cooking, crafts, or gardening, I'm always creating, and I hope that this book will be a inspiration for the reader."
Mahle has two kitchens from which she nourishes her guests and family. One is a floating restaurant and bed-and-breakfast that sails as a Maine windjammer all summer long, the Schooner J. & E. Riggin. The other, her home in Rockland, Maine, is the place where she cooks for her family of four and welcomes guests year-round.
Organized month-by-month, Sugar & Salt takes you through Mahle's busy and creative life, from winter crafting projects like a knit ball jar cozy to garden roasted vegetables to early mornings around the table of the J. & E. Riggin with coffee and Pecan Orange Sticky Buns. The cookbook includes a variety of hearty recipes including Coffee, Cocoa, and Guajillo Pepper Pork Loin with Brandy Cream Sauce; Brown Butter Maine Scallops with Lemon Pan-Seared Green Beans; Chocolate Ganache Cheesecake; and Broiled Brown Sugar and Black Pepper Grapefruit. Mahle started working on windjammers as a mess cook and quickly developed a passion for cooking. She has spent the last 25 years working and learning, graduating from mess cook to head cook on the windjammers to private chef on a Caribbean yacht. She further developed her skills at the Culinary Institute of America and as a sous chef to classically trained Swiss chef Hans Bucher. She currently owns and operates the Schooner J. & E. Riggin with her husband, Captain Jon Finger. Her cooking, recipes, and cookbooks have been highlighted on the Today Show and Throwdown with Bobby Flay. She was also a food columnist for the Portland Press Herald and Maine Food and Lifestyle. Her food and the J. & E. Riggin have been featured in dozens of national media outlets, including the Food Network, Traditional Home Magazine, Fodor's, Family Circle, Women's Day, Boston Globe, and Maine Boats, Homes, and Harbors. Yankee Magazine has twice named the Riggin one of the "Top 10 Places to have Dinner with a View in Maine."
For more information on Sugar & Salt: A Year At Home and At Sea - Book Two or Mahle, please visit www.mainewindjammer.com/sugar-salt