MB&H Show - Exhibitor Information
MB&H Show - Exhibitor Information
The Annual Maine Boat & Home Show is typically held the second weekend of August. Gates open at 10 a.m. daily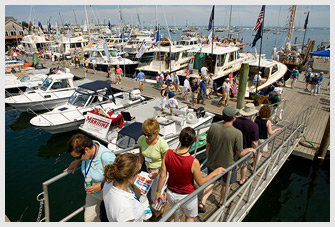 The docks at the annual MB&H show:
lined with fine boats, both power and sail.
With boats in the water, boats on land, furniture makers, fine artists, high-end home builders, and sustainable-energy experts, the annual Maine Boat & Home Show highlights essential components of life on the coast. Products reflect classic and timeless designs that are durable, practical, and beautiful. A corps of committed exhibitors has turned this show into the largest in-water collection of boats ever assembled in Maine. Interested in exhibiting? If you'd like to exhibit, we'd love to talk with you. Give us a call at 207-594-8622 or click on the request button below to submit your information and we will call you.

For preliminary information, click on the links below:
Already signed up? If you have already signed up here are some quick links to information. You can also visit the pre-show section for information on preparation and on how to make your experience at the show a success.

Market Yourself: Download show logos to help spread the word for people to visit you at the show.