Heidi and Cabot Lyman receive CCA award
Heidi and Cabot Lyman receive CCA award
Monday, February 27th 2017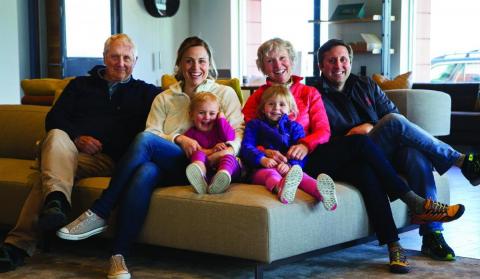 Cabot and Heidi Lyman, founders and owners of Lyman Morse Boatbuilding in Thomaston, owners of Wayfarer Marine in Camden, and of the 250 Main Hotel in Rockland, have been chosen to receive the Cruising Club of America's Far Horizons Award for 2016, the club announced this week.
The award recognizes a member CCA for "a particularly meritorious cruise or series of cruises that exemplify the objects of the Club as stated in its Constitution." It will be presented at the CCA's annual Awards Dinner at the New York Yacht Club in New York on March 3, 2017.
In 1987 Cabot and Heidi, with their three young boys (Drew, Zach and Alex) slipped out of Thomaston, Maine in their Seguin 49, Chewink, built by Cabot at his Lyman Morse boatyard, and shaped a course down the coast to Annapolis. Thus commenced their three-year, 30,000 nm circumnavigation.
After enjoying Puerto Rico and San Blas, Chewink transited the Panama Canal to cross the Pacific via the Galapagos, the Marquesas plus the usual Pacific Islands on the way to New Zealand. The Lyman family paused in New Zealand and Australia to do local schooling for the boys and undertake some extensive inland travelling. Their course on leaving Australia took them to Bali and other Indonesian ports before pushing across the Indian Ocean to South Africa.
Leaving Cape Town, they crossed the South Atlantic, with a stop at St. Helena and the Archipelago de Fernando de Noronha off the coast of Brazil. Leaving Brazil, the Lyman family enjoyed the Eastern Caribbean on the return north to Thomaston, Maine.
By 1999, Cabot and Heidi were eager to return to the Pacific. Back south they went, through the Panama Canal and on to New Zealand, visiting some new and familiar islands on the way.
Thereafter, they sailed off and on throughout the Pacific until 2005 when Chewink finally enjoyed a ride on someone else's bottom back to Panama. They returned to Maine in the early summer of 2006. For the last nine years the Lymans have enjoyed a slow navigation of the Caribbean Basin. To date the Cabots have sailed Chewink over 95,000 nm. Together, they have sailed approximately 150,000 nm.