Grants will fund dock improvements at two Maine marinas
Grants will fund dock improvements at two Maine marinas
Tuesday, April 9th 2019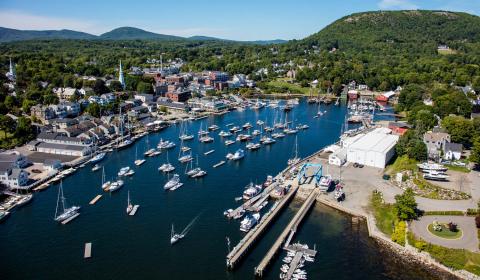 Lyman Morse at Wayfarer in Camden and Dimillo's Old Port Marina in Portland each have received $1.5 million in grants for infrastructure improvements, including expanded dock systems, U.S. Sen. Susan Collins announced this week. The grants were made through the U.S. Fish and Wildlife Service's 2019 Boating Infrastructure Grant program.
 Lyman Morse, partnering with the Maine Department of Transportation, was awarded funds to construct and install a 120-foot fixed pier, a 334-foot wave-attenuating floating dock, a 579-foot floating dock, and 16 slips for other transient vessels, providing a total of 2,000 linear feet of new dockage for eligible transient boaters. The company has said that these upgrades will help to make Camden a destination for boat repair and service operations and strengthen employment opportunities for the local workforce.
DiMillo's Old Port Marina, also partnering with MaineDOT, will use its grant to rejuvenate the marina with safer, wider, deeper, and sturdier docks, along with expanded conduits for utilities and fuel, a new fuel tank, lines, dispenser and payment pedestal, replacement pilings, 3-phase power and an ADA-compliant ramp.  This project will also expand the west side of the marina, providing two additional 75-foot berths and 70 feet of additional lateral dockage.
Lyman Morse President Drew Lyman said the company has three years to implement the project and is still working out the detail with the town of Camden.
"We're still working out what it would look like," he said. "But the initial plan is to add the docks and infrastructure adjacent to the old Bean yard, to the left of the town boat launch (as you face out of the harbor)."
In announcing the grant, Collins noted that for decades Lyman Morse and DiMillo's Marinas have created jobs, benefitted local businesses, and supported their coastal communities. "By assisting the marinas' efforts to expand capacity, this funding will spur additional investments that will help boost employment opportunities and economic development for the surrounding areas," she said. "These improvements will also allow more vessels to connect to the power grid, reducing noise and air pollution."
The U.S. Fish and Wildlife's BIG program supports recreational boaters and local communities and their economies by providing funding to support dedicated boat tie-up facilities and associated amenities. The funding comes from the Sport Fish Restoration & Boating Trust Fund, which is funded in part by taxes on fuel, fishing equipment, small engines, and imported boats.
Also, this week, Lyman Morse announced that Anna, the 65' cold-molded sailing yacht the yard built in 2018 won Classic Boat Magazine's Spirit of Tradition Award. Designed by Stephens Waring Yacht Design of Belfast, Maine, with interiors designed in collaboration with Martha Coolidge of Rockland, Anna was the only American build in the Spirit of Tradition category. Drew Lyman, president of Lyman-Morse, attended the ceremony along with Robert Stephens and Paul Warin; Martha Coolidge, and the yacht's owners. For more on the boat, see: https://maineboats.com/print/issue-153/anna-65-cold-molded-sloop.