Electric news from Hodgdon Tenders
Electric news from Hodgdon Tenders
Tuesday, November 24th 2020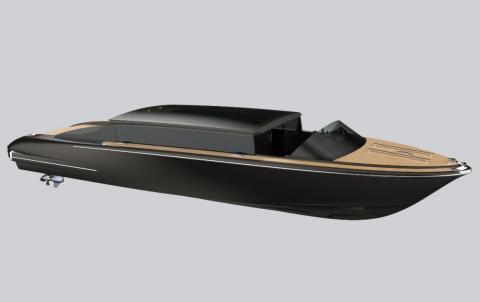 Hodgdon Tenders has put together plans for an all-electric version of the company's 10.5m forward helm and 12m aft helm limousine Venetian line tenders. 
The Venetian tender line has been designed in collaboration with Michael Peters Yacht Design and engineered by Hodgdon Tenders' in-house team. The boats are built in Damariscotta, Maine. The electric versions of these two tenders were developed without compromising the luxury features that mark the Venetian line. Both boats will be powered by Vita Power, a high performance fully electric powertrain for the recreational marine sector. The V3 and V4 fully electric powertrains from Vita Power deliver 220kW / 295hp and 440kW / 590hp respectively, according to Audrey Hodgdon, director of sales & marketing for Hodgdon Tenders. While pinpointing the range of the boats on a single charge is difficult, esimates range from from 20 to 50 nautical miles, she said.
The company has been working on the concept of an all-electric superyacvht tender for some time, Hodgdon said. The relatively short trips made by tenders between their mother ship and the shore make them an ideal vehicle to electrify.
In addition to its high performance, Vita Power is the first fully electric propulsion system compatible with DC fast charging significantly reducing the charging time using Vita superPower, the first fully marinised charging system, Hodgdon said.
"At Hodgdon we have always endeavored to push the boundaries in terms of materials, technology, and design to optimize performance. Our move into providing all electric tenders is further evidence of this and addresses increasing demand from the market for zero emissions tenders onboard superyachts." 
Both the 10.5m and 12m Venetian line electric tenders are fully engineered solutions with build slots available. The company currently does not have plans to build a spec model.