Hinckley Yacht Services Gets Creative
Hinckley Yacht Services Gets Creative
Friday, December 18th 2020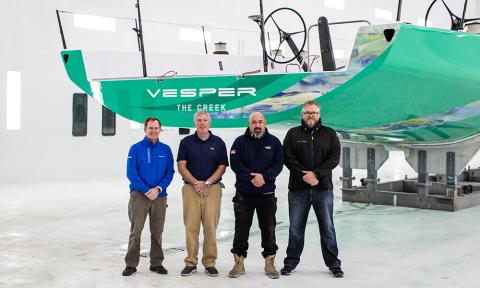 We all know that boats are works of art, so it was especially fitting when a long-time customer and boat owner reached out to Hinckley Yacht Services in Portsmouth, to transfer a real work of art to the hull of a 72' custom ocean racer, named Vesper.
With one of the largest paint booth facilities on the East Coast, stretching 100' wide, 145' long, and 42' high, Hinckley Yacht Services Portsmouth attracts paint refit projects from near and far. The customer in question wanted an extensive paint refit for Vesper that was inspired by an acrylic painting by artist, Susan Swartz, according to a Hinckley news release.
Swartz's painting, "Summer Bliss," captures elements of nature with striations of green, yellow and blue. The textures and colors express the beauty and joy of being near water during bright, summer months. Working collaboratively with Swartz, Mac Design out of Newport, Rhode Island, and the yacht's captain, Hinckley Service Manager Lat Spinney and Paint Foreman Dave Gouveia developed a strategy to bring "Summer Bliss" to life on the hull of Vesper. 
The timing was right. Both of Hinckley's Portsmouth paint booths just completed a full refurbishment and upgrade in October. Not only did Vesper christen the nearly all new paint booth, but the job took advantage of the latest technology from Awlgrip: AwlgripHDT. Hinckley Yacht Services Portsmouth is one of the leading facilities in the country offering this new high-definition technology, according to the company's release. The paint crew has completed 15 AwlgripHDT paint refits and was slated to complete 45 projects before the end of the winter season.

Left: Artist Susan Swartz and Bill MacGowan of Mac Designs meeting to discuss "Summer Bliss" and the graphic wraps incorporated in the paint refit of Vesper. Center: Vesper upon completion in the paint booth in Portsmouth, RI. Right: New SeaDek aboard Vesper.
From selecting a custom hull paint color to complement the acrylic painting to implementing the applied graphics designed by Mac Design from scans of the original artwork, Spinney and Gouveia worked withVesper's captain on every detail. In addition to the extensive hull paint job, the refit included all new SeaDek and nonskid application.
When the project was completed this month, Vesper's captain was please. "Working with the crew at Hinckley was a pleasure," he said. "They were professional and courteous at all times—and their door was always open. We are thrilled with the end product achieved on time and on budget."