Artisan tackles launch rebuild, Bugatti tender
Artisan tackles launch rebuild, Bugatti tender
Friday, November 19th 2021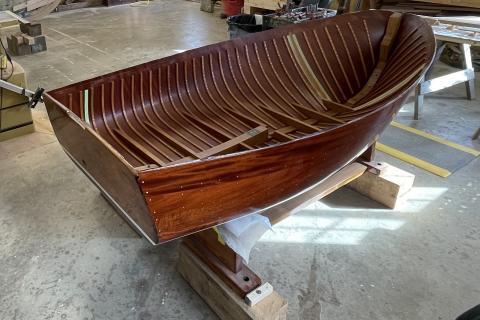 By Polly Saltonstall
There's nothing like a visit to a boatyard to brighten up the early winter doldrums. During a recent visit to Artisan Boatworks in Rockport to check on my vintage Dark Harbor 17 Frolic, which is stored there, I was able to peek at some cool projects in progress.
Taking up space in a main bay was an open wooden power launch built by J.O. Brown and Sons on North Haven in the 1920s. Named Grampus, the 26'7" launch is getting new frames, a new keel, a new stem, new deck, engine, and generally a new lease on life.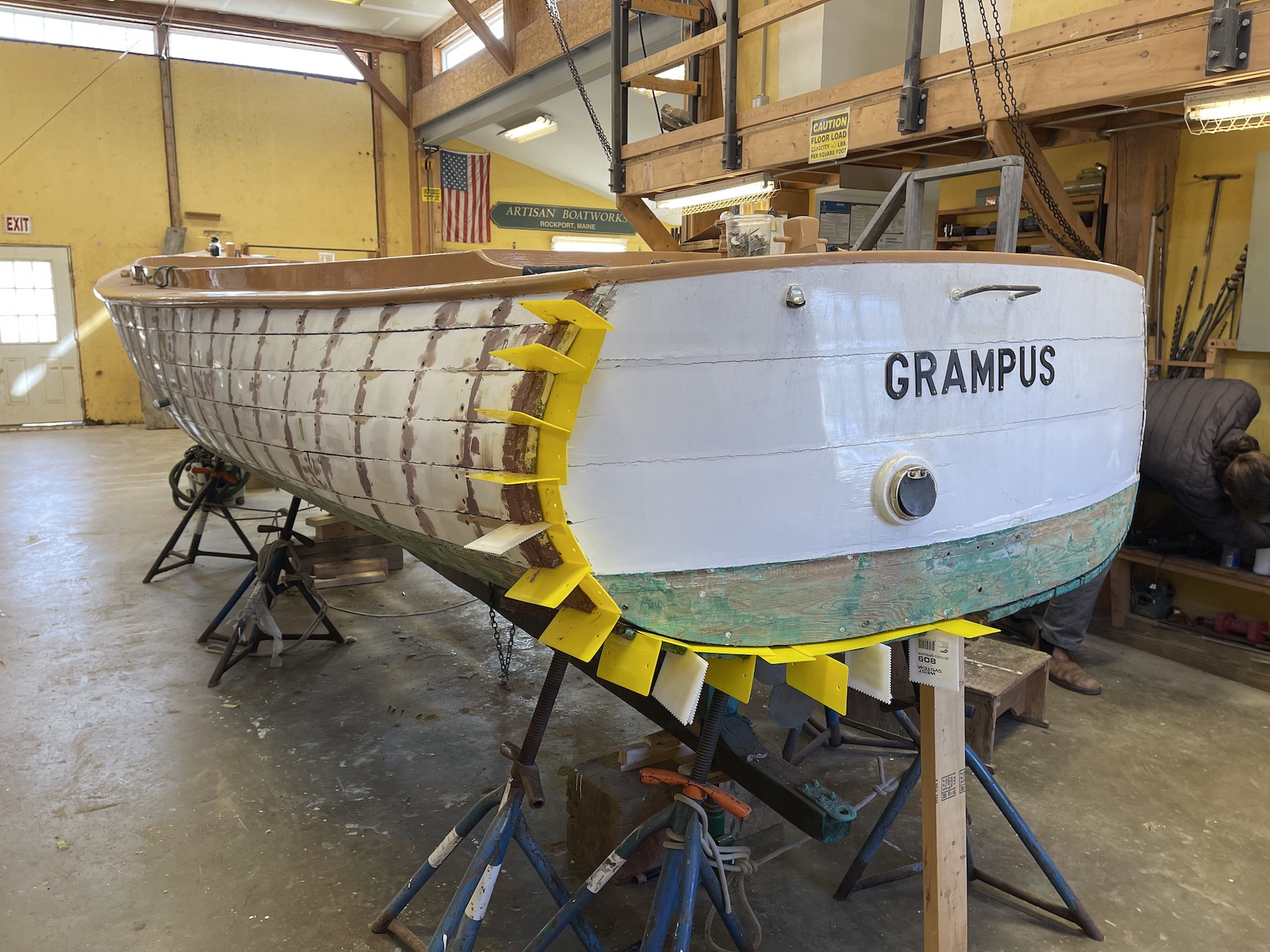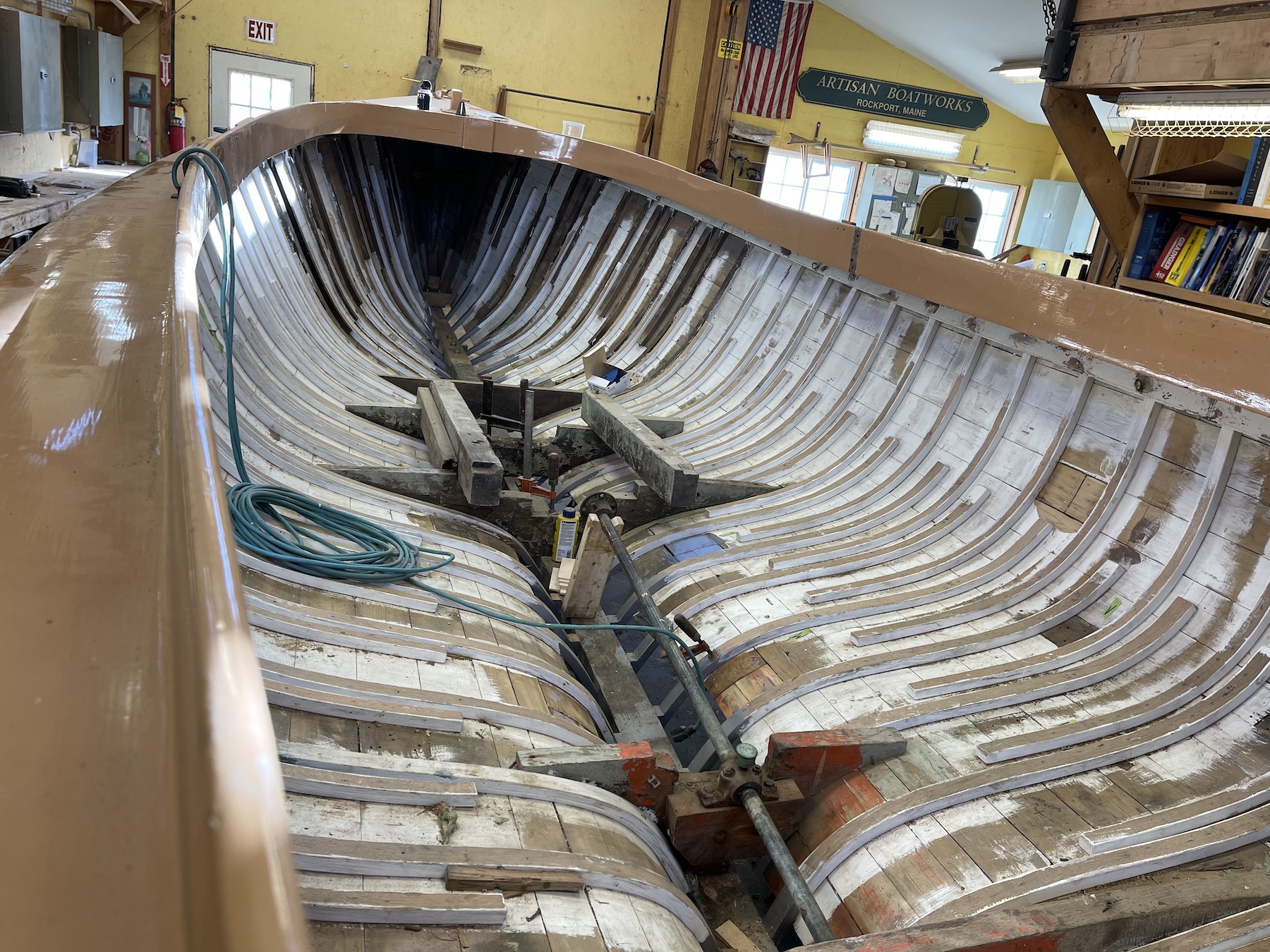 One bay over was a diminutive brightwork skiff with wide rounded sides, shaped pretty much like a little wooden watermelon. Believe it or not, it's a Bugatti, one of just a few boats built by the famed car designer. During the German occupation of France, Ettore Bugatti purchased a small shipyard northwest of Paris on the Seine River and started building boats, according to Artisan's President Alec Brainerd. The little tenders were called YOU-YOUs, and Bugatti built 9, 11, and 13 foot models. Brainerd said that its possible just a single prototype of each was built before Bugatti's death in 1947, along with a cutaway model currently on display at the Schlumpf Museum in Mulhouse, France.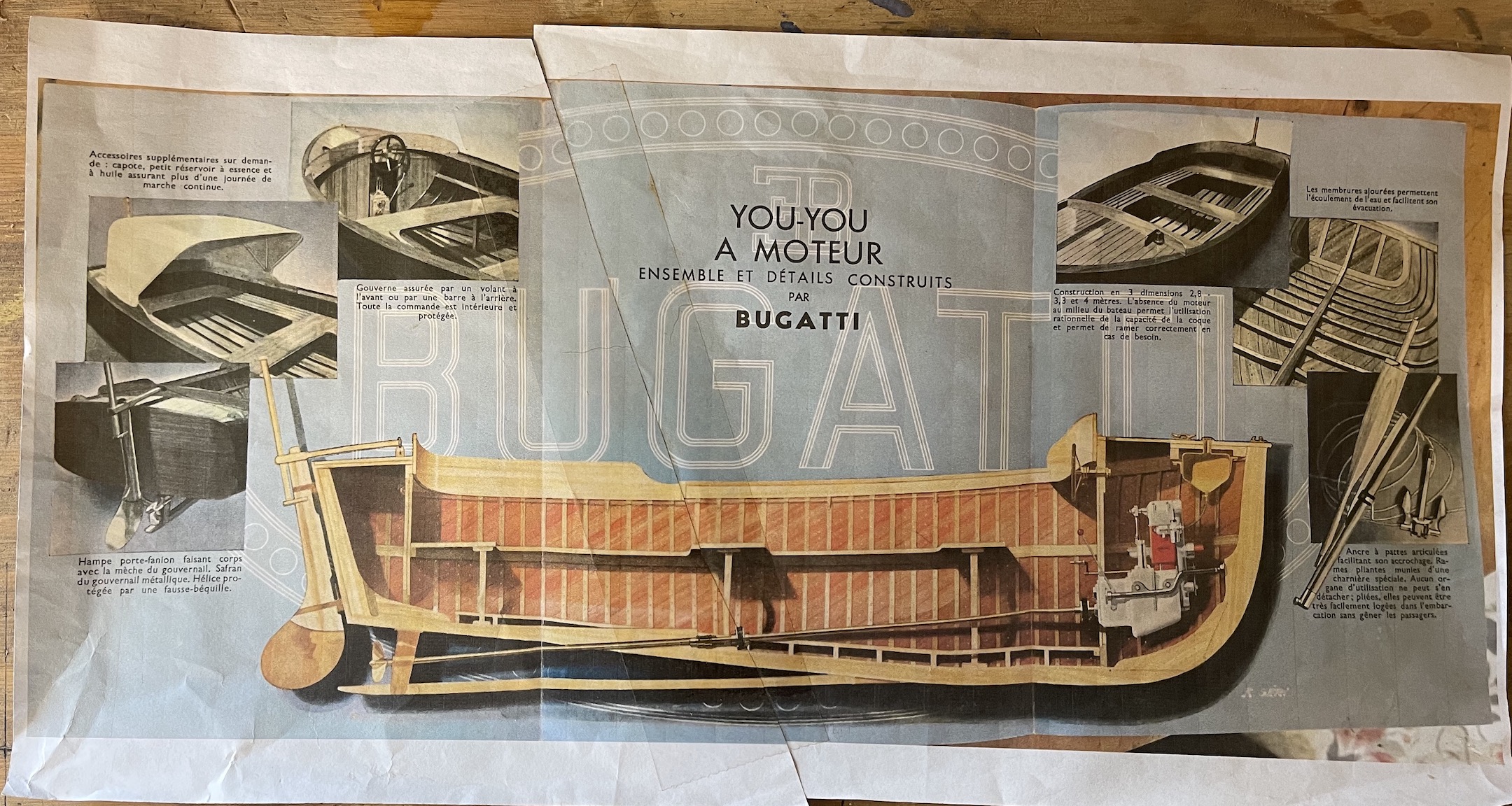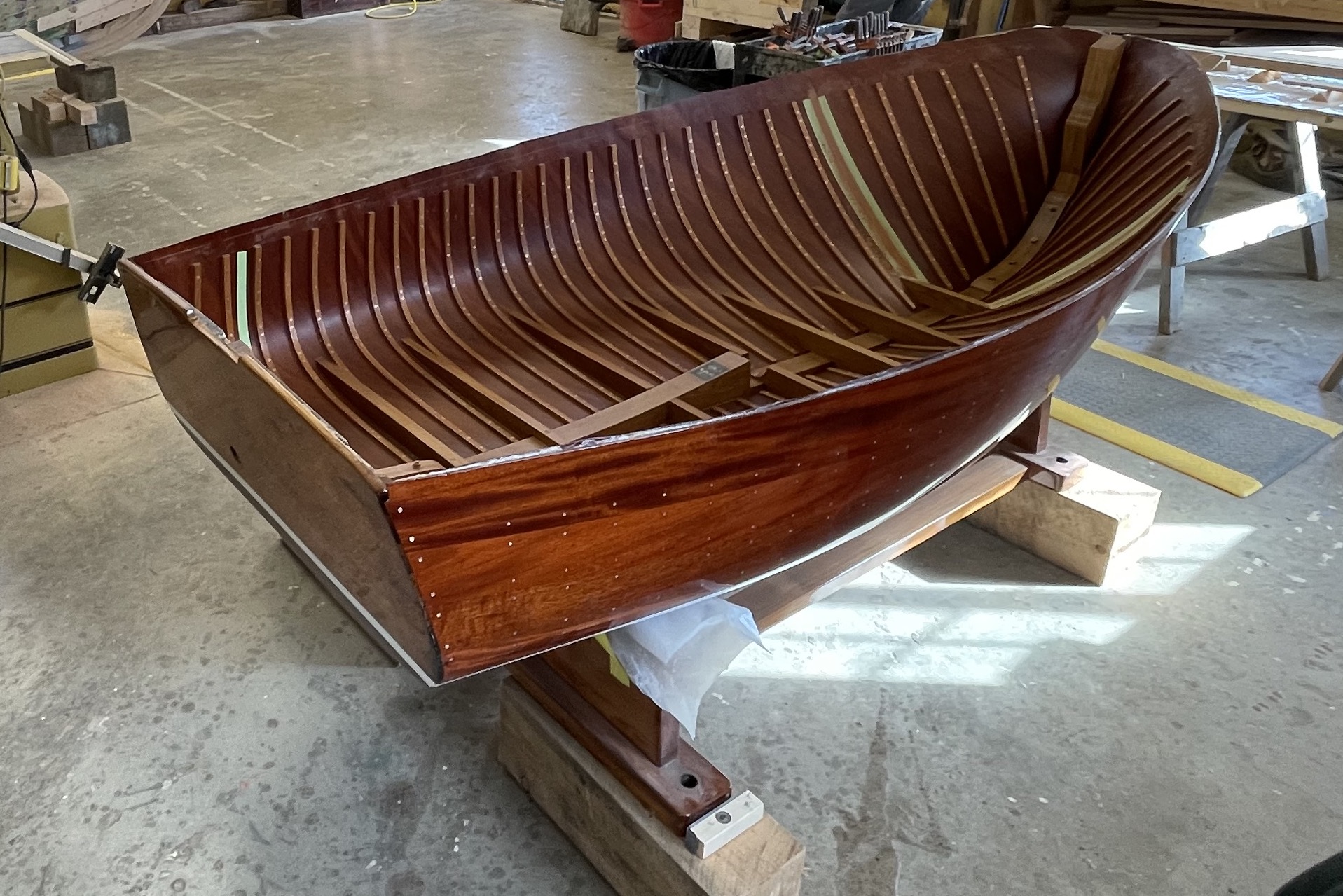 The smallest of these prototypes was owned for many years by Tom Perkins and kept aboard his classic 122-foot motor yacht, Atlantide. Recently bought by Internet pioneer Jim Clark, Atlantide is currently undergoing restoration at Royal Huisman in Holland. The YOU-YOU did not fare well over many years on Atlantide's upper deck, and her double-planked copper riveted, mahogany hull planking and backbone structure were deteriorated beyond repair. The crew at Artisan was hired to restore the hull— her original Bugatti 170 cc single cylinder engine is being restored by Leydon Restorations in Lahaska, Pennsylvania.
The hull consists of two layers of Honduras mahogany planking over closely spaced thin frames — the inner layer is diagonal, the outer horizontal. The hull  gleamed under its 14 coats of varnish, and the dozens of tiny new copper rivets glinted like little pink stars. It's mostly new construction, except for a Bugatti stamp in the keel and the Bugatti name plate on the dashboard.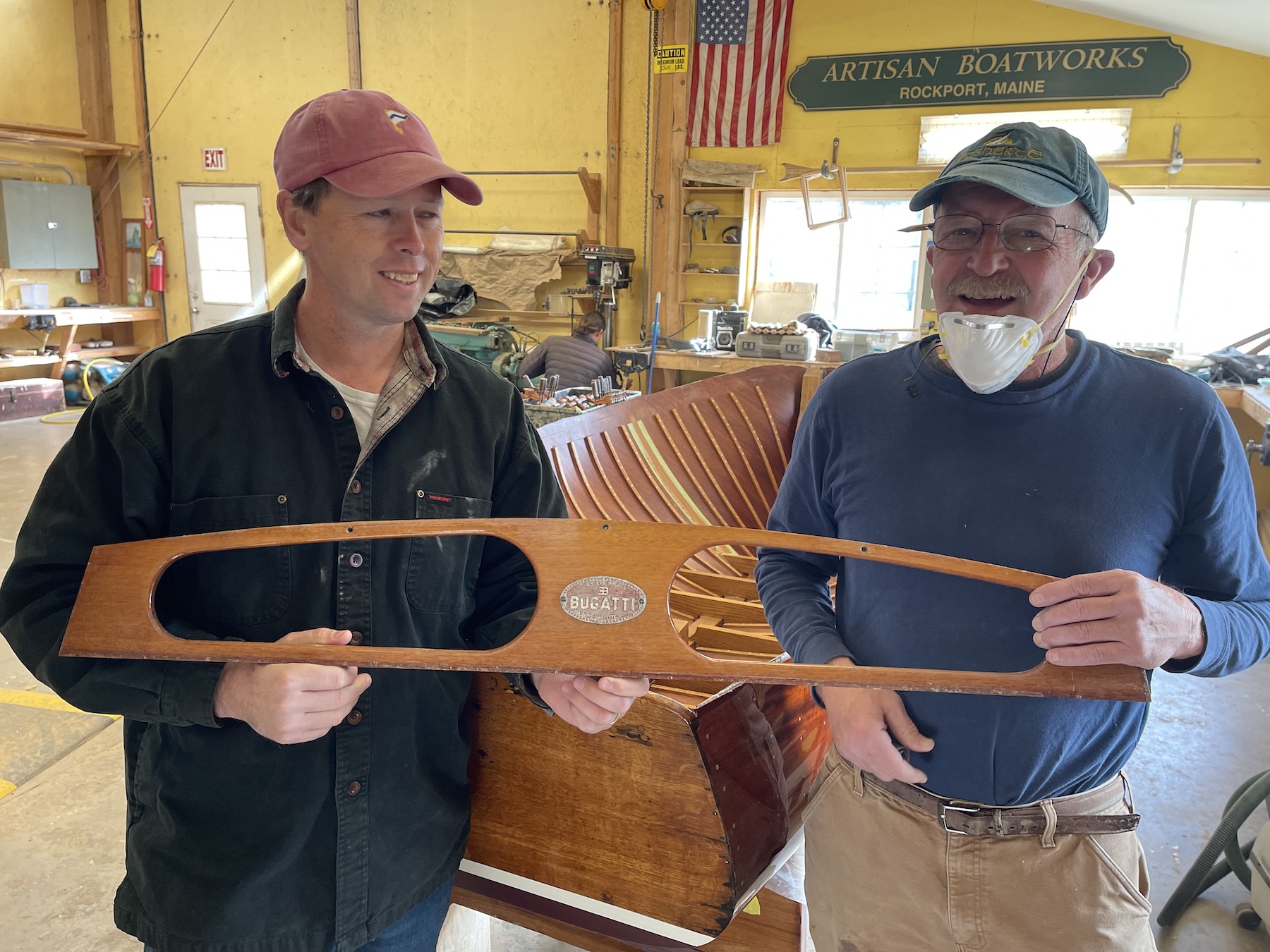 From there, I walked over to visit Frolic, nestled in tightly like a puzzle piece with a dozen or more other wooden daysailers. Artisan specializes in caring for and restoring sleek wooden works of art like these. The yard rebuilt Frolic almost two decades ago, and she is still in great shape. I could see my reflection in the shiny red Epiphanes paint on her hull.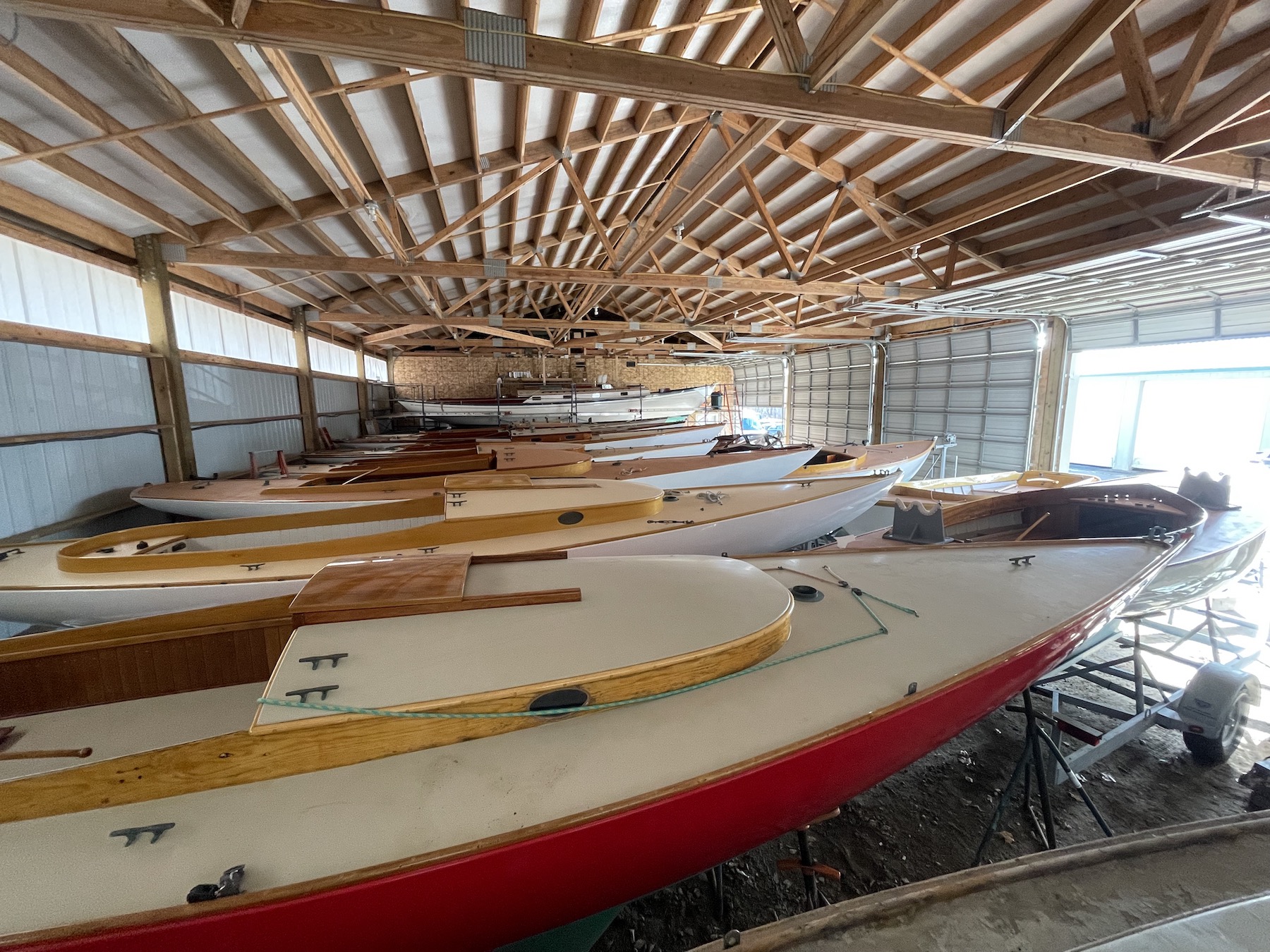 But my real reflection was that while I'm sad the summer sailing season has ended, a good winter rest and lots of TLC will make next summer's sailing adventures even better.