New owners at Shaw & Tenney
New owners at Shaw & Tenney
Friday, July 14th 2023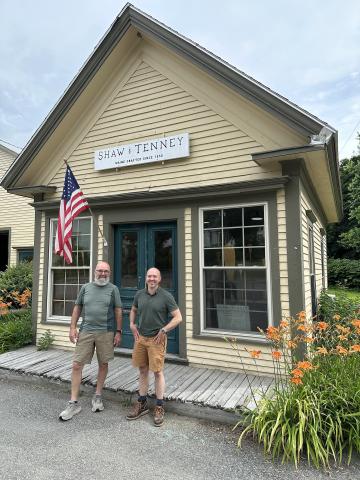 Shaw & Tenney, the Orono, Maine-based maker of the some of the world's finest wooden oars, has changed hands from one family to another for only the fourth time in 165 years.
Since 2003, Steve Holt and Nancy Forster-Holt led the iconic Orono-based company through a transition to digital commerce and growth. The couple sold Shaw & Tenney on July 7 to Neil and Jennifer Gutekunst.
The Gutekunsts own two other classic woodworking companies: New England Treads, which they acquired in 2019, and the Wooden Screen door Company, which they bought in 2021.
The second-oldest manufacturer of marine products in the United States, Shaw & Tenney hand-crafts wooden oars, masts, and flagpoles. Shaw & Tenney "is such a historic brand," Neil Gutekunst said. "We love niche products, especially ones steeped in Maine history."
The new owners, who live year-round in Cushing, Maine, said they have no plans to make any changes. "The staff all will remain in place," Neil Gutekunst said. "Our theory is that happy employees make happy customers, and happy customers make happy owners. But only in that order."
The Gutekunsts came to Maine from Philadelphia, where Jenneifer was an HR professional, and Neil had worked as an attorney after leaving active duty in the U.S. Marine Corps.
Steve Holt said he and Nancy are thrilled to leave the company in good hands. The couple plan to travel some, as well as spend more time with family. Steve also intends to spend more time in his boats, and working on other professional endeavors. Forster-Holt has been less engaged in the company's operations in recent years. She is an associate professor at the University of Rhode Island, where she teaches entrepreneurship and she researches multiple aspects of ENDrepreneurship (the retirements of small business owners).