Just Launched - 3 Buzzards Bay 30s
Three of five existing Herreshoff-designed BB 30s restored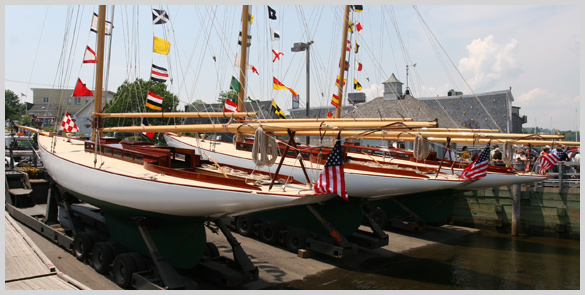 Click on the image above or scroll down to view the image gallery. Photographs by Jamie Bloomquist
| | |
| --- | --- |
| Model: | Buzzards Bay 30 |
| Designer: | Nathanael Herreshoff |
| Restored by: | French & Webb, Belfast, Maine |
| Specs: | LOA:47', LWL: 30' |
| Launch Site: | Belfast, Maine |
| Launch Date: | June 22, 2008 |
Particulars:
It was a gorgeous Sunday afternoon in June, and downtown Belfast was quite a bit busier than usual. Why? Local boatbuilders French & Webb were about to launch three of five remaining Buzzards Bay 30s. The three yachts --
Young Miss, Lady M,
and
Quakeress II
-- were lined up side by side, blocking the public boat ramp for several hours as hundreds of onlookers gathered around. In his opening remarks Todd French joked with Belfast's harbormaster, "I think we owe you $15 each to launch them." Buzzards Bay 30s were originally built in 1902 by the Herreshoff Manufacturing Co. of Bristol, Rhode Island.The 47-foot yachts were ordered by the Beverly, Massachusetts, Yacht Club and were raced as a class. French & Webb was selected to restore three of the sloops, which were in varying stages of disrepair. Months of work brought them back to their original Bristol condition (or perhaps better) using materials, hardware, and details specified in the original plans. Where possible, even the same species of woods were used, including the double planking of cypress and fir with a bedding of thickened shellac between the layers. The three restored yachts will spend the summer on the coast of Maine, participating in their first racing season in about 100 years. Look for them at the Eggemoggin Reach Regatta in August.
Image Gallery
image gallery
Builder contact: French & Webb 21 Front St., Belfast, ME, 04915 Phone: 207-338-6706
www.frenchwebb.com
Information supplied by the builder. Every effort has been made to ensure accuracy. However, Maine Boats, Homes & Harbors accepts no liability in the event of any errors of fact or omission.