Just Launched: Godspeed
Hunt 52

Godspeed
enjoys a beautiful sunset cruise. Photo courtesy Hunt Yachts.
Launch Details:
Boat Name:

Godspeed

Specs:

LOA 52'1", Beam 15'8", Draft 4'6", Displ. 54,000 lbs (half load)


Designed by:

C. Raymond Hunt
Particulars:
It was a real, live Big Day on the Portsmouth, Rhode Island, waterfront as Hunt Yachts christened its largest boat yet, the spanking new Hunt 52 Express. The new 52 is a joint project between Hunt Yachts and Global Yacht Builders of Taiwan. The boat is built "over there" and comes to Hunt's facility in Portsmouth for final finish work. One of the Hunt builders told me that each 52 embodies some 25,000 man-hours of work, which shows up clearly in the boat's complex systems, exquisite woodwork and intricate detailing.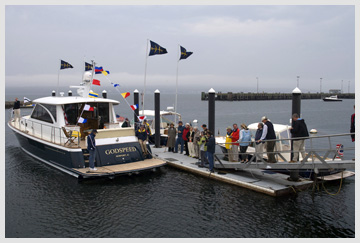 Launch day of the Hunt 52,
Godspeed
drew a crowd
despite a raw sou'westerly and spitting rain.
Photo by Billy Black.
First, a few particulars on Hull #1,
Godspeed
: Twin stairways climb off the broad stern platform, leading up over the transom to a cockpit separated from the main salon by curved sliding glass doors. Underneath the cockpit is a large "dinghy garage" that holds a custom 12-foot Hunt-designed deep-vee tender behind a motorized lift door. Deck height runs level from cockpit thru the saloon, with stairs dropping into a galley-down layout with lots of headroom under the main windshields. The master stateroom features an island queen berth with drawers and cubbies under. The master head has tiled floor and a tubular sliding glass shower enclosure that evokes images (for a certain demographic, anyway) of a "Star Trek" transporter. A multipurpose space opposite the galley serves as office, guest cabin, and storage center. Since the 52 is a semi-custom boat, Hunt offers alternative layouts: depending on power options, you can have a third stateroom with queen berth, and/or galley-up layout that opens additional space below. Power options include twin 705-hp C12 Cats or twin 1001-hp C18 Cats driving props or waterjets, or twin 662-hp Volvo diesels with the IPS pod drives. The new 52 incorporates longstanding Hunt virtues—easy speed, a smooth ride in rough seas, impeccable finish—and also moves the bar to a whole new level.
--Dave Getchell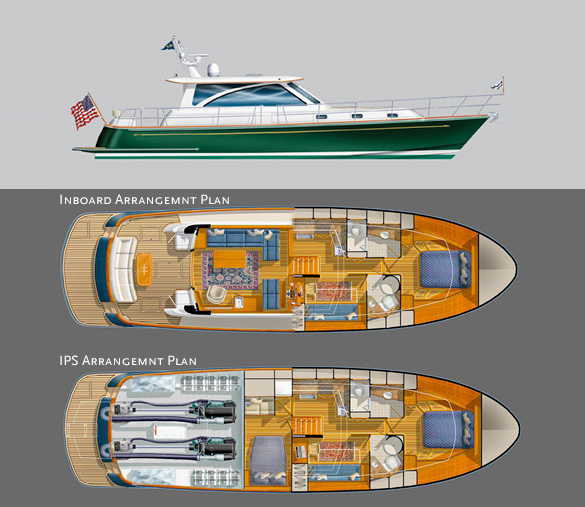 Image Gallery:
image gallery
Information and specifications supplied by the builder. Every effort has been made to ensure accuracy. However, Maine Boats, Homes & Harbors accepts no liability in the event of any errors of fact or omission.