Just Launched - Reward
Geezer Boatworks brings back a classic

Photographs by Ben Ellison
Boat name:
Reward
Designer:
Bunker & Ellis
Builder:
Geezer Boatworks, Tom Bournival Thomaston, Maine 207-354-0868
Launch Date:
Monday, July 2, 2007
Launch Site:
Journey's End Marina in Rockland
Particulars: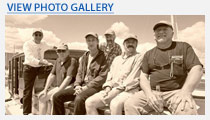 View a gallery of images of the Reward
Launch (photos by Ben Ellison)
On July 2 Geezer Boatworks launched
Reward
, a 1963 39.5' Bunker & Ellis they had rebuilt for Chris & Bonnie Nash of Topsfield, Massachusetts, and Great Cranberry Isle, Maine. The boat was purchased on Great Cranberry, and the family will use it as a pleasure boat during their summer vacations there. The crew (as seen in b&w portrait) included Tom Bournival, project manager; Nick Apollonio, woodworker; David Johnson, systems guru; George Brauer, painter plus; Nic Smith, painter and systems; and Jim Wytiaz, painter. The total project—rebuilt cabin, trunk, decks, interior, and all new systems including twin Yanmar diesels—took twelve months labor over two years and was done in a temporary building behind an exotic vehicle salvage yard in Warren, Maine. At age 53, Brauer is the youngest of the crew. All the "geezers" are independent contractors with vast boating, boatbuilding, and getting-by-in-Maine experience.
image gallery
See the February/March 2008 "Boats of the Year" issue of Maine Boats, Homes & Harbors magazine for more on Reward.