MBH&H Show Info: In-Water Exhibitors
The Annual Maine Boat & Home Show is typically held the second weekend of August. Gates open at 10 a.m. daily

In-Water Exhibitor Information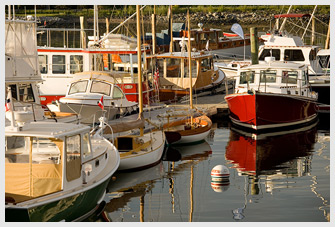 Launching: Trailered boats can be launched at Snow Marine Park in Rockland (see directions). Larger boats should contact Journey's End Marina (207-594-4444) or Knight Marine Service (207-594-4068) for Travelift or crane services. Haul trucks/trailers can park on the grass at Snow Marine Park.
For boats launching at Snow Marine Park, there is a $5.00 launch fee. You can reach the show dockmaster, Steve Bunnell, on VHF 65A. For any pre-show, non-docking related questions, contact Gretchen Ogden at 207-594-8622.
Show Dockage: Boats will tie up to floats at the Rockland Public Landing. These float systems are substantial and well located with pilings, dolphins, and large chunks of Maine granite.
Docking Day—Thursday, August 10. See your contract summary for DOCKING TIME and FLOAT POSITION (to be emailed approx. August 5).
We will be connecting the docks between the Public Landing and The Pearl Docks with temporary floats. Load-in will be staged accordingly. Boats assigned to slips inside the temporary docks must be on hand by 11 a.m. when the temporary floats will be closed off. Once inside, boats will raft together and be tied up in order (a good time to start cleanup & detailing work).
Fair warning: If you are late, your dock space WILL be reassigned. As soon as you're tied up, please check in at the Show Office to receive your check-in kit. If you plan to arrive before Thursday, August 11, contact any of the following dockage and/or mooring providers:
Harbor Master's Office: 207-594-0312,
Rockland Public Landing-Dock (the show site): 207-594-0312,
Journey's End Marina: 207-594-4444,
Landings Marina: 207-596-6563,
Ocean Pursuits Marine Services: 207-596-7357
Items you SHOULD have on board:
Vessel registration, dealer plates, or the real thing. If the boat is floating in the water it must be registered or documented.
All USCG required equipment—you know the drill.
At least three (3) fenders per side; more is better. Consider bringing fleece fender covers to minimize chafing. • Six (6) dock lines, minimum.
A hefty anchor and rode for offshore bow line and/or storm use.
Shore Power: The minimal shore power supply is on a first-come basis; you will need your own extension cords at least 50' long. Most boats will be using battery power. Please refrain from running gensets or main engines during show hours.
Storm Plan: The show docks are well protected from winds of N, W, thru S, with reasonable SE protection. However, if E or NE winds of 30+ knots are forecast, we will seriously consider vacating the docks. In deteriorating conditions, boat owners can decide when they want to leave. Our Dockmaster, at his sole discretion, may order a general evacuation. The storm plan is for boats to anchor in the well-known "schooner hole" behind the Rockland Breakwater, indicated as Mooring Area I on the harbor chartlet. Depths range from 20' to 40', with excellent holding bottom. Exhibitors preferring a more substantial mooring for storm insurance should contact the private providers listed above. The City of Rockland maintains 20 guest moorings on a first-come, first-served basis. [ CLICK HERE TO DOWNLOAD THE HARBOR CHARTLET - PDF, 504kb ]
Security: The Rockland Police Department will be patrolling show grounds during closed hours. Only credentialed personnel will be allowed in after show hours. Any exhibitors planning to sleep aboard boats at show docks MUST register at the show office at check-in.