The barks have been tallied: this year's champion boatyard dog is Huckleberry
The barks have been tallied: this year's champion boatyard dog is Huckleberry
Wednesday, August 18th 2021
By Iselin Bratz
This year's world champion dog contest took a different a different form than in past years. Instead of a competition featuring live dog performances at the Maine Boat & Homes Show in Rockland, show visitors and online viewers voted for their favorite pooch featured in Maine Boats, Homes & Harbors' Boatyard Dog column during the past year. The change was a result of concerns about crowds at a live dog trial in light of Covid-19.
And the winner is Huckleberry, a rescue dog who serves as a mate on the Friendship sloop Eleanor Hawkes. Second place went to Finn, another rescue dog, who helps take in the lines on the charter schooner Hindu. Basil, a bundle of brown fur, came in third, a mere nose-length behind Finn. MBH&H magazine will make a $250 donation to the Pope Memorial Humane Society in Huckleberry's name. As this year's boatyard dog champion, he also will receive a boatyard dog hat and a signed book.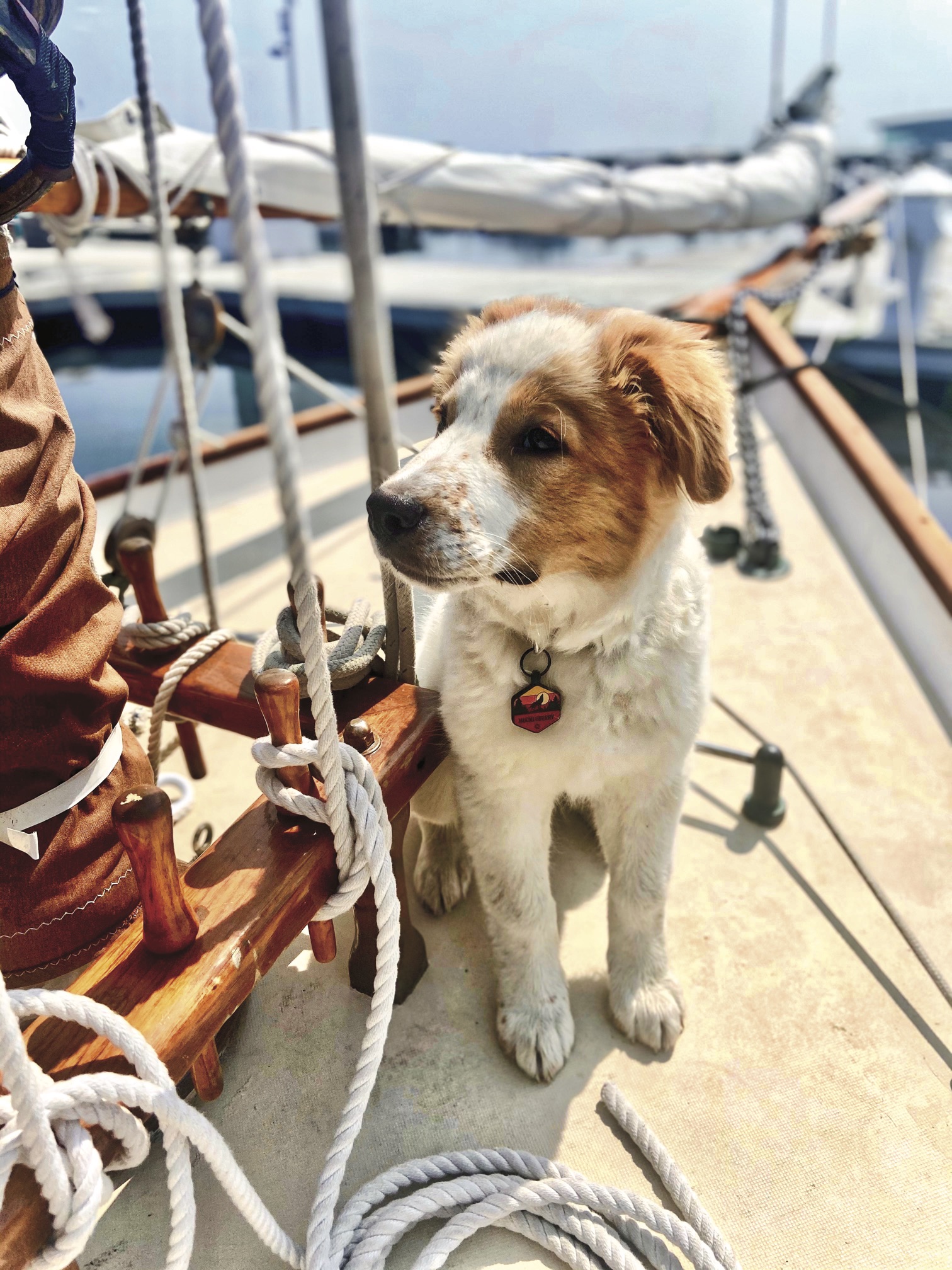 The Maine Boat & Home Show takes place every year on the second weekend in August. Last year the show was cancelled as a result of the pandemic. 
"This year's Maine Boat and Home Show was the perfect showcase of everything we love about Maine, and what we have missed this past year," said MBH&H Publisher John K. Hanson Jr. "Despite being a smaller show for Covid safety reasons, the exhibitors, sponsors, staff, and crew stepped up this year to create a great display of what Maine has to offer."
This year's voting took place in person at the show, where voters could choose between twelve of the different boatyard dogs featured in the magazine. Voting was also possible through the magazine's social media accounts. 
Basil, a cute newfoundland who is homebased at Fore Points Marina in Portland, garnered the most votes on paper ballots at the show, but Huckleberry and Finn, clearly technologically adept screendogs, mounted strong online campaigns that carried them past Basil.
Huckleberry serves as a crew member and chief greeter on the friendship sloop, Eleanor Hawkes. He was part of a litter born to a rescued dog of uncertain heritage at 3 Dog Rescue in Kittery. Just 7 months old at the end of August, he's been learning the ropes fast from his captain, Ian Glass at Sail Portland Maine, who offers daysailing trips and private charter on the Eleanor Hawkes. 
When the crew of the schooner Hindu found a puppy at a Key West bar named Finnegan's Wake, they brought her back to the boat. Capt. Josh Rowan was quickly won over and adopted the puppy. Admiral Finn is a working dog who helps take in the schooner's dock lines when Hindu departs her slip. Finn uses her mouth and one paw to trap the line as she brings it aboard. Finn currently lives in Maine, and helps with the Hindu's ongoing rebuild in Thomaston.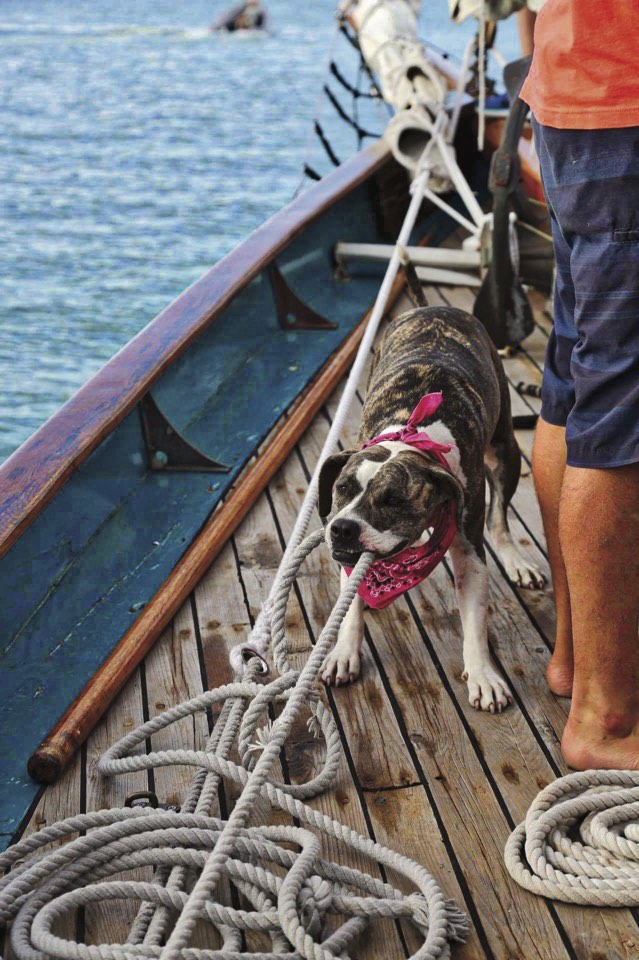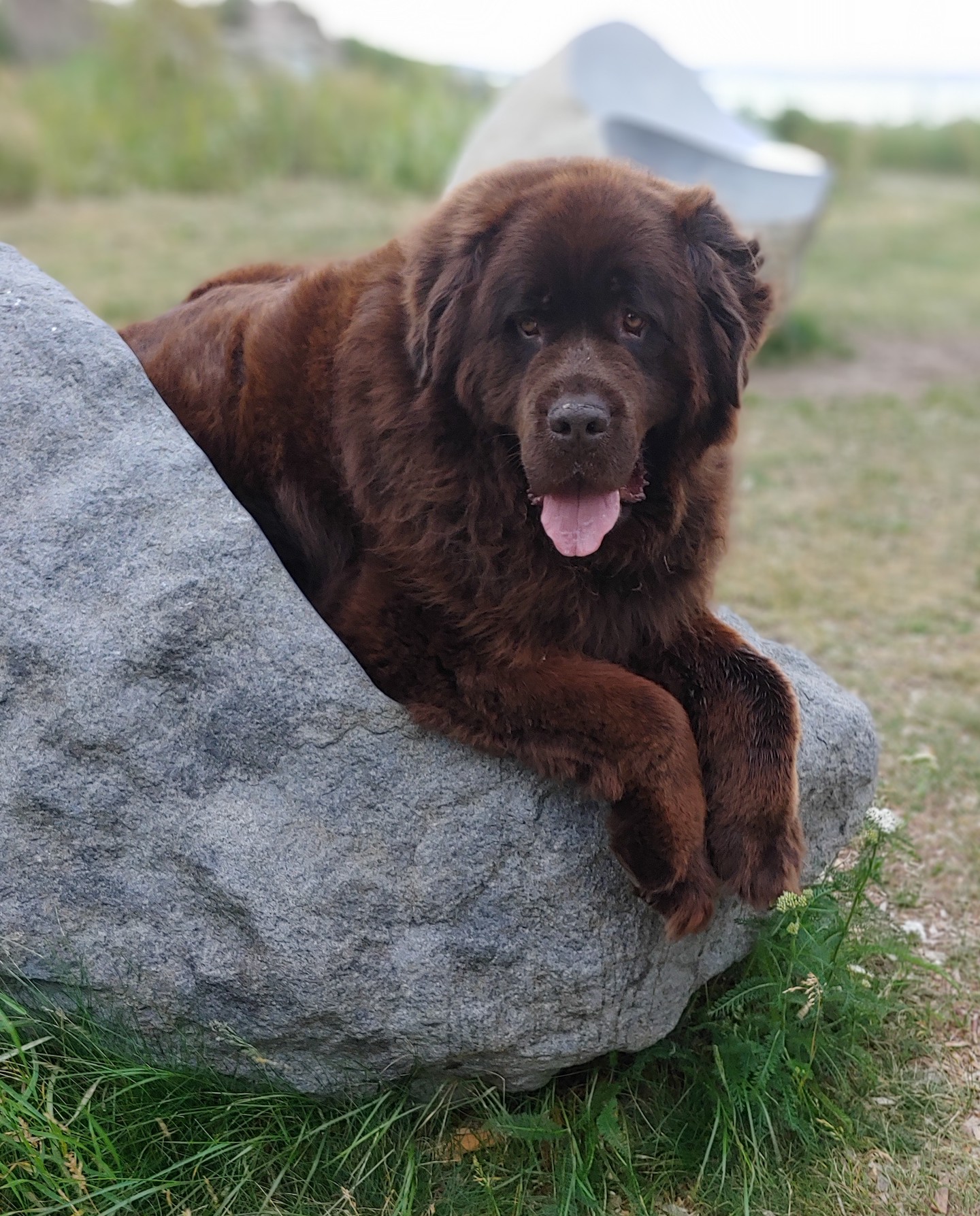 Basil Hayden is a 6-year-old brown Newfoundland who lives with his crew Andy and Ange Neilson on a 38-foot Wilbur/Duffy named Ur-chin at Fore Points Marina. His work at the marina involves serving as greeter, ambassador, and hugger of all who come onto the marina docks. "There isn't a day that goes by that he doesn't bring smiles to someone's face with a big, wet, Newfie hug," Ange reports.
The other dogs in the contest included:
Stella, beagle Boston terrier rescue
Job: Crewing and racing on a Pearson 30 sailboat
Talent: Standing watch at anchor, sniffing the wind
Gloria, St. Bernard
Job: Right-hand drooler on the crew at Belmont Boatworks
Talent: Helps with boat deliveries and acts as ballast on little boat
Flash, Australian Cattle Dog 
Job: Helping sell marine insurance 
Talent: He has a nose for "fragrant" elements such as bait tubs and the underside of hauled-out floats
Gracie Willow, Havanese
Job: Assistant to Bentley Collins, the former VP for marketing and sales at Sabre and Back Cove Yachts
Talent: She fits nicely into a small dog carrier that can go under the seat in an airplane, and on board the boat, is a supportive navigator
Zena, rescue bulldog mix
Job: Helping with the restoration of a Quoddy Pilot sloop
Talent: Her owner took lessons at the Apprenticeshop, which does not offer boatbuilding classes for dogs, but Zena knows what to do: sleep, eat, and supervise.  
Marley, mixed breed rescue pup
Job: Therapy dog, making regular visits to eldercare facilities 
Talent: He is quite calm and enjoys people—especially if they have treats that he loves, and does a very good job cleaning up the floor around young children while they eat
Tide, French bulldog 
Job: Riding with his people on their 22-foot Eastern for cruises 
Talent: His person is a long-distance ocean swimmer and when she jumps overboard to swim, Tide stands guard. He has been known to jump in when he thinks she needs his help 
Milo, double doodle designer  mutt
Job: Deckhand on his human's Grady-White
Talent: He's thoroughly in control of the helm chair—no hiding in the cockpit or below decks for this young sailor-dog. 
Zoe, Golden Retriever
Job: Chairman of the board, paddle-board that is
Talent: Swimming with the grandkids and chasing tennis balls, paddleboarding, and leading treasure hunts on island picnic.
You can find more information about all of MBH&H's boatyard dogs at https://maineboats.com/boatyard-dog, or by subscribing to the magazine, where a new boatyard dog is showcased in each issue. 
Captions from the top: Huckleberry, Finn, and Basil