Maine Boat & Home Show to Showcase the State's Best Boats
Maine Boat & Home Show to Showcase the State's Best Boats
Sunday, August 6th 2023
For those looking to experience a classic Maine summer, the Maine Boat & Home show, on August 11-13 on the waterfront in Rockland, Maine, is the place to be. As the largest of its kind north of Newport, Rhode Island, the Boat & Home show presents a wide range of boats, ranging from large and small, luxurious and down-to-earth, power and sail, displayed both on land and in the water. The show also boasts a plethora of activities for children and adults. As well as a variety of art, clothing, jewelry, live music, marine gear, and food, most of which will be in the many exhibits around the grounds.

Speed Machines, and More
The powerboat section will cover a wide variety of powerboats in every shape and color, from dayboats to cruisers, wood to fiberglass, large to small, fast and leisurely.
There will be a wide-range of center-console models to peruse. Bamforth Marine will showcase a 23 Defiant from Maritime Boats, which features a deep, aggressive hull design built for offshore waters. The design allows for a minimum planing speed of 14 mph, but the boat can run as fast as 43 mph with a 225-hp outboard.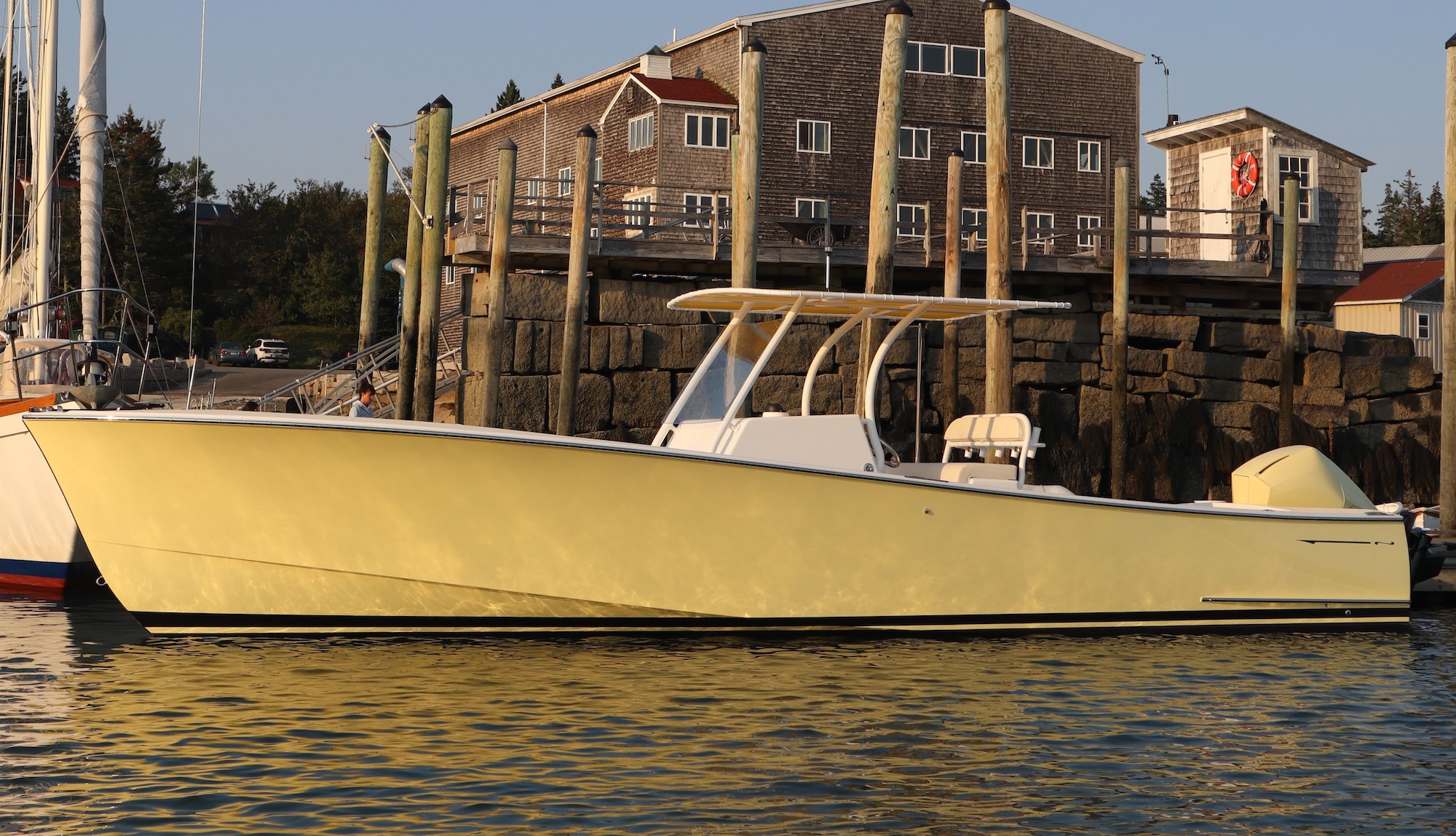 Brooklin Boat Yard will be showing off its gorgeous new 32' cold-molded center-console express cruiser, painted a distinctive Fighting Lady Yellow, and capable of speeds as fast a 40 mph with a single 300-hp outboard.
South Port Marine will have six models on display, including well-built and well-regarded Cobias of varying lengths, two deep-V Seapros, and a Solara 25 Center Walkaround.
Center consoles from Port Harbor Marine will include a 29-foot Robalo and a 312 Sailfish. In addition, the Port Harbor display will include a stunning 39-foot Cutwater and a 275 Grady White.
Southport Boats will have two of its Maine-built center consoles on display, a 30-foot and a 33-foot model. Yarmouth Boat Yard will include models from Pursuit, Defiance, and Sea Fox. In addition to a Steiger Craft, Buzzards Bay Yacht Sale will showcase a 34 Caymas cat, a catamaran powerboat that is ideal for fishing and offshore adventure.
Boat buyers who prefer to travel in something a little less sporty, will appreciate some of the cabin cruisers on display at the show. Showgoers will be able to tour an MJM 35 from DiMillo's Yacht Sales and the new MJM 4, a crossover day yacht with four social areas for relaxing, a galley-up layout, and a large V-berth. In addition, DiMillo's will showcase a big Sabre 58 for those who want to cruise in style. In addition to large windows that flood the interior in natural light, the Sabre 58 includes a fully equipped galley and three cabins, including a full-beam master stateroom.
Cruisers also will appreciate the Palm Beach Yacht, which features expansive entertaining areas trimmed in teak, a gourmet kitchen, and a self-launching tender concealed beneath the cockpit.
The Hinckley Company will be displaying one of the newer models of their world- famous jet-driven yachts.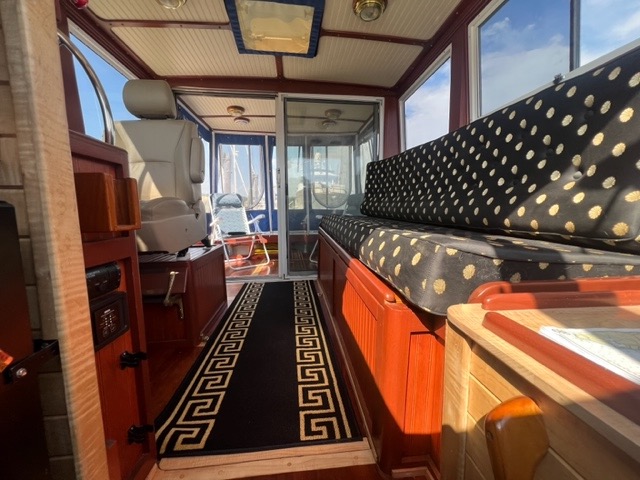 Gray & Gray Yachts will have a range of powerboats, including a Grand Banks 36 and a vintage Chris-Craft Roamer Hardtop Cruiser.
Showgoers will have a chance to walk into Ernest Hemingway's world on the Wheeler 38 Legend, which is model after Hemingway's beloved fishing yacht Pilar. Like her famous predecessor, she's crafted from wood, but using completely modern epoxy cold-molded construction techniques not available in the early 20th century.
The Scandinavian influence will be evident in the Nimbus and XO models shown by Yachting Solutions. These two designs represent the best of Finnish thinking in outboard luxury dayboats and cruisers.
Lovers of the downeast-style hull will appreciate Maine Maritime Academy's Duffy lobsteryacht, Lyman-Morse Brokerage's Wilbur 38 Express, and Maine Yacht Brokerage's Wilbur 34.
If you are looking for a small tender, check out the Highfield inflatables at Moose Landing Marina's display. Moose Landing also will be showcasing a 35-foot Wellcraft, a 38-foot Regal, and a 36' Sea Fox.
For visitors who prefer to let the ocean breeze guide them, a stunning Morris Yacht will be on display, as well as a lovingly restored Hinckley Pilot from Classic Boats, in addition to Gray & Gray's Island Packet 44.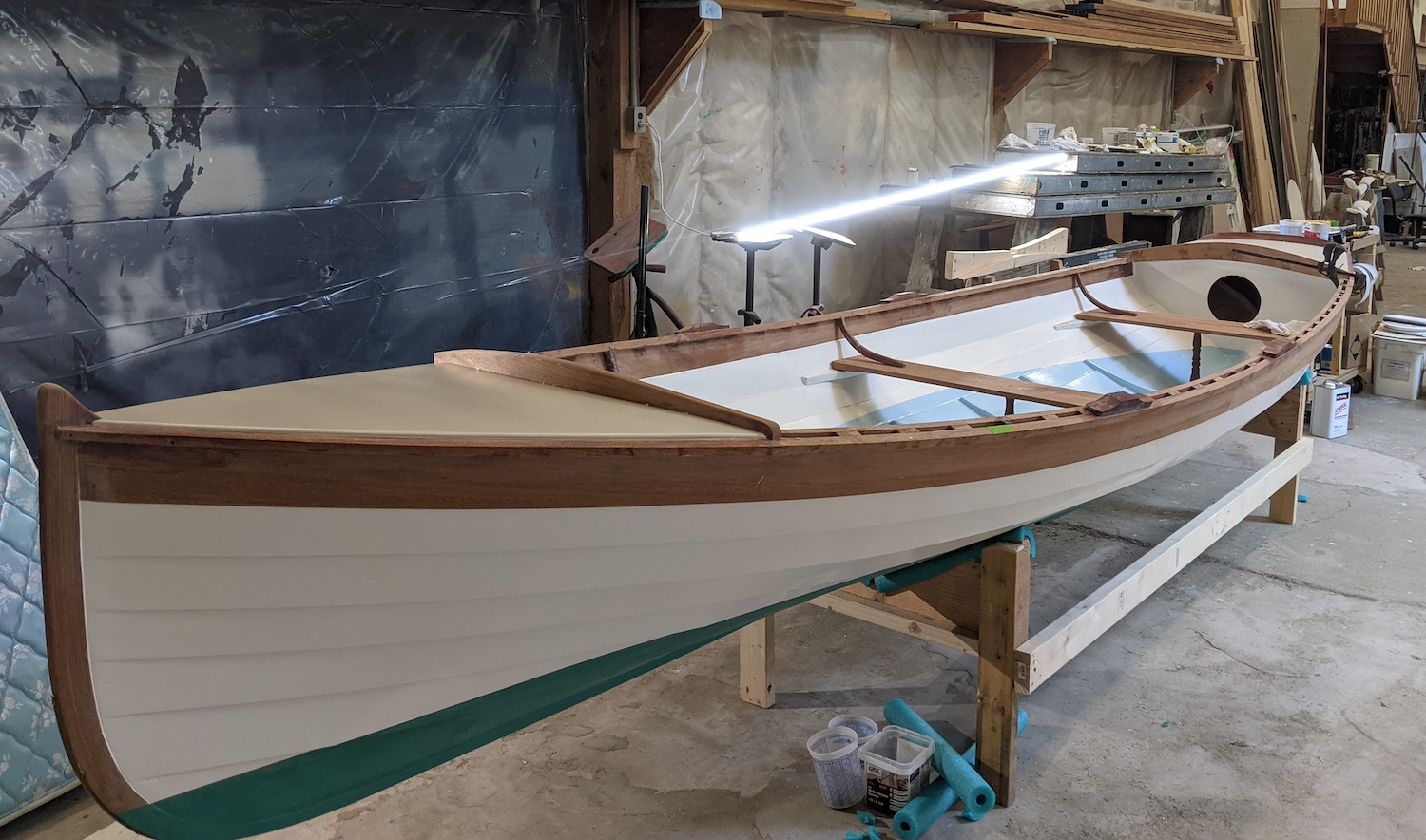 On land, showgoers will find a range of smaller boats, including skiffs from Salty Boats of Maine, and an elegant 17-foot wooden rowing skiff from Davis Small Craft. Glued lapstrake okoume plywood construction with a solid sapele sheer strake, the original Iain Oughtred design has been modified to include fore and aft decks and bulkheads for dry storage/floatation. The boat comes with one set of Shaw & Tenney oars, but two rowing stations are available.
There also will be a sturdy Webbers Cove 22 on display by Thomas Yacht Brokerage. A wide range of New England workboat-inspired boats are being shown by Eastern Boats.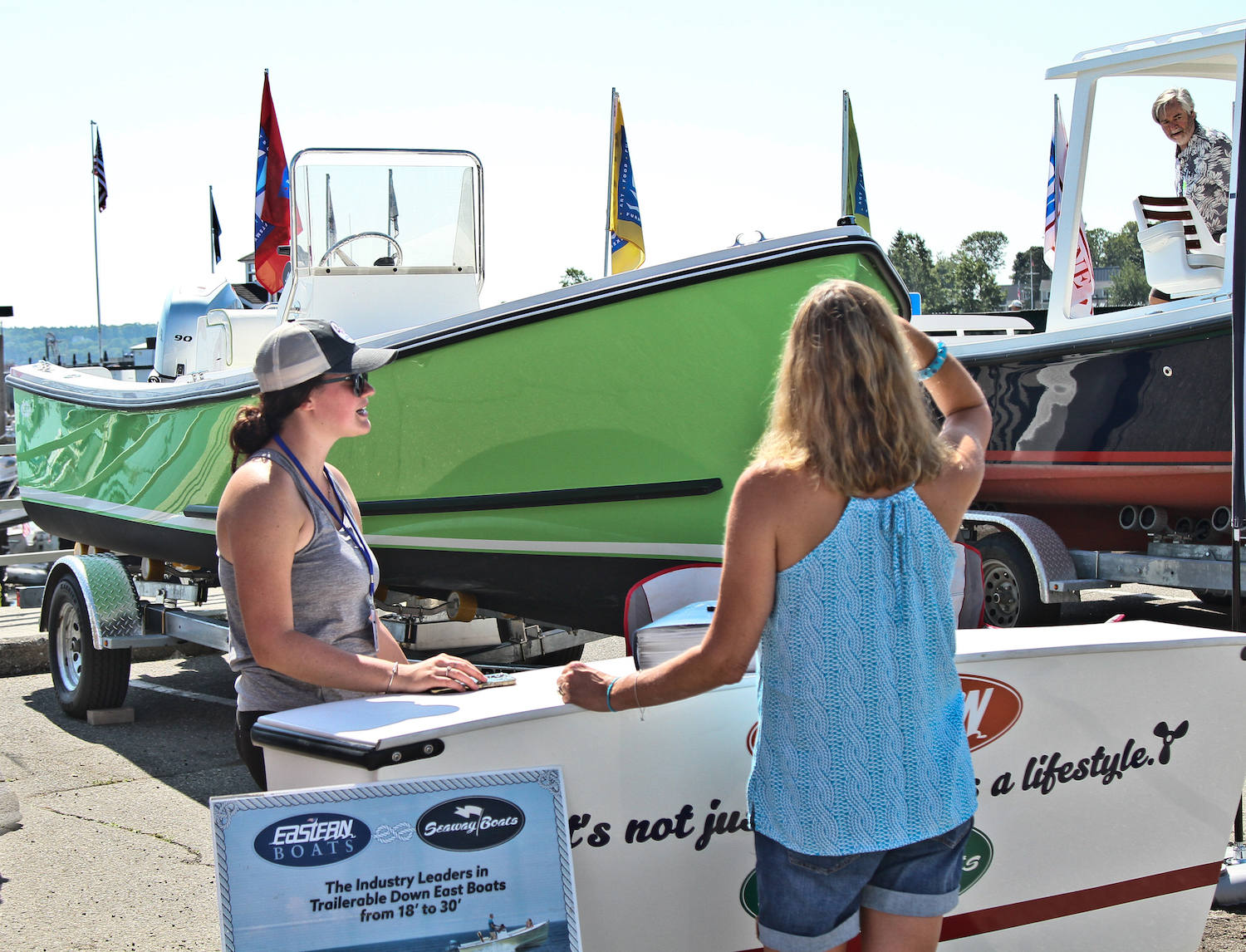 Also displaying boats with the show will be the Landing School, the Apprenticeshop, North Atlantic Inflatables, and Jeff's Marine.
The Maine Boat & Home show is held annually on the second weekend in August on the waterfront in Rockland. Lasting three days, it is Maine's biggest in-the-water boat show and  attracts thousands of discerning attendees from all over the country and world.