MB&H Show - Maps, Parking, Directions
MB&H Show - Maps, Parking, Directions
The Annual Maine Boat & Home Show is typically held the second weekend of August. Gates open at 10 a.m. daily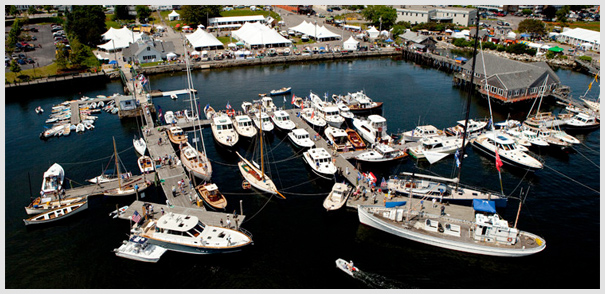 Maps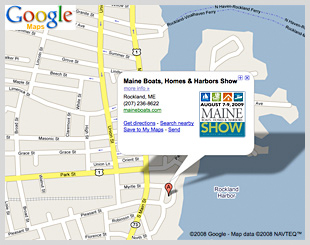 Click on the Google Map above for a detailed map and directions to the show.
Directions to the show - By Land:
From points east-northeast (Eastport, Cherryfield, Ellsworth, Belfast): Coastal Route 1 is the best bet. The show is located on the southern side of the city of Rockland.
From points northwest (Augusta, Waterville): Route 17 comes directly into the northern side of the city of Rockland; turn right onto Rte. 1 southbound to get to the show.
From the south (Portland, Brunswick/Bath) Coastal Route 1 comes right in to Rockland. (Do NOT take the Route 90 turnoff in Warren, stay on Route 1 through Thomaston to Rockland.) Take a right at the Main Street light, the main show entrance is on the left, or go straight at the light to the Buoy Park entrance.
Directions to the show - By Sea: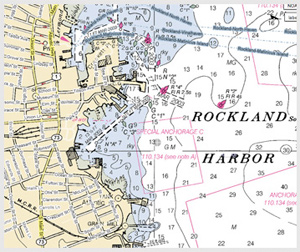 NOAA chart 13302,
"Penobscot Bay and Approaches",
or Maptech Waterproof Chart #40,
"Rockland to Mount Desert Island".
Rockland Harbormaster:
207-594-0312.
Show Grounds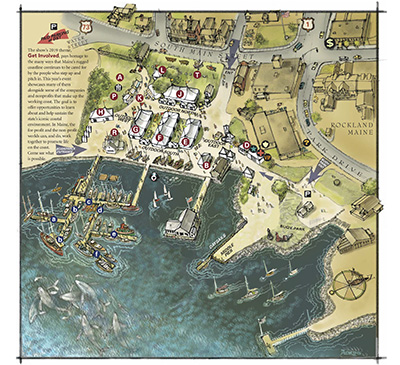 A beautiful map of the 2019 show grounds, originally created by nautical illustrator Jan Adkins, can be downloaded here; you'll also find a full-color version in the show program itself.
CLICK HERE TO DOWNLOAD A PDF of the SHOW MAP (will open in a new window)
Downtown Rockland Map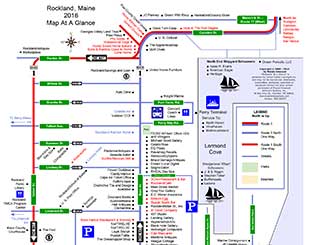 To get a sense of downtown Rockland's layout, many offerings, and parking opportunites, and to see where the show is located, just click on the image above or the link below to download a PDF.
CLICK HERE TO DOWNLOAD STREET / PARKING MAP OF ROCKLAND (opens in a new window)
Parking Map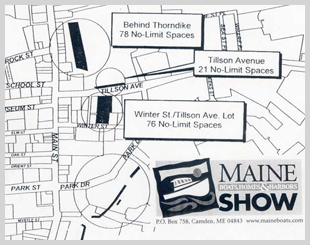 There is limited all-day parking in Rockland. Please consult the map for areas that do not have time limits. HANDICAPPED PARKING available on Myrtle Street next to Rite Aid (NOT in the Rite Aid lot). PAID PARKING ($10/day, from 8:00 a.m.-closing) is available at the DST lot on Water Street right next to the show grounds. Proceeds BENEFIT local nonprofits. Thanks to DST for opening their lot to these groups.