MB&H Show - Maps, Parking & Coming By Boat
The Annual Maine Boat & Home Show is typically held the second weekend of August. Gates open at 10 a.m. daily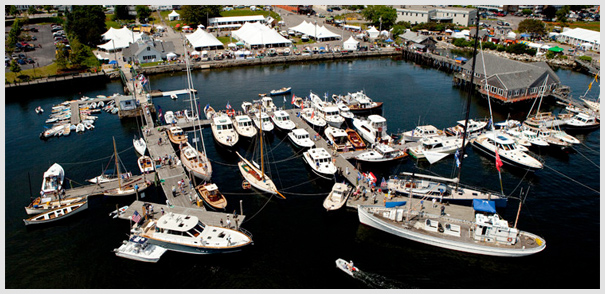 The show docks viewed from the air, with the show grounds behind. Photo © Jeff Scher
Maps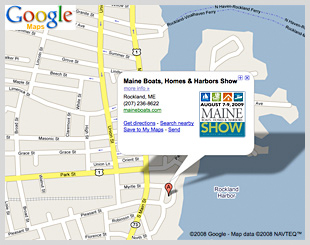 Click on the Google Map above for a detailed map and directions to the show.
Directions to the show - By Land:
From points east-northeast (Eastport, Cherryfield, Ellsworth, Belfast): Coastal Route 1 is the best bet. The show is located on the southern side of the city of Rockland.
From points northwest (Augusta, Waterville): Route 17 comes directly into the northern side of the city of Rockland; turn right onto Rte. 1 southbound to get to the show.
From the south (Portland, Brunswick/Bath) Coastal Route 1 comes right in to Rockland. (Do NOT take the Route 90 turnoff in Warren, stay on Route 1 through Thomaston to Rockland.) Take a right at the Main Street light, the main show entrance is on the left, or go straight at the light to the Buoy Park entrance.
Directions to the show - By Sea: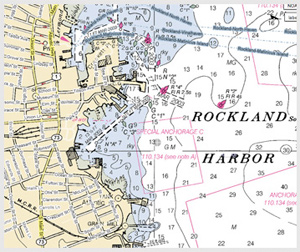 NOAA chart 13302,
"Penobscot Bay and Approaches",
or Maptech Waterproof Chart #40,
"Rockland to Mount Desert Island".
Rockland Harbormaster:
207-594-0312.
Show Grounds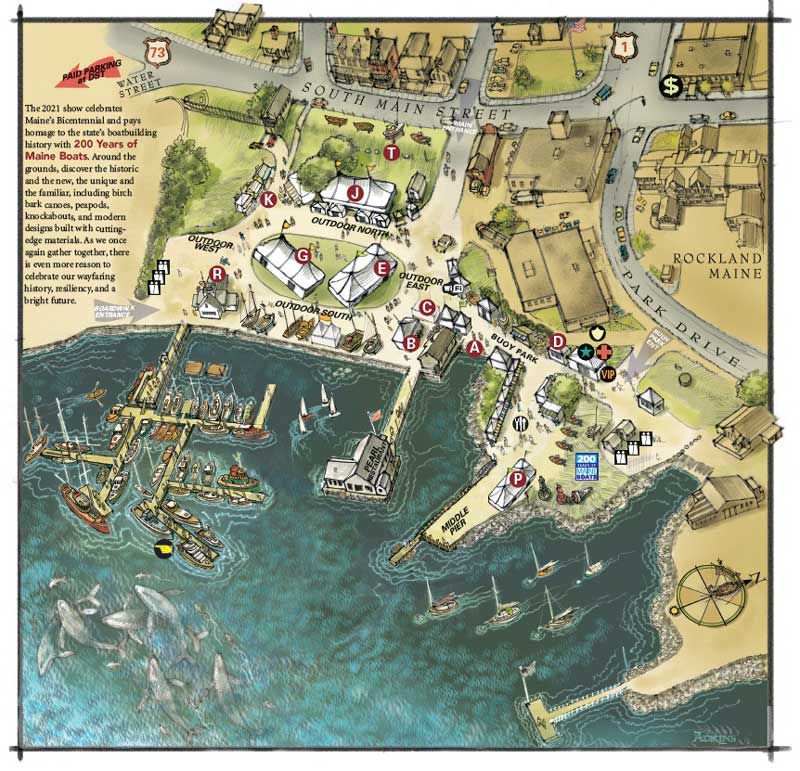 A beautiful map of the 2021 show grounds, originally created by nautical illustrator Jan Adkins, can be downloaded here; you'll also find a full-color version in the show flyer itself.
CLICK HERE TO DOWNLOAD A PDF of the SHOW MAP (will open in a new window)
Downtown Rockland Map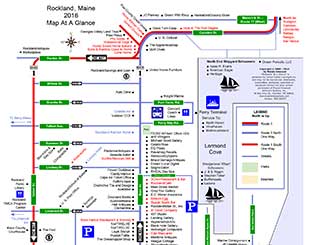 To get a sense of downtown Rockland's layout, many offerings, and parking opportunites, and to see where the show is located, just click on the image above or the link below to download a PDF.
CLICK HERE TO DOWNLOAD STREET / PARKING MAP OF ROCKLAND (opens in a new window)
Parking Map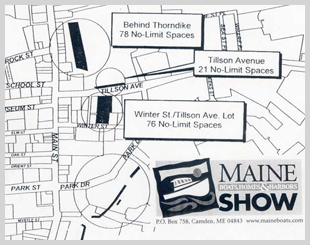 There is limited all-day parking in Rockland. Please consult the map for areas that do not have time limits. HANDICAPPED PARKING available on Myrtle Street next to Rite Aid (NOT in the Rite Aid lot). PAID PARKING ($10/day, from 8:00 a.m.-closing) is available at the DST lot on Water Street right next to the show grounds. Proceeds BENEFIT local nonprofits. Thanks to DST for opening their lot to these groups.
CLICK HERE TO DOWNLOAD PARKING MAP - PDF, 182kb
Arriving by Boat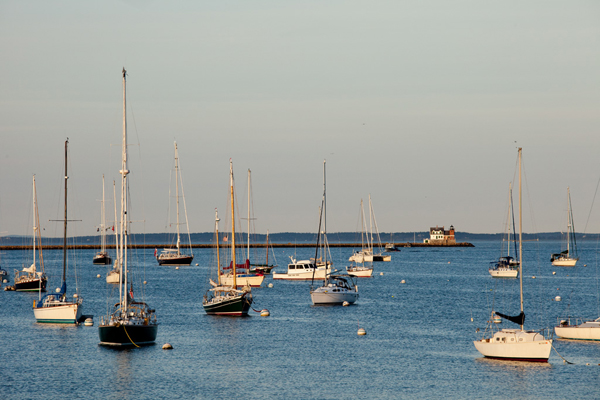 Welcome to Rockland!
Rockland is a full-service destination for boaters. It boasts a long maritime history and a wonderful small-city ambience, much of which focuses around the harbor. Services are plentiful and conveniently located, and a variety of marinas cater to recreational craft of all sizes and shapes. The working waterfront remains, with plenty of fishermen and workboat skippers still using the wharfs, and the passenger schooner fleet is thriving.
Services abound for boaters:  More than 100 rental moorings / Dockage for vessels up to 250 feet / Pumpout services / Full-service boatyards (see list below) / Parts and marine supplies / Fuel, ice, laundry
Within easy walking distance of the harbor: Provisions, groceries, fresh seafood / Drugstore / Restaurants and pubs / Movie theater, live events, museums, galleries / Shopping / Pet supplies (even a dog wash!) / Day spas and barbershops / Library / Post Office / Banking & ATMs
Charts: NOAA chart 13302, "Penobscot Bay and Approaches,"or Maptech Waterproof Chart #40, "Rockland to Mount Desert Island" ?
Rockland Harbormaster: 207-594-0312 | VHF Channel 16 | www.rocklandharbor.info
Official address: 1 Harbor Park, Rockland, ME 04841
Mailing address: 270 Pleasant Street, Rockland, ME 04841
The Harbormaster operates the Public Landing and can help with information and advice on moorings in Rockland Harbor. The harbormaster's office is located at the Rockland Public Landing, at the foot of Harbor Park. Open year round, 8AM to 4PM Monday through Thursday. In the summer it's open at least those hours seven days a week. They enjoy visitors but may be out of the office (on the water, running errands, up at city hall, or working on floats and maintenance). If it's important, we advise calling before stopping in.
Tides The mean tidal range is 9.7 feet.
Launch Services:
Rockland Yacht Club Launch: 8 a.m.-8 p.m. / VHF Channel 9 / 207-233-2800
Two Toots: VHF Channel 9 / 207-594-2891
Local services: This is a boating community, so boat supplies, repairs of all kinds, and crew amenities are readily available.
Boat Parts & Supplies:
Hamilton Marine: 20 Park Drive, Rockland, ME 04841 / 207-594-8181
Summer Hours (April - August): Monday-Friday, 7 am-6 pm / Saturday, 8 am-5 pm / Sunday 9 am-4 pm.
Winter Hours (September - March): Monday-Friday, 7 am-5 pm/ Saturday, 8 am-5 pm / Closed Sunday.
www.hamiltonmarine.com
Rockland Boatyards & Marinas:
Navigation and Hazards: Charts: NOAA chart 13302, "Penobscot Bay and Approaches,"?or Maptech Waterproof Chart #40, "Rockland to Mount Desert Island"
One of the busiest harbors in Penobscot Bay, Rockland sits on the west shore of West Penobscot Bay between Owls Head to the south and Jameson Point to the north. The breakwater extends from Jameson Point, with Rockland Breakwater Light showing from a red brick tower and building at the end of the breakwater. A fog signal is also located at the light.
Approaches: The most prominent objects are a radio tower, which is lighted at night, the aerolight at the Knox County Regional Airport, and the radio tower and signal mast at Rockland Coast Guard Station on Crockett Point. The light on Owls Head, the tower at the Dragon Cement plant in nearby Thomaston, and the light at the end of the breakwater are also conspicuous. Approaching Rockland Harbor, the Breakwater Light may be steered for on any safe course, using the chart as a guide. Enter the harbor southward of the breakwater light, giving it a berth of 100 yards or more. The approach channel has three branch channels, all buoyed.
Hazards: The southwestern side of the harbor is very shoal inside the line between Seal Ledge and Atlantic Point (where grain silos are located). The northernmost area of the harbor is also shoal inside a line between Jameson Point and the North End Shipyard (1 foot at mean low water). Several rocks and ledges are in the harbor. The visible ones are Shag Rock, on a cluster of bare rocks, 0.3 mile northwestward of Owls Head and marked by a day beacon; Lowell Ledge, a cluster of rocks awash at low water on the south shore of the harbor opposite Jameson Point; and Seal Ledge, which uncovers about 5 feet, in the southwest end of the bay and marked by a day beacon. A buoy marks Spears Rock, covered 5 feet, about 300 yards northeastward of Lowell Ledge. Dangerous wrecks are on the south side of the harbor entrance about 0.5 mile northeast of Spears Rock and in the southwest part of the harbor about 200 yards south of Seal Ledge.
Tides: The mean range of tide is 9.7 feet.
Good to Know: Shoreside and Emergency Services:
Airport: Knox Co. Regional, Owls Head 207-596-0617
Coast Guard: Rockland 207-596-6667 or VHF 16
Harbormaster: Rockland 207-594-0312
Police, Fire, Ambulance: 911