Gunkholing with Gizmo: Frenchboro, Long Island
Gunkholing with Gizmo: Frenchboro, Long Island
By Ben Ellison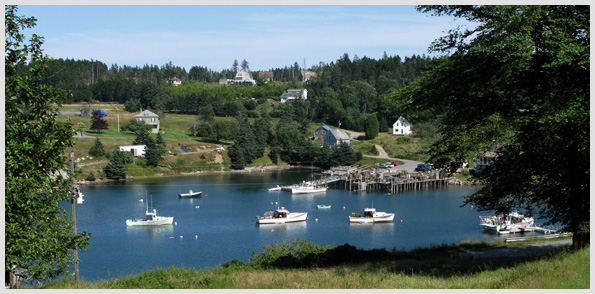 Frenchboro village is clustered around its working harbor on what was once known as Outer Long Island,
and now simply as Long Island. Photo by Ben Ellison
It's confusing that Outer Long Island has had its name shortened when there are at least two other significant Long Islands along the Maine coast (not to mention that other Long Island to our south). And while calling the whole place "Frenchboro" certainly works—though it technically just covers the little village arrayed around Lunt Harbor (1)—it leaves out the island's striking "outer" qualities, partially seen in the satellite view below. That's unfiltered Atlantic pounding the gnarly south shore, with eight more miles to roll before reaching Mt. Desert Island. Note the lack of visible sprawl despite nearly two centuries of human habitation. Whatever it's called—Frenchboro, Long Island seems to have momentum currently—this 2,500-acre granite outpost is well known to cruising yachts, and thus seemed a perfect first destination for the newest Gizmo, which is a Duffy 37 lobsteryacht. (The original 14' outboard has been renamed Li'l Gizmo and will still serve for near-shore expeditions.) The island's reputation is exceedingly well deserved. Lunt's Dockside Deli (207-334-2902) even includes solid WiFi service with its rental moorings these days, and may indeed serve the tastiest, meatiest lobster on the coast. Lunt's now has able and chipper competition in the form of the Offshore Store (207-334-2943), located at the head of the harbor (2), which will even deliver steamed lobsters to your boat. Other services are minimal, but the sweet little museum/gift shop is staffed by volunteers most afternoons and the adjoining library is reportedly open 24/7.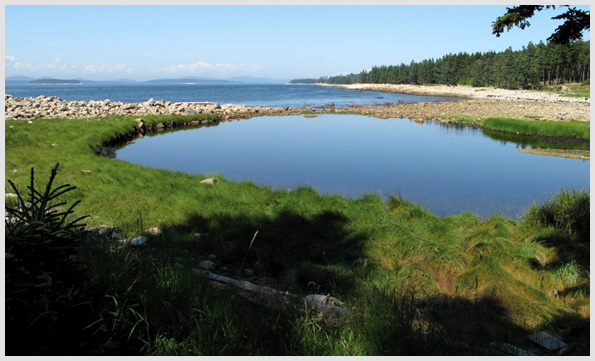 The island's trails lead to salt ponds, rocky shorelines, and a spectacular bluff.
Photo by Ben Ellison
The island is justly famed for the trails that run along almost the entire shore, much of which is now a Maine Coast Heritage Trust preserve. The 1.5-mile-long hike down to Little Beach (3)—"beach" being defined by absence of cliffs, not presence of sand—and back around via the salt ponds (4) is a fine start. Better still is the 4.5-mile trek from the ferry dock (5) around to Eastern Beach (6), to East Cove ( 7), which is a reasonable fair-weather anchorage with great access to the trail around Rich's Head (8), and then to spectacular Bluff Head (9). The last leg back to town cuts across Southwest Point (10); we sure wondered how wild its outer tip is. We were probably not the only visitors who wondered why Frenchboro seemed such a friendly community during a summer when tensions had flared in other remote lobster ports. Something seems to have gone right over the decades out here on the outside edge of civilization. We were especially pleased to find that Long Island history has been lovingly documented by native Dean Lunt in
Hauling by Hand
(
www.islandportpress.com
). There's no better preparation for visiting outer Long Island than reading Lunt's book.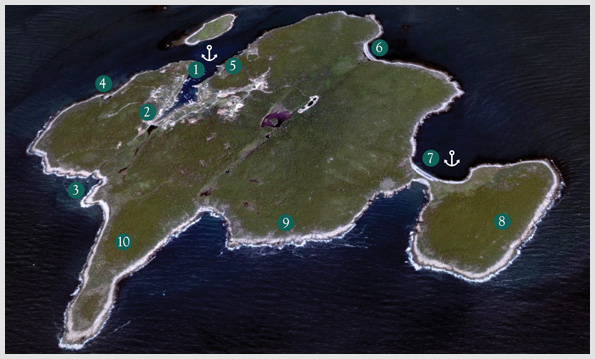 Charlet Key:
1) Lunt Harbor 2) Offshore Store, Head of Harbor 3) Little Beach 4) Salt Ponds 5) Ferry dock 6) Eastern Beach 7) East Cove 8) Rich's Head 9) Bluff Head 10) Southwest Point
Click here or on the image above to download a PDF Chartlet

Chart: Ben Ellison, based on image courtesy of Google Earth. E-mail Ben (
gizmo@benetech.net
) about restaurants, parks, and the like that he can visit aboard the M/V
Gizmo
.
Click here
to travel with Ben Ellison and
Gizmo
on other
coastal adventures
on the Maine coast.
Share this article:
2023 Maine Boat & Home Show

Join Us for the Maine Boat & Home Show!
Art, Artisans, Food, Fun & Boats, Boats, Boats
August 11 - 13, 2023 | On the waterfront, Rockland, Maine
Click here to pre-order your tickets.
Show is produced by Maine Boats, Homes & Harbors magazine.