Gunkholing with Gizmo: Little Cranberry Island
Gunkholing with Gizmo: Little Cranberry Island
By Ben Ellison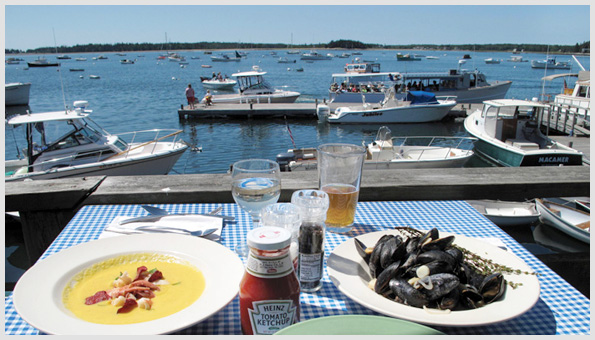 A bustling dock-and-dine scene is just one of Isleford's many charms.
Photograph by Ben Ellison
Little Cranberry Island is fairly flat as Maine islands go, but that quality contrasts nicely with the stony peaks of Mount Desert Island that loom so dramatically to the north. Another pleasing MDI/LCI contrast—to use the local acronyms—is how few motorized vehicles dash along its easy-going roadways. Islesford—the name of Little Cranberry's village, and a popular alternate name for the whole 200-acre island—feels uncrowded, especially in the shadow of the nation's most popular national park. Yet LCI's transportation hub, the trio of large docks in Hadlock Cove (1), was full of joyful high-summer hubbub when we visited. The Islesford Dock Restaurant, which sits just north of the fishermen's co-op and the public landing, may be the most bustling dock-and-dine operation along our coast, and deservedly so. I count as one of last summer's highlights a late July bowl of cantaloupe gazpacho sprinkled with lobster chunks, savored on the deck while watching passenger ferries and picnic boats jockey for float space. I also enjoyed the shops and galleries that share the dock, and give a thumb's up to the adjacent Islesford Historical Museum (2), though it was good to stretch our legs with a long LCI meander. One high point was the Islesford Artists Gallery (3), which features dozens of painters from this island and others. It's just past the Neighborhood House, where we returned that night for a semi-professionally staged reading of an original play. That seemed a lucky surprise, but it's apparently a repeatable one as the Islesford Theater Project is a regular summer phenomenon. A fine view of Mount Desert Island is the reward for making a further side trip to the end of Mosswood Road (4). Back along Main Street is the village's nerve center—the combined market, post office, and bakery (5). It's a must-visit, but here's hoping you also have time to make it to Gilley Beach (6). It's not a beach of sand, but rather of surf-rounded stones of mostly gray granite mysteriously interspersed with clusters of pink ones. Is their presence due to a weight difference between the two colors? Is it something islanders do? Or could it be a message from aliens? Inquiring minds would like to know. If the tide isn't too high, and you wear decent shoes, you can make it around the rocky point called The Maypole and onto an actual Sand Beach (7). While most of the boat ramps indicated on the large-scale NOAA chart are long gone, the boat sheds have mostly morphed into summer homes notable for playful landscaping and outdoor art, as is the island way. You'll also find a pocket park that memorializes Islesford's maritime history. It is especially well placed and a perfect spot to admire the harbor in its larger setting. On my next visit, I hope to explore the road to the lifesaving station (8)— established in 1879 and now a rental property—as well as a purported right-of-way that may lead to another beach (9). If you get there ahead of us, and especially if you figure out the mystery of the pink granite cobbles, please report your findings to us at maineboats.com, where you'll also find useful links and chartlets of LCI, as well as more photos.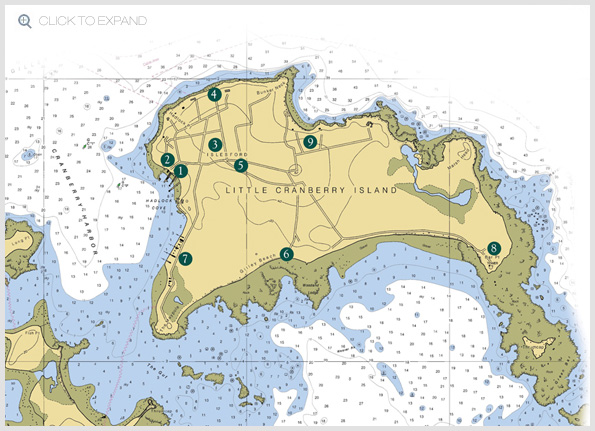 CLICK TO ENLARGE CHART
Charlet Key: 1 - Hadlock Cove 2 - Islesford Historical Museum 3 - Islesford Artists Gallery 4 - Mosswood Road 5 - Town market, post office, and bakery 6 - Gilley Beach 7 - Sand Beach 8 - Lifesaving Station
CLICK HERE TO DOWNLOAD A PDF OF THE CHARTLET

E-mail Ben (
gizmo@panbo.com
) or leave him a note via the form below to tell him about restaurants, parks, and the like that he can visit aboard the M/V
Gizmo
.
Click here
to travel with Ben Ellison and
Gizmo
on other
coastal adventures
on the Maine coast.
Share this article:
Digital Edition Available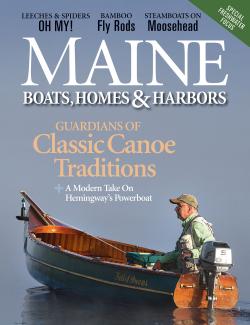 Can't get to the store to buy your magazine? We deliver the stories of Maine's coast right to your inbox. Sign up here for a digital edition.