Adventures - Gizmo - Bunkers Wharf
Gunkholing with Gizmo: Bunker's Wharf
By Ben Ellison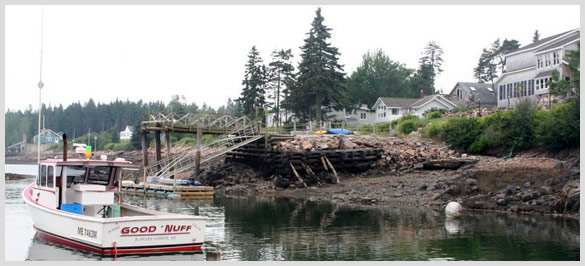 Bunker's Wharf. Photograph by Ben Ellison
If Bunker's Wharf (1) was merely a classic paper-plates-and-cole-slaw lobster wharf, it would still be worth a visit. The skinny head of Bunker's Harbor is about as pure and picturesque a Maine fishing scene as you're ever likely to see, and the restaurant's outer harbor mooring and forty feet of floating dock tie-up make it an easy stopover, once you've negotiated the outer ledges (2), which only uncover at about half tide (leave them all to starboard and favor the shore).
The Bunker's Wharf crab roll. Photo by Ben Ellison
What a tasty surprise, then, that Bunker's Wharf is actually a classy white-table-cloth and china establishment with an ambitious culinary agenda. Oh, you can get steamed lobster, even tuck into it *al fresco on the dining patio, but the side dishes will be roasted cornbread pudding and blanched asparagus, and alternate menu choices will typically include hand-cut filets and fresh fish with interesting sauces. Hang around and you're apt to learn that proprieter Bob Osgood is so adamant about freshness that all dishes, including breads and desserts, are created in a kitchen which has a harbor view but no freezer. The unusually located Bunker's Wharf (207-963-2244,
www.bunkerswharfrestaurant.com
), which Osgood built on the site of his grandparent's beloved summer camp, and tends with gusto, would deserve destination dock'n'dine status even if it didn't pair quite neatly with a visit to the nearby Schoodic portion of Acadia National Park. One appetite-enhancing hike is to simply head down Schoodic Drive—one-way counterclockwise within the park's borders (3)—and up the mossy East Trail (4) to 440' high Schoodic Head, which offers some fine views of Mt. Desert. Schoodic, by the way, doesn't have terrain quite as dramatic as the big island, but neither does it have the crowds.
www.exploreacadia.com
for details). That way you'll be fresh to climb the gorgeous, if somewhat challenging, Anvil Trail (5). Other options are a visit to the new Schoodic Education and Research Center (6), which recently took over the old Navy Base (
www.acadiapartners.org
), or a gander at the Atlantic breaking on the Point (7). Of course, those cruising by automobile can similary enjoy the park and make Bunker's Wharf an ever-so-convenient lunch or dinner stop afterwards.

Roll over numbers to view thumbnails
Credits: Article photos and chart enhancement by Ben Ellison based on NOAA charts 13318 and 13324. E-mail Ben (
gizmo@benetech.net
) about restaurants, parks, and the like that he can visit aboard the M/V Gizmo.
Click here
to travel with Ben Ellison and
Gizmo
on other
coastal adventures
on the Maine coast.
Share this article:
2023 Maine Boat & Home Show

Join Us for the Maine Boat & Home Show!
Art, Artisans, Food, Fun & Boats, Boats, Boats
August 11 - 13, 2023 | On the waterfront, Rockland, Maine
Click here to pre-order your tickets.
Show is produced by Maine Boats, Homes & Harbors magazine.