Lyman Morse, Green Building
A big new building with a small impact.
By Polly Saltonstall

Photo by Billy Black
It's fall, and nights in midcoast Maine have been getting cooler. Temperatures have been dropping, but the boatbuilders in Lyman-Morse's new building have yet to turn on the furnace. If all goes as planned, they won't need to fire up the boilers until much later this winter. That's because the custom yacht-builder's new 22,400-square-foot state-of-the-art building features a myriad of energy-efficient and environmentally responsible concepts, including a massive rooftop solar heating system. The "green" building, which opened for business on the waterfront in Thomaston late last spring, houses the company's construction and service operations for yachts up to 150 feet long.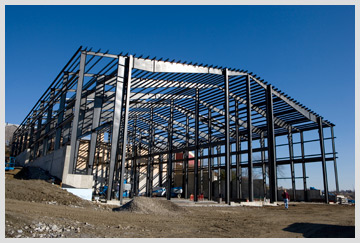 Photo by Billy Black
The decision to incorporate as many green ideas as possible into the project was part of an ongoing effort at the company to promote environmentally sound practices. But it also made financial sense, said Ron Dafoe, Lyman-Morse's environmental and safety manager. He estimated that the energy savings from the building will result in a five-year payback. "A clean environment is our business. If the water out there gets polluted, how many boats are we going to sell?" Dafoe said. "That, with the payback and rebates, made this an easy call." Lyman-Morse qualified for a small rebate from the state for the solar heating system, as well as up to $180,000 in state and federal tax credits on the $2-million-plus building, according to Dafoe. Designed and installed by Dawn Solar of Brentwood, New Hampshire, the solar heating system features a network of tubes mounted just below the heat-attracting red metal roof. Those tubes, which can hold 360 gallons of liquid at a time, carry the hot water down through heat exchangers that lead to radiant tubes in the cement floor and retaining wall (the building is nestled into the side of a hill). Built 14 inches thick in order to support the 110-ton travel lift, the massive cement floor creates a huge heat sink for the solar energy. Other "green" elements of the building include efficient fluorescent lighting. The flooring in the offices and bathrooms is made of recycled material, and the company has installed five waterless urinals -- expected to save more than 40,000 gallons of water a year. The construction of the building's super-insulated walls is similar to that of a core-infused boat hull. Polystyrene rigid foam is sandwiched between oriented strand board, which forms the interior and exterior sheathing. The low-E thermal windows provide natural light while minimizing energy loss. A complete air-exchange system utilizes variable frequency drives that use less power when full power is not needed. Dafoe expects the new systems will save as much as 2,000 kilowatt-hours a month over more conventional systems. That is more than the total monthly electric usage of two medium-sized conventional homes.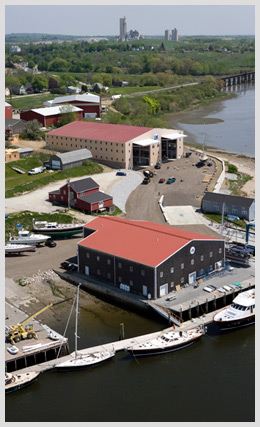 Photo by Billy Black
With two massive bays, each 55 feet tall, 160 feet long, and more than 40 feet wide, the new structure represents a 25-percent expansion for the privately held company, which now employs 187 people. To put the size of the building in perspective, one bay was recently occupied by the deck and hulls of a 60-foot carbon fiber catamaran, the other by both the 94-foot, C.M. Hunt motor cruiser
Electra
,
and
a 54-foot Chuck Paine-designed sailboat. The south-facing bays are accessed through big bi-fold doors that are reminiscent of airplane hangers. Central mezzanine floors house administrative and design offices and other workspaces. Maine Coast Construction of Camden erected the Varco-Pruden building. Also involved in the design was Zach Lyman, the son of Cabot and Heidi Lyman (the Lymans in Lyman-Morse). Zach works for Reluminati, a Washington, D.C.-based firm that specializes in alternative energy solutions. Dafoe said the building is just one of many efforts the company is making to reduce its overall environmental impact. Lyman-Morse has committed to using a 20% biodiesel product to run the new 110-ton Travelift and other diesel equipment and boats. In addition to joining the Maine Clean Boatyards and Marinas program, Lyman-Morse also joined the EPA's National Environmental Performance Track -- a partnership program that recognizes facilities that set goals for continuous improvements in environmental performance beyond their legal requirements. Lyman-Morse has committed to reduce its energy use by 11 percent, styrene emissions by 42 percent, and all hazardous waste generation by 10 percent between 2006 and 2009. Dafoe summed up the project: "If we're doing something that will help the company and the environment that's the best thing we can do"
Share this article:
2023 Maine Boat & Home Show

Join Us for the Maine Boat & Home Show!
Art, Artisans, Food, Fun & Boats, Boats, Boats
August 11 - 13, 2023 | On the waterfront, Rockland, Maine
Click here to pre-order your tickets.
Show is produced by Maine Boats, Homes & Harbors magazine.