To Rockland by Rail and Beyond
By Greg Rössel

Passing Bowdoinham. Photograph by George Melvin / Maine Eastern Railroad.
Right on time, Maine Eastern Railroad engineer Terry Maschino eased open the throttle of General Motors locomotive #489 and the train pulled out of Rockland station on its way to Augusta via Brunswick, (the "Lower Road") and back -- a passenger trip that has not been made in many years.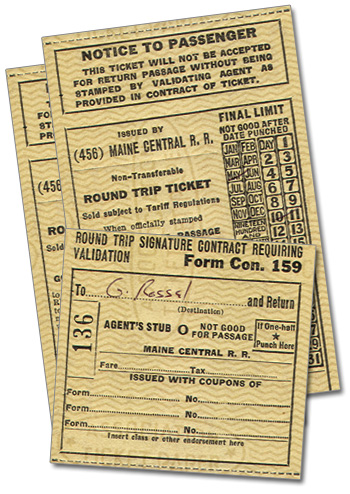 This particular pre-season run was sponsored by the Maine Rail Group, the 470 Railroad Club, and Maine Eastern Railroad. While the tour would offer a ride over some little-seen track, more importantly, the trip was a celebration of recent passage of legislation that calls for the extension by year 2010 of the Amtrak Downeaster route from Portland to Brunswick, with continuing service all the way to Rockland (and eventually to Augusta) via Maine Eastern -- an event, which even only a few years ago, would not have seemed possible. Maine Eastern Railroad operates a year-round freight line and seasonal passenger excursion train from May through October on the 57-mile-long Rockland Branch of the old Maine Central Railroad. The train is outfitted with fully restored vintage coaches and locomotives. With regular service between Rockland and Brunswick, (the train also picks up passengers in Bath and Wiscasset), the line offers passengers a view of the terrain, waters, and villages of the Midcoast region that harkens back to an earlier Maine, when the state was less dominated by the automobile.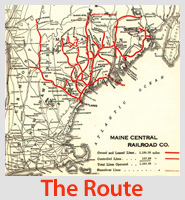 Click on the image above to
read about the train route.
Nuts, Bolts and Rails
-- Any train trip has its share of rail fans, and this trip had more than most as the sponsoring groups are dedicated to not only preserving the history of rail but also promoting it. One such passenger was Allen Fisher. Fisher is retired from the position he held for 32 years as Director of Operating Rules for the Conrail System, and is a walking encyclopedia of rail operations and engineering. His interest in rail started as a boy when his parents gave him a copy of a book about the narrow gauge railroads in Maine. Now, many years later, he is secretary of the Wiscasset, Waterville, and Farmington Railway Museum – named for one of the many two–foot lines that used to cross the state. Said Fisher, "Just as Maine built railroads in the last decades of the nineteenth century and the early part of the twentieth century when they were needed, Maine is now trying to re-build some of those lines that we have lost to serve today's needs. Mainers had always been good at building railroads to move products and people -- whether they be full size track or narrow gauge. Now with rising energy costs, rail is a lot more sustainable" Actually, it was not all that long ago (at least geologically speaking) that Maine was fully served by an abundance of rail lines – both passenger and freight. A glance at a 1930 Maine transportation map reveals an extensive network of standard rail, narrow gauge, high speed interurban trolleys, and local street railways that would allow the passenger to connect – hop-scotching from line to line, virtually to the rest of the United States. Regular passenger service could be had from the upper reaches of the county and far-flung towns like Rangeley, Greenville, Albion, Winthrop, Bridgton, Thorndike, Eastport, and even Bar Harbor (via steamer), not to mention countless stations in between. Soon after that map's printing, however, dramatic changes were in store for transportation in Maine. During the Depression, the narrow gauge lines (marginal operations at the best of times) were abandoned. In the ensuing years, the competition from cars, trucks, and buses pressured the remaining rail lines to slim down their operations. The Maine Turnpike and the Interstate were built, which encouraged more long-haul trucking. The Maine Central maintained their sleeping car service from Ellsworth to New York, Philadelphia, and Washington DC until 1957. Passenger service on the Rockland to Brunswick run ceased in 1959. By 1960, the railroad discontinued all passenger service – an apparent casualty of the American public's fascination with the marvels of the automobile and the speed of air travel. In 1980, the Maine Central was sold and eventually a third of their track was eliminated in a cost-saving move – including the "Lower Road" and Rockland branches. To protect the potential future of rail transportation in Maine, the legislature voted to acquire much of the divested right of way. But, to many, rail's days looked numbered.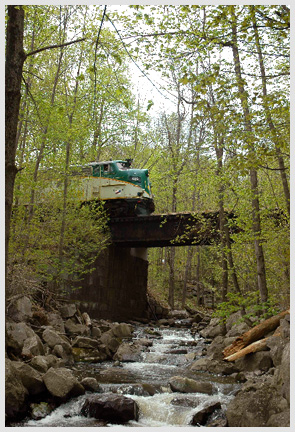 Crossing a stream near Hallowell. Photograph by
George Melvin / Maine Eastern Railroad.
Fast forward to 2008
-- As our train passed over the Androscoggin River on its way to Augusta, Gordon Page, Vice President and Director of Passenger Operations for Maine Eastern reflected on the growth of the Rockland Branch since the rails on the line were upgraded in 2003 by the Maine Department of Transportation (DOT). Maine Eastern began offering passenger service shortly after its entry into the market as a freight operation. "Railroads are back -- some call it the renaissance of rail," said Page enthusiastically. "Rapidly rising gasoline prices have resulted in new calls for mass transit, and commuter rail services all over the country are experiencing an influx of new riders. With the upgrade of the 28-mile-long track to Portland, Amtrak Downeaster passenger service is projected to arrive in Brunswick in 2010 with 2 to 3 round trips daily. Maine Eastern is set to provide continuing service to Rockland with an "across-the-platform" transfer from one railroad to the other. Later, as the rail on the "Lower Road" is upgraded, service will be offered to Augusta." The company is projecting a third year of double-digit increases in passenger counts. As diesel costs approach $5 per gallon, Page is equally bullish on the line's freight business. "Because of the lower cost per ton mile, short-line railroads like Maine Eastern will find themselves in a better position with shippers," he noted. There seem to be an abundance of statistics on the business of moving steel wheels over steel rails that support this optimistic outlook. According to the U.S. Department of Energy, Amtrak's passenger trains are 18 percent more efficient per passenger mile than commercial airline flights. Northern New England Passenger Rail Authority Executive Director Patricia Quinn noted that "one double track railroad can move as much as 14 lanes of highway" and suggested that passenger rail is an economic engine that attracts business, employees, and tourists to Maine. Meanwhile, on the cargo side of things, the numbers from the Association of American Railroads note that (on average) that railroads are three or more times more fuel efficient than trucks – as they can move a ton of freight 423 miles for each gallon of fuel they consume. All things considered, the cost advantage of rail vs. over-the-road trucking (especially for bulk commodities) starts to look even better North to Augusta – and back – As the train rolled northward it soon became evident that this was an unusual event for residents along the route as they photographed the train and showed their waving children an example of what used to a common sight just a half century earlier. Progress was slower here as the track has not yet been upgraded to the continuous welded track of the Rockland branch. From the Androscoggin, the track was once again rural, following the Cathance River and Merrymeeting Bay into Bowdoinham. As we came into Richmond, the riders started to get a better view of the expanse of the Kennebec River and Swan Island. North of Richmond, the track closely hugged the west shore of the Kennebec through Gardner, past the historic homes and businesses of Hallowell, all the way into the outskirts of Augusta. After Augusta, the train returned to Hallowell, where the Maine Rail Group had their annual meeting at the City Hall. Then, retracing the route with a new rail crew on board, we retreated south down the river, back across the Carlton Bridge and west into the lengthening shadows of the setting sun, which made for great wildlife spotting on the marshes. As the train rolled into Rockland in the twilight hours, some dozing passengers awoke and others wound up conversations, swapped addresses, and gathered belongings. One could imagine this scene in 1920 with happy summer coastal rusticators finishing this leg of their escape from the steamy south lands -- free from care and their cranky automobile. Soon, nearly 90 years later, they will be able to do it again. As Gordon Page would say, "Always expect a train!"
Maine Eastern Railroad
www.maineeasternrailroad.com
866-ME-RAILS 207-596-6725
Amtrak Downeaster
www.thedowneaster.com
tickets, reservations 1 800 USA RAIL
http://tickets.amtrak.com/itd/amtrak
Other Railroads:
Downeast Scenic Railroad--Downeast Rail Heritage 
Preservation Trust
PO Box 950
Bar Harbor, Maine 04609
1-866-449-RAIL (7245)
www.downeastscenicrail.org/maineshorehistory.htm
Wiscasset, Waterville & Farmington Railway Museum 97 Cross Road/P.O. Box 242 Alna, Maine 04535
www.wwfry.org
The Seashore Trolley Museum 195 Log Cabin Road
Kennebunkport, ME 04046 (207) 967-2712
www.trolleymuseum.org
Boothbay Railway Village 586 Wiscasset Road Boothbay, ME 04537 207 633-4727
www.railwayvillage.org
Sandy River and Rangeley Lakes Railroad SR&RL, P.O. Box B, Phillips, ME 04966
http://www.srrl-rr.org
Maine Narrow Gauge Railroad Museum 58 Fore St. Portland Maine 04101 207- 828-0814
http://www.mngrr.org/indexa.php
Share this article:
2023 Maine Boat & Home Show

Join Us for the Maine Boat & Home Show!
Art, Artisans, Food, Fun & Boats, Boats, Boats
August 11 - 13, 2023 | On the waterfront, Rockland, Maine
Click here to pre-order your tickets.
Show is produced by Maine Boats, Homes & Harbors magazine.