Produce Boat - article
Delivering fresh produce to Maine coast islands
By Sharon Lovejoy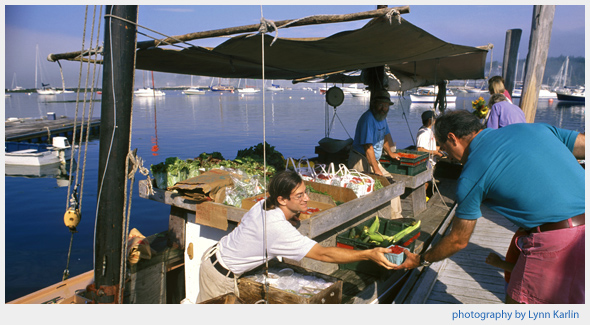 A small group of people stood above the Christmas Cove landing on Rutherford Island and scanned the brilliant blue waters. "There she is," a man said as he picked up a basket and walked down the gangway to greet the incoming boat.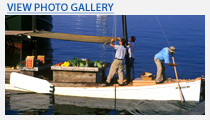 View a gallery of Lynn Karlin's images
The
Beth Alison
, a trim, 34-foot New Haven sharpie, glided silently into the landing. Within seconds, a young pony-tailed man lifted canvas awnings and secured them, then began unloading tin buckets brimming with fresh cut flowers. Beneath an awning, David Berry, captain, organic farmer and marketer extraordinaire, rang an old brass school bell -- the same one, owned by his grandmother, that once summoned reluctant students into a Fall River, Massachusetts, classroom. Now it was used to alert islanders that the Merrymeeting Farm market boat had arrived and was ready for business.

Earning a living in an unusual way is nothing new for Berry. A Bowdoin graduate and a self-described "jack-of-all-trades," he has built homes, taught English in Italy, made maple sugar "till the sugar house burned down in 1976," harvested oysters in the Damariscotta River, went commercial fishing, worked on the cruise schooners on Penobscot Bay, and "always farmed a bit during the short Maine summers." That "bit" of farming has evolved and grown, and keeps both Berry and his talented wife Alison busy year round. In the 1950s, Berry joined his family's poultry business at Merrymeeting Farm; the land had been settled by his family in the 1930s. In the early days, he conducted a "carriage trade of chicken and eggs," delivering to customers in Boothbay and Christmas Cove. Today, Berry and his wife tend 2 1/2 acres of crops, two greenhouses for tomatoes, and continue the family poultry operation that supplies restaurants and health food stores. As if that weren't enough, Alison makes jams and puts up pickles and chutneys, and supplies an array of fresh-baked goods. Her sticky buns, known far and wide, are one of the most popular products the market boat sells. How does such an earthbound enterprise end up on the ocean? "In the 1980s, the Maine Maritime Museum in Bath asked me to store a boat in my barn," said Berry. It was a wonderful, roomy, stable workboat, originally used for harvesting oysters on Long Island Sound. "I took one look at her," Berry said, "and told them 'I should be storing that for you in the river, not the barn'." They then struck a deal. "She is a perfect vessel," David Berry said, "my first and last boat." For the past 15 summers, the Berrys and several neighboring farmers and friends have kept the boat stocked with produce.

photograph by Lynn Karlin
(Island Market Boat - page 2) "We try to have a laundry list of about 25 products," Berry said. "All produce from our farm is organic." "I think it is really great that I can keep on doing this direct marketing," Berry added. Sometimes people expect organic products to look perfect, but my biggest problem seems to be that everyone arrives at the boat at the same time. It is a big rush of activity, but most folks wait patiently." Surviving in Maine and doing exactly what you want to do is never an easy task, but David Berry has some pointers for people embarking on a business venture or adventure. "Keep your quality high, and cull out those things that don't measure up to your standards. Don't waste anything. Recycle and use your culls for pickles or chutneys or some other creation. When it comes to sticky buns that aren't fit to sell ... well, we just eat them ourselves."

About 4 a.m. every Friday, Berry loads up his products and departs for the
Beth Alison
, moored near a private wharf in South Bristol. By 8 a.m. the boat is stocked, and Berry is ready for a long day of work. Weathered wooden boxes display glossy red tomatoes, jade-green cucumbers, squash, tangles of *Haricots verts, and bags of mesclun garnished with edible flowers. Baskets of jewel-toned raspberries nestle against blueberries and a mound of newly dug red potatoes. Alison's large buckets of golden sunflowers and fragrant mixed bouquets crowd the narrow deck and create a festive atmosphere. Christmas Cove is the first of many harbors where the
Beth Alison
calls. Heron Island, Squirrel Island, Capitol Island, Mouse Island, the Isle of Springs, and, finally, MacMahan Island -- by the end of day, Berry may have endured rain, wind, fog, blazing sun, and customers grousing because he has sold out of their favorite sticky buns, but he feels content. Around 8 p.m., Berry and his helper return to the sheltered wharf in South Bristol. The longest day of the week is over, leaving Berry exhausted but exhilarated. As the crow flies, Berry hasn't traversed many miles, but all mariners know that a Maine nautical mile, with all its twists and turns, can be longer than any other mile in the U.S. "I'm not looking to get rich or to have a bigger business," Berry said emphatically. "I just love doing this. It is a great way to get out on the water in the summer time."

Sharon Lovejoy is the author and illustrator of Trowel & Error (Workman), Roots, Shoots Buckets & Boots (Workman), A Blessing of Toads–A Gardener's Guide to Living with Nature (Sterling), and The Little Green Island with a Little Red House (Down East Books), winner of the National Outdoor Book Award. She can be reached at www.sharonlovejoy.com.
Click here to view a gallery
of Market Boat images taken by contributing photographer, Lynn Karlin.
Share this article:
2023 Maine Boat & Home Show

Join Us for the Maine Boat & Home Show!
Art, Artisans, Food, Fun & Boats, Boats, Boats
August 11 - 13, 2023 | On the waterfront, Rockland, Maine
Click here to pre-order your tickets.
Show is produced by Maine Boats, Homes & Harbors magazine.