Going Beyond Bulbs - Maine Gardens
Early spring color for your garden.
By Lynette L. Walther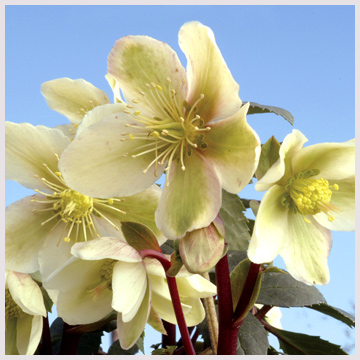 An excellent shade perennial that tolerates dry conditions,
Helleborus
has long-lasting flowers that are among the
first to appear in the spring garden. The delicate
blossoms of Terra Nova's Janet Starnes
Helleborus
belie
this plant's hardy nature. (photo from Terra Nova Nurseries)
I may have discovered the perfect perennial — perfect that is — for my garden, which is blessed with an abundance of shade. The plant is
Helleborus
, or the Lenten rose. Not really a rose, the Lenten rose is named for its early bloom time, which usually falls during Lent. This precocious bloomer is due to make an appearance in local gardens any day now with long-lasting flowers with both single and double forms that can range from white to plum or to shades of red, pink or yellow. A cousin of the buttercup,
Helleborus
will usually begin blooming long before the last snow has melted, delivering a reassuring blush of color just when it is needed most. Flowers often last a month or more. Pair
Helleborus
with spring flowering bulbs,
Epimedium
or wood anemone, and the combination will provide a symphony of bloom. Despite its delicate-looking blossoms (hardy from Zones 4 to 9) the Lenten rose is actually easy to grow once it is established, with a few conditions met. Shade is one. (I've got plenty of that.) Good drainage and humus-rich fertile alkaline garden soil are the others. According to the Perennial Plant Association, the Lenten rose is an evergreen perennial with magnificent leaves that are divided into seven to nine segments that look like coarse leathery umbrellas. This foliage adds to a shade garden, and is a perfect backdrop for bulbs and other perennials. Mature plants form clumps 18 to 24-inches tall and 24 to 30-inches wide. Plus a Lenten rose can have 50 or more flowers per plant. One of the best locations for
Helleborus
is a shady hillside, and even in the driest of seasons,
Helleborus
are actually tough plants that only require occasional watering once established. Once established, clumps of
Helleborus
can be left alone for 20 or more years before any dividing is necessary. After years of managing plants that tend toward rank growth in a season, there is something to be said for that tough plant that doesn't annex every inch of garden space. I think it has something to do with botanical manners. If all this sounds good to you, there's even more to love about the Lenten rose. And that is because deer don't — love it that is. It all adds up to a winner of a plant that would look and grow great in that shady garden. Find Lenten roses at local nurseries and plant centers. • Also on my list for early color are a few more perennial plants that go beyond spring-flowering bulbs for color and interest. Take leopard bane for instance. This unassuming little perennial provides weeks of yellow, daisy-like blooms on a compact, one-foot to 18-inch plant. Combine it with early iris for an explosion of contrasting color. Leopard bane prefers full sun for top performance. The next three perennials are good choices for shaded locations. • About the time that the crocus have given up, along comes
Pulmonaria
, better known as lungwort. Given that name way back when folks believed that the shapes and leaf patterns of plants dictated their possible herbal attributes, Pulmonaria's leaves have a sort-of lung-like pattern. However it has no herbal uses that I have been able to discover. What makes this small shade-loving perennial a springtime tonic are the numerous blooms that provide some of the earliest food sources for bees and hummingbirds.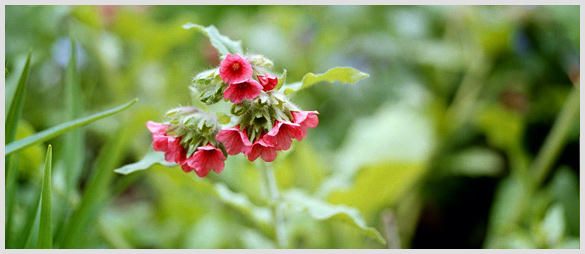 Hummingbirds cannot resist the early spring blooms of lungwort or
Pulmonaria
. Photo: Lynette L. Walther
Those feisty little birds cannot resist the small, bell-like blooms that persist for weeks, and indeed the birds fuss and fight over rights to patches of lungwort fiercely. There are a number of lungwort varieties, but be warned that these plants tend to be somewhat lax in their sexual lives and will cross-breed with wild abandon. Pulmonaria does reproduce by seeds, but is easily contained by weeding out unwanted plants. By mid-summer this plant often shows signs of mildew, and can be trimmed hard to remove unsightly foliage. • Two more spring upstarts are mytosis, better known as forget-me-nots, and celadon poppies. Mytosis's tiny blue or pink blossoms mix nicely with tulips adding froths of delicate color. Another plant susceptible to mildew, trim back or pull forget-me-nots after bloom time to clean up beds. Don't worry, there will certainly be enough seeds scattered to provide plenty of interest next spring. Celadon poppies have long been a friend to weavers, providing a rich orange-yellow dye from stems and leaves. For this reason, take care when pulling or trimming this plant as its juices will stain anything that comes in contact with them. But the cheerful yellow blooms early in the season are reason enough to put up with this little problem. Like mytosis, celadon poppies will also seed in, so take care to snip off the fuzzy seed pods that form after the plant blooms to keep ahead of any unwanted plants. As local garden centers gear up for the spring, look for these dependable winners to add to your spring repertoire of garden color. They can fill in and/or provide contrast with your favorite spring-flowering bulbs.

Contributing Garden Editor Lynette L. Walther is the recipient of the National Garden Bureau's Exemplary Journalism Award and the IABC Silver Quill Award of Excellence. She is a member of the Garden Writers Association. She gardens in Camden.
Share this article:
2023 Maine Boat & Home Show

Join Us for the Maine Boat & Home Show!
Art, Artisans, Food, Fun & Boats, Boats, Boats
August 11 - 13, 2023 | On the waterfront, Rockland, Maine
Click here to pre-order your tickets.
Show is produced by Maine Boats, Homes & Harbors magazine.