Parsnips: Slow Roots, Sweet Anticipation
By Susannah Gage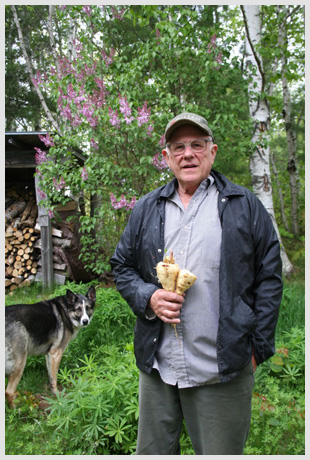 Milton Parsons. Photo: Susannah Gage
Milton Parsons told me he likes to watch parsnips grow. He's been watching them for 20 years at his farm in Union. An old Maine homestead standby, parsnips are a truly slow food: slow to germinate, slow to grow; more savory if harvested late in the fall, after a few frosts. But parsnips are at their best mulched well, left in the garden all winter, and dug in late spring. "Patience with parsnips pays off," writes Barbara Damrosch of Cape Rosier, in her book
The Garden Primer
. A year in the ground yields rewards. With the deep freeze, starches in this tawny root convert to sugars, the flavor matures and mellows, and the flesh – with more fiber and less juice than a carrot -- is tenderized. Raw, the spring-thawed root recalls fennel but is too chewy for most. Cooked, it becomes succulent, sweet, and nutty, with a spicy note. Spring parsnips are dug when they begin to sprout leaves, then refrigerated. They store well in an unsealed plastic bag in the vegetable bin. Too much growth before digging allows the root to feed the foliage instead of the cook; it becomes bitter, woody, and stringy.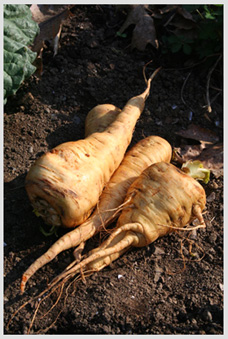 Photo: Susannah Gage
Parsons is patient. He plants seeds in May and leaves all 200 to 300 pounds of his roots to overwinter in the ground, reaping the benefits of a deep freeze. The next spring, instead of digging his whole crop at once and relying on cold storage space, he harvests the roots gradually over a period of a few weeks, before warm weather arrives--grassroots energy conservation. When a call comes in from Fresh Off the Farm (FOTF) in Rockport, where he sells all his parsnips (after setting aside roots for his own dinner), Parsons digs up a basket-full and delivers it the same morning, replenishing the supply--truly fresh off his farm. The store's owners, Dave and Zel Williams and their daughter Mel Hansen, stock the native bounty of regional farmers and food processors for as much of their inventory as they can, depending on the season.
Growing Your Own
Parsons plants the open-pollinated varieties "Harris Model" and "Hollow Crown" (the latter matures faster) with no chemicals: "strictly manure and wood ashes." Aged or composted organic matter is better than fresh, for parsnips. For kitchen gardeners, soaking the seeds overnight in warm water jump-starts germination. Gardeners in the south and southwest are advised to start parsnips in the fall as a winter crop, but the roots won't be as sweet. Think of spring-dug parsnips as a reward -- unique to the north -- for shoveling through multiple winter snowstorms. For advice on parsnip cultivation, see Damrosch's and Coleman's books. Contact the Maine Organic Farmers and Gardeners Association at
http://www.mofga.org
for info on parsnip seed, or search online.
Eliot Coleman, in his book
The New Organic Grower
, noted that a parsnip crop provides an income at a time when there is little else for northern farmers to market. Brian Hill, chef-owner of Francine in Camden, shops at Fresh Off the Farm, conveniently located a quick drive from his kitchen down coastal Route One. His was among the first restaurants in Maine to actively seek out locally grown foods and give them a prominent place on the menu, going to the producers rather than a national wholesaler whenever possible. By cultivating relationships with individual farmers and frequenting local farmer's markets and retail businesses such as FOTF, Hill has built up reliable sources of midcoast ingredients for the simple but often exquisite seasonal dishes served at Francine -- a cooking style I call roots gourmet, in both senses of the word. Parson's parsnips, from Fresh off the Farm, are a favorite of Hill's.
Parsnip Puree with Fresh-Grated Ginger and Lemon Zest
A few years ago, I attended a cooking class at Rockport's Market Basket, taught by Hill. About 12 participants settled on stools around the T-shaped extended counter in the kitchen classroom upstairs. The chef and an assistant prepared a meal, pausing to demonstrate and explain. Our job was to absorb -- and eat -- everything. It was a blooming Maine spring, after a long Maine winter, and spring-dug parsnips were on the menu. I hadn't cooked them for years and was reminded how satisfying these roots are. Hill diced the parsnips (about 3 cups) and tossed them in a saucepan with water to cover and no lid. A fragrant steam permeated the room as they simmered over low heat until all the water was gone and the roots were lightly caramelized in their own juices.
Recipe Note: Any parsnips will work in the puree and the pan fry; spring-dug roots will taste superb and cook more quickly. Some may still be available at specialty markets. Ask where they came from. If it's May, June, or July and a northern farmer grew them, chances are the deep-frozen and thawed sweet things are in your basket. Fooling Parsnips: Eliot Coleman suggests keeping fall-harvested parsnips at 95% humidity and 32 degrees F (0 degrees Celsius) for two weeks in storage to attain "a sweetness close to that of those left over the winter in the field."
A little butter, a teaspoon of fresh thyme, 1/2 teaspoon of lemon zest, and 1/2 teaspoon of grated fresh ginger were stirred into the hot parsnips (salt to
taste). Hill then pureed them and served the puree on the side of a platter of lobster meat bathed in a broth of a tiny dice of butternut squash, minced shallots, Vermouth, and Meyer lemon juice. A second puree of fingerling potatoes rounded out the plate. The zing and bite of the lemon zest and ginger, with aromatic thyme, balanced
the fruit-sweet flavor of the parsnip
puree. "Spring-dug parsnips are a miracle," Hill said. Francine serves spring parsnips poached in duck fat — an earthy foil for the sweet roots. Phyllis Parsons, Milton's wife, parboils whole parsnips. When they are fork-tender, she cuts the roots into chunks and pan fries them in butter. In Ireland, a beer was made from the boiled root -- a true tap root -- with water, yeast, and malt or hops. Plan to grow a row or two of parsnips in your next garden. Or just write yourself a note to look for them at the market next spring. That might be months away, but there is something to be said for patience and anticipation in this 24/7 world.

Writer Susannah Gage was a whole foods chef, baker, and wedding caterer. She made organic goat cheese in France and has gardened organically for many years. She studied food anthropology, ecology, and sustainable agriculture and has a MSc in international nutrition.
Share this article:
2023 Maine Boat & Home Show

Join Us for the Maine Boat & Home Show!
Art, Artisans, Food, Fun & Boats, Boats, Boats
August 11 - 13, 2023 | On the waterfront, Rockland, Maine
Click here to pre-order your tickets.
Show is produced by Maine Boats, Homes & Harbors magazine.