Yurt - William Coperthwaite
William Coperthwaite and His Yurts
By Letitia Baldwin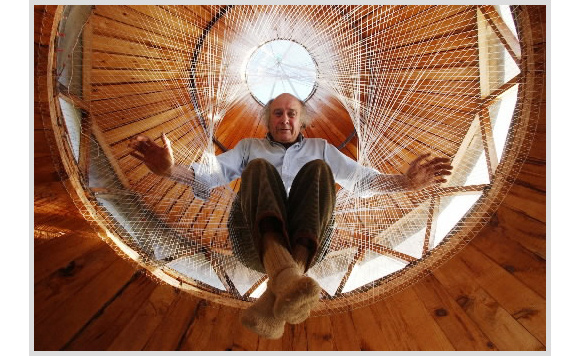 William Coperthwaite, author of "The Handmade Life: In Search of Simplicity,"
sits suspended by 100-pound fishing line that he has incorporated into the
design of his yurt in Machiasport. Bangor Daily News Photo by Kevin Bennett
By Letitia Baldwin
It might seem tempting to think of William Coperthwaite, who has adopted a singular life and lifestyle in the woods, substantially separate from civilization, as a modern-day David Thoreau. His Walden Pond is Mill Pond and his Concord is Bucks Harbor, a Down East village in Washington County, Maine. His three-story yurt is reachable only by the sea, or by a half-hour hike along a woodland footpath bordered by bunchberry and sphagnum and hair cap moss.
Coperthwaite is highly learned—he earned a Ph.D in education from Harvard in 1972—and idealistic, having moved out of the mainstream decades ago to pursue simplicity and self-sufficiency.

But unlike Thoreau, described by his mentor Ralph Waldo Emerson as a somewhat cranky, anti-social ascetic, Coperthwaite is a friendly, open-minded fellow who warmly welcomes visitors to his round home and invites them to finish up organic cantelope leftover from breakfast. In mind and body, he is a boyish man whose lean build, vigor and curiosity belie his 75 years. A runner and pole vaulter as a Bowdoin College undergrad, he gets a daily workout chopping firewood, hauling supplies in his cedar canoe, pulling fir saplings from maple and birch glades and performing other regular chores.
A cornerstone of his existence, not only in his choice of housing, but in his life's work or mission has been the yurt first used by nomadic Mongols in the central Asian steppes 2,500 years ago. Coperthewaite, who built a yurt as a study center where the Harvard Graduate School of Education Library stands today, founded and directs the Yurt Foundation, a nonprofit research institute, from his far-flung Maine home. Much of his time has been spent teaching others how to construct the circular dwellings ranging in function from a public health center in Northeastern India to a backyard playhouse at a Montessori School in Austin, Texas. Construction materials have varied widely - from bamboo to plywood - depending on the climate and setting. He also supplies building plans enabling people to construct the curvilinear structures on their own.
But Coperthwaite will tell you he's not just about yurts. His absorption with the ancient dwellings - which when built right withstand violent winds and stay warm in minus 40 degrees F and cool in 100 degrees F - is part of his broader work researching folkways and subsistence skills around the globe from the fabrication of broad hachets on Japan's island of Shikoku to hand-carved bowls in the mountain region of Kazakhstan, which can be adapted to contemporary living. His thoughts and research are presented in A Handmade Life: In Search of Simplicity (Chelsea Green). Peter Forbes, former Northeast Director of the Trust for Public Land's Center for Land and People, illustrated the book, capturing Coperthwaite and his life in the Maine wilderness, in elegant color photos.
"The main thrust of my work is not simple living - not yurt design, not social change, although each of these is important and receives large blocks of my time," he reflects in his book. "But they are not central. My central concern is encouragement - encouraging people to seek, to experiment, to plan, to create and to dream. If enough people do this we will find a better way."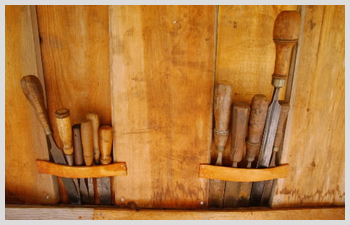 Wood chisels line the outer wall of William Coperthwaite's workroom.
Bangor Daily News Photo by Kevin Bennett
Coperthwaite bounds down the stairs and ushers visitors into his rustic abode rising like a pagoda in a meadow at the end of the 1.5-mile trail. The weathered dwelling, with its outward curving walls, hand-cut cedar shake roofs and banks of windows under the eaves, blends with the landscape. A blue glass ball atop the cupola sparkles in the sunlight.
Blue eyes twinkling beneath bushy eyebrows, and gray sideburns sticking straight out from his balding head, Coperthewaite exhibits a keen interest and sense of wonder in new technology; marveling over a newspaper photographer's Canon and digging out his own humble Casio Exilim card camera someone gave him recently to document utilitarian folk art at risk of being forgotten and lost forever around the world.
Born in the northern Maine town of Monticello, Coperthwaite majored in art history at Bowdoin. He claimed conscientious objector status during the Korean War and later taught at the North Country School in Lake Placid, N.Y. and the Meeting School in Rindge, New Hampshire. At the latter, he and his math students came across a National Geographic article about Mongolia and pictures of portable yurts invented by nomadic Mongols. They were impressed by the indigenous design consisting of a collapsible circular trellis - picture an old accordion-style baby gate - that could be carried on camels and assembled in an hour. The wooden framework was set up in a circle and the doorway lashed into place. Willow poles were attached from the walls to a wooden ring at the apex, where a hole lets light in and woodsmoke out, all the way around. A tension band was then tightened around the entire structure at the eaves. The yurt was covered in multiple layers of thick felt made from beaten wet sheep wool.
These moveable shelters are still being used much the same way today in the vast, semi-desert steppes stretching 5,000 miles from Turkey to China.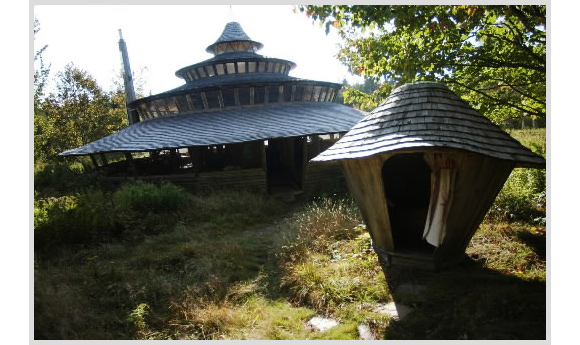 Bangor Daily News Photo by Kevin Bennett
The native genius, Coperthewaite says, lies in the Mongolian herdsmen's use of the tension band to take the outward thrust of the conical roof. The thick rope, made of yak or horsehair, eliminated the need for internal posts, rafters, lintels, headers and joists. "They could increase the space in their circular tents by raising them on a low wall, providing support by tying a rope around them," he notes in "A Handmade Life." "The structure, made of light poles fastened with felt and bound together with bands of woven wool, was a brilliant solution to the needs of that harsh region's people."
Coperthwaite and his students modified the primitive yurt by making its walls flare out at the top and creating greater spaciousness within. Over the years, he has further adapted the ancient design for permanent habitation. He replaced the collapsible framework with solid tapered boards. The tension produced by the conical roof and outward sloping walls is contained by a steel band encircling the structure. Windows added under the eaves augment the natural lighting supplied by the central skylight.
Coperthwaite aimed and still strives to design attractive, inexpensive dwellings that amateur builders can construct for themselves in a reasonable time frame and maintain at minimal cost. "My goal was to design this structure so that it could be built in stages to allow a family to start out with a very limited outlay of money, time, and energy, then expand the building as their resources grew," he writes. "I aimed at an initial budget of $3,000. This figure would permit many people to bypass a mortgage, avoiding the usurious rates of the money lenders as well as their veto power over the design and time frame."
Inspired by Gandhi, American pacifist Richard Gregg, North Country School cofounder Walter Clark, back-to-the-land movement leaders Scott and Helen Nearing and others in the 1960s, Coperthewaite says the yurt became a metaphor for his broader mission to create a truer democratic society. One where folk wisdom and practices are valued. "The main thrust of my work is not simple living - not yurt design, not social change, although each of these is important and receives large blocks of my time," he reflects in his book. "But they are not central. My central concern is encouragement - encouraging people to seek, to experiment, to plan, to create and to dream. If enough people do this we will find a better way."
Copertherthwaite bought 300 acres in this remote, sparsely populated hamlet - home to a state prison - over 40 years ago. With some help from friends, he built the main yurt and cluster of outbuildings by hand in between teaching posts and travels abroad as part of an experiment in sustainable living that is still under way. He has lived here largely alone, save for the steady stream of visitors and friends, off the electric grid without plumbing or telephone.
He meets most of his needs, splitting firewood, collecting rain water, and walking or canoeing in and out with the tides by way of Little Kennebec Bay. Entering his year-round home, Coperthwaite shows his spacious workshop where sawdust and wood shavings carpet the wooden floor. Much of his time is spent here making chairs, tables, bowls, knives and other household items. All the pieces fill a utilitarian function, but are beautiful to behold whether it's a crooked knife handle carved from a beech burl or broom fashioned from birch shavings.
"If living is is to be right, it ought to be beautiful," declared Coperthewaite whose cupcake-shaped outhouse is a thing of beauty. "So often it goes by the board."
The second floor feels like being on the bridge of a ship at sea. It takes a moment to adjust visually to the curving walls and windows. A settee, its cushion fashioned from rolled-up strips of discarded sweaters, and leather sling chairs provide comfortable seating in the main living space. Gold raw silk covers one wall and adds warmth to the room on dull winter days. "The Dickinsons Reach easy chair," Coperthewaite quipped, referring to the sling chairs. "Easy to build, easy on your pocket and easy on your back. Anyone can build them. If they're not comfortable, they're not worth building."
A sleeping loft occupies the third story. The airy space is sparsely furnished with a bed, basket for hand-knit socks and separate wooden bins for pants, shirts, windbreakers and other garments. An even loftier perch - a cat's cradle of monofilament fishing line -has been cleverly created just below the skylight.
Outdoors, Coperthewaite points out his summer kitchen and other smaller yurts scattered around the property before leading the way down to the spruce-lined shore where an old birchbark canoe and other craft are stored in a boathouse. He shows his outdoor shower - a saltwater pool that fills and empties twice a day - hidden from view and shielded from the wind by a wall of flat fieldstones collected over the years. "The more you have participated in making things around you, the more pleasurable it is," he mused. "I think we have gotten away from that in our society."
William Coperthwaite sells building plans for three basic yurts, ranging from 10 to 38 feet diamater, for $25, $50 and $75. Revenue supports his research of folkways and traditions. He also welcomes correspondence. Write to: The Yurt Foundation, Dickinsons Reach, Machiasport, ME 04655.
Share this article:
2023 Maine Boat & Home Show

Join Us for the Maine Boat & Home Show!
Art, Artisans, Food, Fun & Boats, Boats, Boats
August 11 - 13, 2023 | On the waterfront, Rockland, Maine
Click here to pre-order your tickets.
Show is produced by Maine Boats, Homes & Harbors magazine.