Maine Events - May 2008
Featured May Events: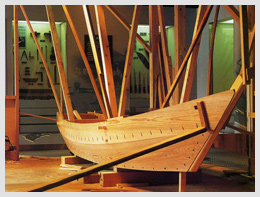 Apprentice Boatbuilder in Japan
May 1, 2008: Brunswick
Ways of Learning, An Apprentice Boatbuilder in Japan
Think Japan and you might come up with images of manga and anime, busy urban centers, and an economy based on innovations in electronics. However, there is also a "second Japan" wherein lies a rich history of traditional arts and crafts, many of which are fast disappearing. Douglas Brooks has apprenticed with four different boat builders in Japan since 1996, and in this slide talk he will share his experiences with traditional crafts drawn from over a dozen trips to Japan since 1990. The Bowdoin College Asian Studies Program hosts this presentation that will include a lecture with slides and discussion on the history and current status of boat building, an ancient art in Japan. 7:00 pm - 9:00 pm, Druckenmiller Hall, Cleaveland 151. For more info contact:
sstack@bowdoin.edu
or 412-860-3565
---
This month: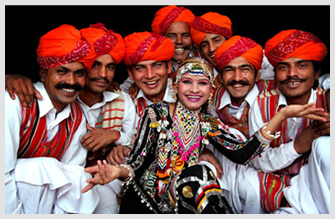 Merasi
, Traditional Music & Dance of India
May 3 – 9, 2008: Portland, Pemaquid, North Haven, Freeport and Camden
Merasi Performs - Folk Arts Rajasthan Brings Traditional Music & Dance Of India To Maine
The Merasi, a traditional Indian musical group sponsored by Folk Arts Rajasthan, a US nonprofit devoted to cultural preservation and social empowerment, will come to Maine for their second visit. They will present five exhilarating performances providing an opportunity to be transported to the fabled desert caravan routes of India, where the music evokes the age of Rajput kings, Muslim musicians, and Hindu devotion. The members of this seven-person troupe are called Merasi, meaning musician, and their ancestors sang for the Bhatti royal family of Rajasthan, India. The Merasi are a unique group of Muslim musicians, who perform sacred music in Hindu Goddess temples in Jaisalmer District, Rajasthan, India. The Merasi live on the social and geographical periphery of society. The group is directed by Sarwar Khan, who was born and raised in the Merasi community in Jaisalmer, Rajasthan, India. Khan is a distinguished drummer descended from 37 generations of royal musicians designated to play for the Maharaja of Jaisalmer. Khan has made it his life's mission to empower the Merasi community through musical preservation and social change initiatives. The Maine tour schedule with details is available at:
www.merasi.org
May 3 - 4, 2008: Annapolis, MD
2008 Annapolis Spring Sails Event
Spend two days in Annapolis visiting top sailboat dealers over one fabulous spring weekend in May! Only the Annapolis Spring Sails Event brings together 10 area dealers representing 20 sailboat lines, 75 sailboat models, and 100's of previously owned yachts. New this year: The Spring Sails Event joins up with the Maryland Maritime Heritage Festival taking place downtown at the Annapolis City Dock. There's something for everyone while you visit a variety of sail boats on display in Ego Alley and make your way around the celebration of the rich and beautiful tradition that is the Annapolis maritime community. There are no admission fees. Simply park your car and visit all the show locations via the free water taxis and shuttle vans. Shop for your next boat from 10:00 AM to 5:00 PM (both days) in the sailing capital while enjoying all the best that Annapolis has to offer including restaurants, shopping, and tours.
www.springsailsevent.com
May 3, 2008: Boothbay Harbor
Shall We Dance? 3rd Annual Fundraising Gala hosted by Pen Bay Healthcare Foundation
This year's gala raises funds for the Penobscot Bay Medical Center eICU (Electronic Intensive Care Unit) project. At the Owls Head Transportation Museum, featuring the Tony Boffa Band, fine food, good friends and great dancing. The theme this year is "Derby Day," reflecting the tradition of the great American horse race. There will be a cash bar, raffles and door prizes. Derby attire encouraged, but not required. Tickets available online, in advance or at the door. 207-594-0940;
www.penbayhealthcare.org/shallwedance
May 3, 2008: Freeport
A Bright and Beautiful Spring Concert
Greater Freeport Community Chorus, under the direction of Virgil Bozeman, invites you to a choral concert. Featured works include highlights from Gilbert and Sullivan's "Pirates of Penzance," Handel Chandos #9, American Gospel and English Folk music. $10 adult; $8 student, senior and military; children 8 and under - free. 7:00 pm. Freeport Performing Arts Center, Holbrook Street. For more info contact
sylvia.siket@gmail.com
. 207-865-9032;
www.gfccweb.org
May 3, 2008: Kennebunk
Downtown Kennebunk's 10th Annual May Day Celebration
May Day's family-friendly activities run throughout the day at multiple venues throughout downtown Kennebunk. Highlights include maypole dancing and the making of May baskets, opening day for the Kennebunk Farmers' Market, concerts and entertainment, food concessions, the Faerie Festival at the Kennebunk Free Library, an open house at The Brick Store Museum, a flea & crafts market, and a 2:00 pm Main Street parade. Fun for everyone and free for kids! 8:30 am - 2:30 pm. 207-985-1517
May 5, 2008: Portland
Portland Symphony Orchestra presents Podium Prelude Concert
The Portland Symphony Orchestra is presenting a special low-price, hour-long concert designed to introduce incoming Music Director Robert Moody to Portland and the southern Maine community. All seats for this Podium Prelude Concert are $25 and Maestro Moody has selected the monumental Symphony No. 1 by Gustav Mahler. The concert is at 7:30 p.m. at Merrill Auditorium and is a "prelude" to the PSO's season finale the following night. Tickets for all PSO performances can be ordered online at
www.porttix.com
, by phone at 207-842-0800, or at the PortTix box office, 20 Myrtle St., Monday through Saturday from noon to 6 p.m. 207-773-6128;
www.portlandsymphony.com
May 9, 2008: Ellsworth
Graham Parker at Shangri-La
Drawing heavily from Van Morrison and the Rolling Stones, Parker developed a sinewy fusion of driving rock & roll and confessional folk-rock, highlighted by his indignant passion, biting sarcasm and bristling anger. Shangri-La, a new venue, located at 192 Main Street on the 2nd floor of The Maine Grind, will seat around 170 people in an intimate, comfortable setting. 7:30 pm. $25.00. 207-667-2200;
www.sha-la.com/shows/parker.html
May 9 – September 19, 2008: Belfast
"Open Garden Days" in Belfast
Belfast Garden Club will again sponsor its "Open Garden Days" this spring and summer. Eighteen private gardens will be opened to the pubic, one each week, almost every Friday from May 9th to September 19th, 10:00 am to 5 p.m. At some, visitors will be offered refreshments, at others, a chance to learn a new technique or hear about design decisions, color choices or experiments with new plants. Gardens this year range from long-established, formal plantings at waterfront homes to newly created kitchen gardens wild with fruiting vines, herbs and vegetables. One offering, an English style perennial garden, displays iron and stonework in a series of outdoor living spaces. Another, recently planted, attracts wildlife and birds to a small pond surrounded by perennial beds and native plants. Also among the gardens this year are a terraced hillside overlooking the harbor, a cutting garden with varieties both classic and heirloom, a daylily collection paired with hostas, and an in-town lot swathed with 800 bulbs that will be bursting into bloom in May. Donation of $3 per person is requested to benefit the Belfast Civic Beautification projects at the Library, Town Wharf, City Hall, the Belfast Museum, City Park Crabapple Allee and Pavilion, the chapel at the Town Cemetery and post Office Square. A 10-visit ticket is available for $20 from garden club members, at each open garden and on Saturday, May 17, at two events -- the annual garden club plant sale at the Belfast Boathouse and the women's health fair at the Hutchinson Center on Rte. 3. 207-338-0085;
www.belfastgardenclub.org
May 10, 2008: throughout Maine
National Association of Letter Carriers (NALC) Food Drive
On this day, letter carriers across Maine and the nation will collect donated, non-perishable food from local residents on their mail route. Help the The United Way of Eastern Maine and National Association of Letter Carriers collect over 130,000 pounds of food for this 16th annual food drive. Last year's food drive, the largest of its kind in the USA, provided over 123,500 pounds of non-perishable food to families in Eastern Maine communities. For more info contact
overlock3@aol.com
. 207-941-2091;
www.volunteersolutions.org/me/org/opp/10272889766.html
May 9, 2008: Portland
PORTopera's annual Dinner/Dance & Auction
PORTopera's annual Dinner/Dance & Auction will be held this year at the Portland Marriott, celebrating and supporting PORTopera's 2008 mainstage production of Gounod's ever-popular Roméo et Juliette. A sumptuous northern Italian dinner will be served, and the Bob Charest Band, terrifically well-received last year, will once again perform for dinner and dancing. Some of USM's brightest and best voice students will provide a few arias, accompanied by Aaron Robinson. And once again, the affable Frank Reilly will act as Master of Ceremonies. Auctioneer John Locke will again try to break all previous records for bids on donated auction items that are so popular with the PORTopera crowd; among the items this year will be walk-on roles in the opera, a cruise for two, a gourmet dinner for ten, a trip for two to the Metropolitan Opera, a commissioned portrait, and cooking lessons in a gourmet chef's own kitchen. Tickets are $125 per person. An extra-special offer is being extended to young lovers: one table of eight is being reserved for couples age 35 and under – the ticket price is $75 per person. First come, first served, so call PORTopera to reserve your seats today! 207-879-7678;
www.portopera.org
May 10 - 11, 2008: Ashland to Fort Fairfield
2nd Annual Aroostook River 60 Mile Canoe/Kayak Race 2008
The largest river race in the state of Maine is coming to Aroostook County, Northstar Search And Rescue is holding a 60 mile Canoe / Kayak Race on the Aroostook River. The race will be held rain or shine, covering some of the best scenery along the Aroostook River. Canoe and Kayak participants will put in at the Ashland Boat Launch area next to the Ashland Fish And Game Club, and will travel down the river until reaching the finish line located at the boat loading area in Fort Fairfield on Sunday, May 11th. A spirit of spectacle and good old-fashioned fun is the central theme of the Aroostook River Race. We have a good paddling river, a great starting line, there will be many spectators watching from the banks and bridges. A good time will be had by all. Registration form, rules and regulations and more info: rmichaud36.tripod.com/id43.html
May 10, 2008: Rockport
May Faire & Open House
Open to the public and free of charge, the festival welcomes spring and new friends to the campus, with medieval pageantry. This annual event includes activities, such as juggling, sack races, face painting and willow crown making, for children up through Grade Eight. Food and refreshments will be sold as well as Waldorf-inspired supplies. The highlight of the day will be the Maypole dancing with accompanying live fiddle music. Sparked by lively music, delicious food, and lots of family fun, this event is sure to delight visitors of all ages. Along with the Rosewood Early Childhood Center, all Ashwood classrooms will be open for viewing. Guests are encouraged to bike or carpool to the event, and please leave your dogs at home. In case of rain the event will be cancelled. 11:00 am - 2:00 pm. Ashwood Waldorf School, 180 Park Street.
info@ashwoodwaldorf.org
207-236-8021;
www.ashwoodwaldorf.org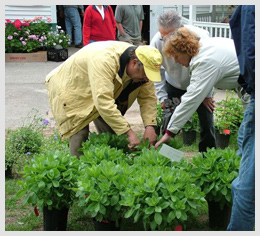 Garden & Flower Show, Fryeburg, Maine
May 16-18, 2008: Fryeburg
2008 Northern New England Home, Garden and Flower Show at the Fryeburg Fairgrounds
The Annual Northern New England Home, Garden and Flower Show at Fryeburg Fairgrounds will celebrate its seventh year with new presenting sponsors NH Home Magazine, NH Magazine and Smart HomeOwner Magazine. One of the largest shows of its kind, the show offers more than 65,000 square feet of indoor home and garden related products plus six acres of outdoor exhibits. Highlights include: a garden railroad train landscape display by Maine, Garden and Railroad Society, the annual Window Box Contest, professional garden centers and businesses, how-to demonstrations, electric cars on display, seminars on gardening, interior decorating, energy efficient products and much more.
www.homegardenflowershow.com/index.cfm?fuseaction=fryeburg.home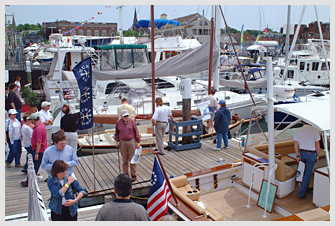 Newport Spring Boatshow
May 16 - 18, 2008: Newport, RI
2008 Newport Spring Boat Show
As you stroll along the docks and ashore - you'll find a plentiful amount of previously owned boats and yachts being offered by top brokers and dealers in the region. The Newport Spring Boat Show attracts many 35 - 65 ft. power yachts and sailboats to its in-water display area and similar numbers of 16 - 35 ft. foot boats on land. Whatever kind of boat you're looking for - whether its an express cruiser, multihull, classic wooden boat, racing sailboat, or even a kayak or canoe - you'll find it at the show. To further accommodate boaters, there are over 100 vendors with marine equipment, services and accessories. Financial companies will also be on site to offer guidance on financing a new boat or even re-financing your current one. An educational seminar series features exciting speakers and topics for new and seasoned boaters. One of the best aspects of the Newport Spring Boat Show is that it allows buyers to take boats directly from the show to the water. So don't miss this opportunity to find the perfect boat for spending time with family and friends this summer!
www.newportspringboatshow.com
May 16 - 18, 2008: Camden
Maine Home & Lifestyle Expo and Gala Reception
The Maine Home & Lifestyle Expo will be held in downtown Camden at the Knox Mill, on the corner of Mechanic and Washington. This exciting new venture will feature exhibits, demonstrations, displays and seminars. When asked to describe the new Expo can best be described as having anything you need to build, remodel and enjoy your home. A special feature planned for the Expo will be a Designer Showcase Condo in the Knox Mill complex. Interior designers, flooring and appliance dealers, and other businesses will work together to create a beautiful and innovative space that will be open to the public for tours. A Gala Reception will be held Friday night, the 16th, from 5:30 pm to 7:30pm, to preview the Designer Showcase Condo. The Camden Rockport Lincolnville Chamber of Commerce, The Maine Contractors & Builders Alliance, and the Union Area Chamber of Commerce have joined forces to promote the region and spur economic development, in the Midcoast. $25. For more info contact:
events@camdenme.org
. 207-236-4404;
www.VisitCamden.com
May 17, 2008: Falmouth
2008 Luxury Explorers Showcase
From culinary tours through Europe to family adventures in Costa Rica – Hurley Travel Experts, the world's leading luxury and experiential travel providers, are coming to Maine to introduce the hottest travel trends. Attendees will have an opportunity to learn about luxury travel's current trends including experiential excursions in the Galapagos Islands, African safaris, and lavish yachting expeditions from experts including International Expeditions – awarded "2008 Best Adventure Travel Companies on Earth" by National Geographic ADVENTURE Magazine. The day will be filled with seminars providing in-depth detail about exotic, difficult-to-reach and fascinating places on Earth including Africa, Asia, Australia, the Caribbean, New Zealand, South Pacific, Europe, India and the US -- and even outer space. RSVPs are appreciated by Wednesday, May 7th at
rsvp@travelexperts.com
or by calling (800) 874-1743. Noon to 8:00 p.m at Maine's Woodlands. The showcase is free and open to the public. 39 Woods Road.
www.hurleytravelexperts.com
May 17 - June 14, 2008: Moosehead Lake Region
Moose Mainea 2008
Each Spring the Moosehead Lake Region hosts a month-long celebation honoring the region's favorite resident - The MOOSE! Some of this year's events include: the Moose River Canoe Race, Kid's Fun Day, Moosterpiece Craft Fair and Famous Moose Tales. 207-695-2702;
www.mooseheadlake.org
May 17, 2008: Owls Head
Glenn Miller Orchestra
Last year's dance party was such a hit that we've decided to bring it back again! Everyone knows and loves the music of Glenn Miller, the seminal Big Band leader. We'll have food, a dance lesson and lots of energy on the dance floor among the cars and planes of the Owls Head Transportation Museum. General admission, dancing encouraged! Adults $32, $8 for youth ages 25 and under. 7:00 pm. 207-236-2823;
www.baychamberconcerts.org/glennmiller.php
May 18, 2008: Augusta
Nordica Trio, Chamber Music
Returning to Jewett for their 3rd year, Graybert Beacham, violin/viola, Karen Beacham, clarinet, and Cheryl Tschanz, piano, will again demonstrate their extraordinary talent and easy, accessible style that has made them popular with appreciative audiences throughout Maine. The Nordica Trio will perform in Jewett Auditorium on the University of Maine at Augusta campus at 2:00 pm, with a pre-concert talk scheduled at 1:00 p.m. Th program will feature repertoire for Clarinet, Viola and Piano and will include a performance of Mozart's "Kegelstatt" Trio. $10, $5 students, 12 & under free. 2:00 pm to 4:00 pm. Rt. 95 exit 112a from the S & exit 112 from the N. For more info contact,
umasc@maine.edu
. 207-621-3551;
www.nordicatrio.com/performances.html
May 22, 2008: York
10th Annual Great York Region Chamber Golf Tournament
Held at the Ledges Golf Club, this tournament is open to all. It features Maine's only drive-through hospitality tent. Register before April 1 and receive a dozen golf balls and be entered to win a free round of golf for two. Shot-gun start is at 12:30 Bramble Format. Invite others to join you for dinner at at The Ledges Golf Club from 5:00 to 7:00 p.m, $20 per person. Awards & raffle prizes after dinner. 10:00 am - 7:00 pm. 1 Ledges Drive (which is off Route 91-- 5.1 miles). 207-363-4422;
www.gatewaytomaine.org
May 23 - 26, 2008: Cobscook Bay
Annual Down East Spring Birding Festival
Come birding "Way Down East" over Memorial Day Weekend to Maine's Cobscook Bay Area - "one of the important bird areas in the US". Our great variety of habitats are home to many bird species. Bird in Moosehorn National Wildlife Refuge, Roosevelt Campobello International Park, Shackford Head and Quoddy Head State Parks, and other wildlife areas. See two dozen warblers in their breeding plumage, boreal species, and Atlantic Puffins up close and (almost) touchable. Participants find over 150 different birds each year. Hikes, boat trips, presentations for advanced, intermediate, and beginning birders. Your $50 general registration fee covers most events; some events are extra charge. For more info contact: Mike McCabe,
cbacc@localnet.com
. 207-733-2201;
www.downeastbirdfest.org
May 24, 2008: New Harbor
Maine St. Andrew's Pipes and Drums Performance
Come hear the traditional tunes of the British Isles performed by the authentically kilted Maine St.Andrew's Pipes and Drums of Corinth, Maine when they kick off the Summer 2008 season at Colonial Pemaquid with an outdoor concert. 2:00 pm. Colonial Pemaquid State Historic Site, Old Fort Road. Rain date May 25. Donations welcome. 207-677-2423;
www.friendsofcolonialpemaquid.org
May 24, 2008: Newfield
19th Century Willowbrook Village opens for the season
Take the ride of a lifetime on Willowbrook Village's fully restored, 1894 Armitage Herschell carousel. Rides are offered every 30 minutes beginning at 10:30 am through 3:30 pm, and are free with admission to the village--or tickets may be purchased separately for $3 per person. Must be 10 or older AND feet MUST reach the stirrups to ride without an adult. $9 adults; $7.50 seniors; $4 students 6-18; under 6 free OR rides only $3 per person per ride. 1/4 mile off Route 11 on Elm Street. 207-793-2784;
www.willowbrookmuseum.org