Boatyard Dog - Max & Cholo - Issue 101
Retrievers on a Busman's Holiday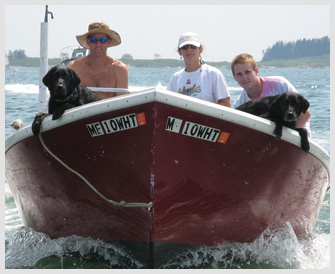 Max (starboard) and Cholo (port).
Photo courtesy Dana Smith
Every once in awhile the hands at the Smith Boatyard in Brunswick take a busman's holiday and get out on the water for a little fun and frolic. Here they are in the yard's workboat
Close Enough
off Whaleboat Island in Casco Bay. The two canine gents at the bow are Max (starboard) and Cholo (port). Retrievers, they're poised to fetch whatever they see whether the Smiths want it fetched or not. "Max and Cholo are our first alert in spotting ducks and, especially, seals," said Dana Smith, "but they often need to be restrained from leaping overboard to play with their aquatic (and somewhat reluctant) friends."

We'd all like to see your Boatyard Dog® (okay, or cat) too. Send a clear photo and pertinent details to BYD, P.O. Box 758, Camden, ME 04843 or
editor@maineboats.com
.