Mainely Gourmet - Freeport: Lunch at Old World Gourmet Deli or the Sunrise Café
Freeport Lunch
By Peter H. Spectre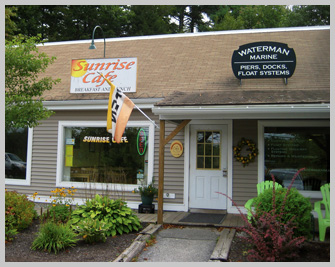 Located in a Route 1 strip mall, the Sunrise Café
serves home-cooked food in a cheerful atmosphere.
You're in Freeport for the day on a recreational-shopping rampage. You've done Ralph's (Ralph Lauren), Anne's (Anne Klein), The Brothers' (Brooks Brothers), and Leon's (L.L. Bean). It's 12:30, your feet hurt, you're hungry, you're looking for a little peace and quiet while you recharge. What to do? The intown choices aren't great. There are the sidewalk lunch carts specializing in limp hot dogs and soggy buns. There's the yellow-arched fast-food restaurant masquerading as a colonial home. There are a handful of middle-of-the-road establishments, but they're packed to the rafters with people on the same expedition as you. And there are the upscale restaurants, a tad expensive and, besides, who has time for a three-course lunch when you still have Cole's (Cole-Haan), J.L.'s (J.L. Coombs), the Banana (Banana Republic), and a bunch of others to do? My recommendation is to get out of town. Not far, just a few miles south on the main road (Route 1). There you'll find a couple of first-rate lunch spots that serve great food and aren't overrun with shoppers on an hour-long sabbatical. The first, the
Old World Gourmet Deli
, is the farthest from town. Easy to find, it's on the left-hand side of the road in the shadow of the famous statue of the big Indian. Part wine shop, part delicatessen, it has a sit-down section inside and a warm-weather picnic area with tables outside. Lots of places call themselves delis these days and aren't—we were out on Grand Manan Island a few months ago, and the little mom-and-pop convenience stores there claimed to have "deli" counters—but Old World is. Though no one would mistake it in the ambience department for a New York or Boston establishment of the old school, it nevertheless has all of the necessary ingredients. Their meat is Boar's Head brand, ranging from Black Forest ham to corned beef, Genoa salami to smoked turkey. The bread is baked daily and includes focaccia, French peasant, rye, 7-grain, and roll-up. They have a vegetarian menu—you choose the vegetables—and a vast variety of salads, as well as chili, chowder, and soup of the day. Eileen is a big fan of their paninis. Among the several choices: "Genovese," sopressata salami, roasted red peppers, fontina cheese, and fresh spinach; "Sicilian," cappicola, mozzerella, roasted red peppers, hot pepper relish, and black olive tapenade; and "New Yorker Reuben," corned beef, sauerkraut, swiss, and Thousand Island dressing. Pluses: » They make their sandwiches right out in the open, so you can see what you'll be getting. » Half sandwiches are available as well as whole, so a reasonably light lunch is possible; so, too, is soup and half a sandwich. » The quality of the ingredients is exceptional. » All things are customizable. Minuses: » The order line can sometimes be long (but it moves right along). » There's a limited number of inside tables. Closer to town and with a down-home Maine frame of mind through and through is the Sunrise Café. Look for a small strip mall—the Freeport Outlet—on the left-hand side of the road by the Cuddledown factory outlet. Sandwiched between a hair stylist and a marine contractor's office, it's one room and a kitchen, with a bright-yellow decor to go with the name. That decor and notations on the menu set the tone: "Do not hesitate to ask if you do not see what you are looking for" and "Thank you for coming and we all look forward to seeing you again."
The Sunrise Café
serves breakfast and lunch in the Maine, New England, all-American style. In other words, you won't be finding Westphalian ham with olive tapenade and garlic & herb cream cheese. Rather for lunch you'll see turkey club with lettuce, tomato, and bacon; Philly steak wrap with lettuce, tomato, grilled onion, green peppers, and pepper jack cheese; tuna salad; egg salad; and sides of baked beans, potato salad, onion rings, and more. For breakfast (served through lunch), you'll see two eggs, bacon or sausage, and toast; two eggs and buttermilk biscuit with sausage gravy; western omelet with cheese and toast; steak and eggs, home fries, and toast; and a vast number of sides, including home fries, pancakes, corn bread, muffins, and corned beef hash. This is home-style cooking in spades—everything is to order—nothing made up in advance and heated later in a microwave. One time Eileen had their corn chowder with a buttermilk biscuit and said it was every bit as good as anything she made herself at home, which is saying a lot. Another time she had a hamburger with lettuce and tomato and said it was the best she'd had in years ("Cooked exactly the way I like it"). I once had their breakfast sandwich on a biscuit with egg, cheese, and sausage, and said it was so good that I wouldn't have the same thing anywhere else again. (Okay, the last part of the claim was an exaggeration, but I nevertheless have had Sunrise's breakfast sandwich two times running since.) Plus: » The waitress who, when asked what was in the chicken pie, said, "Love." Minus: » There isn't a Sunrise Café in my home town. Eat lunch at either of these places—Old World Gourmet Deli or the Sunrise Café—and you'll be able to finish your day in Freeport with a spring in your step.

Old World Gourmet Deli
117 U.S. Route 1, Freeport; telephone 207-865-4477 open Monday-Saturday, 10 a.m.-6 p.m.
Sunrise Café
U.S. Route 1, Freeport open every day: breakfast: 6 a.m. - 2 p.m., lunch: 11 a.m.-2 p.m.
Share this article:
2023 Maine Boat & Home Show

Join Us for the Maine Boat & Home Show!
Art, Artisans, Food, Fun & Boats, Boats, Boats
August 11 - 13, 2023 | On the waterfront, Rockland, Maine
Click here to pre-order your tickets.
Show is produced by Maine Boats, Homes & Harbors magazine.