View from the Porch - Issue 105
Issue 105
By Peter Bass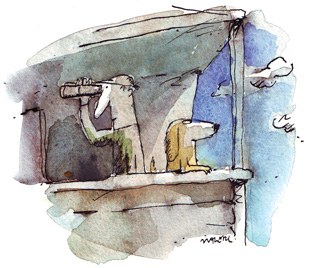 Illustration by Caroline Magerl.
June is the month of stolen summer days. Any day before the summer solstice that is sunny and warmer than 70ºF—and that is a day when one doesn't have to work—is an extra day of summer. Spending that day in some worthwhile pursuit, i.e., on the water, is not subtracted from the high season. All of summer is still in the bank, the principal remains untouched. So too are the late September and October days after the vernal equinox: any summer-like days are the trailing interest in your summer account; the principal may be gone but some disposable income remains. As Captain Jack Aubrey of HMS
Surprise
would say, "Waste not a minute."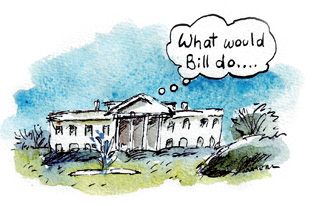 Illustration by Caroline Magerl.
WWBD?
While reading headlines from around the state for fodder for this column, I discovered that someone named Bill has an inordinate amount of influence in Maine. Who is he anyway, and why does he get so much attention? Here are some headlines generated by Bill, each followed by my guess about what Bill's thinking might have been: » Bill would allow towns to shoot beavers. Some towns just don't have a lot of tourist attractions. This could really bring them in. » Bill seeks to expand moose hunt in north. Many downtowns have prohibited moose hunting entirely within city limits, depriving urban hunters of the chance to shoot a lost or deranged moose on Main Street. » Bill would nix ethanol in Maine. Ethanol is dangerous and could make you go blind. Have some Allen's Coffee Flavored Brandy already! » Bill would require drivers to give walkers more room. It's mostly a safety thing, but if they really want more room, they'll have to pay a share of the highway taxes. Bill certainly has a wide range of interests, touching on the sporting, social, and health issues of our times. As you go through life seeking answers, ask yourself, "What would Bill do?"
The Bard of Yawkey Way
In sporting news that escaped Bill's interest, a
Bangor Daily News
headline noted that, "Red Sox Release Backstop Bard." I didn't know that the Sox actually had a bard, much less a backstop bard in case the principal bard gets laryngitis or something. I would like to know when either position becomes available so I can apply. My application: Is this a bat which I see before me, The handle toward my hand? Come, let me clutch thee. I have thee not, but neither doth Manny.
Bait Finder
For those of us who sometimes wonder where our next dead mackerel will come from, help is at hand. Thanks to our friends at Boat/US, we now have a nationwide online bait shop locator. It includes Canada (we don't want to get too far ahead of the Joneses, eh?). Perhaps we jest too much. This is actually a pretty good idea, since it also combines information on local bait suppliers with many of the other details that every traveling angler needs: guides, charters, licenses, etc. See
www.boatusangler.com
for the full offerings. One of my elderly maiden aunts abandoned single life in her sixties and married a man who boasted to us youngsters about having caught 100 different kinds of fish in 40 states, a level of adventure I found so impressive that it took the moon landing to supplant it in my mind as a giant step of mankind.
How Do You Like Your Bath, Your Lobstership?
Maine's lobster industry has long been a shining example of a largely self-policing and self-preserving industry. Fishers of lobster have often worked hand-in-hand with scientists to understand the life cycle of the crustacean and the conditions that encourage reproduction and growth. The
Portland Press Herald
reported in March the latest collaboration: a partnership known as eMOLT, or Environmental Monitors on Lobster Traps (don't you love acronyms?). A variety of marine science organizations, lobstermen's associations, and Southern Maine Community College have teamed up to place monitoring devices that will provide season-long thermal data collection in traps. Individual participants can see their own data online, and the public will see consolidated data at season's end. Find out more at the Northeast Fisheries Science Center website:
www.nefsc.noaa.gov
. SMCC students have also been involved in another monitoring system. Each year they build low-cost surface drifters: simple GPS-equipped ocean travelers that provide new data on currents in the Gulf of Maine. Lobstermen hope that correlations drawn from all the collected data will eventually help them predict productivity based on conditions and allow them to tailor their efforts and expense accordingly.
Our Traps Runneth Over
Since we are discussing the lobster's ecosystem, note should be made of the concerns of Robert Steneck, a University of Maine marine biologist. According to the Kennebec Journal, things may be a little too good for the lobsters, which have benefited from the decline of fish species that preyed on them, leaving us as their only remaining predator. Steneck notes that a dense lobster population is susceptible to disease, such as the one that nearly destroyed the Long Island (New York) lobster population in 1998-1999. He stresses that biodiversity, not a big population of one species, ensures a healthy ecosystem. Maine enjoys the greatest density of lobsters in the world, and a catastrophic disease could have devastating social and economic effects. Perhaps our President should issue lobster coupons as part of the stimulus package to help reduce the dangerous over-crowding taking place on the sea floor. I will do my part, and would accept your coupons, too, if you can't use them yourself.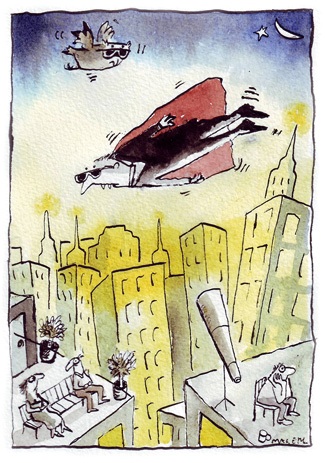 Illustration by Caroline Magerl.
Saving The Night Sky
Children go through periods of endless questions about the nature of the world around us. Often these questions are more about eliciting attention from a parent than the quest for knowledge. In such cases, a parent needs an out, an answer that will break the cycle of the endless "why?" so that something more important, like bedtime, can take place. One of my responses at this point was usually something like, "There are some things that you just can't know yet; for instance when you lie down outside at night, look up at the night sky and figure out how big the universe is." There is nothing like a clear night sky to get the concept of the unknowable across. Not that we might not know the unknowable some day, but for the moment even the all-knowing Mom or Dad just can't know it. I know that some wicked smarties have made calculations about the known universe, but what's beyond that? This story is a roundabout way of supporting the concept behind a bill to control light pollution, so we can actually see the night sky. The
Bangor Daily News
reported on a bill to require statewide light pollution standards, a position supported by the State Planning Office. Anyone who has seen the magic of a clear night sky offshore under sail can attest to the laudable goal of this bill. The devil, as usual, is in the details. Light pollution to one can be security or beauty to another. Think of a powerful lighthouse, for example. Making a statewide standard would seem to be an invitation to dispute, tying up resources and impeding development or safety while trying to reconcile differing subjective standards. Here on the Porch we haven't solved this particular issue yet, but we'll work on it this summer and report the conclusions of the Porch Think Tank.
Boatbuilding in Augusta
For me Augusta is a special place for all things marine. My grandfather used to take me down to the river there and show me the boats hauled at a small yard on the eastern shore, carefully explaining their various features. His cellar on Winthrop Street held nautical artifacts collected over many years and later donated to the Maine Maritime Museum in Bath at its inception. So I was pleased to learn from the Kennebec Journal that Kenway Corporation and its subsidiary, Maritime Marine, held a grand opening in February in Augusta for an expanded HQ and manufacturing facility for Maritime Skiffs, a line of outboard-powered boats long prized by saltwater fishermen and guides for their value and performance. Newer models include cuddy-cabin styles that are more family friendly than the open work skiffs that most of us associate with Maritime. In support of Maritime Marine, the City of Augusta chipped in with infrastructure improvements through a Community Development Block Grant. We hope that the state of the economy is supporting Maritime's expansion as we write this and that boatbuilding thrives again on the banks of the Kennebec.
Clam Fraîche
Steamers or fried? Crumbs or batter? We love our clams here in Maine and will argue preparation methods with religious fervor. My favorite fried clams come from the Sea Basket in Wiscasset; if you don't agree, you're just, well, wrong. Regardless of your preferred preparation, the most important thing in clams is freshness, and the
Brunswick Times Record
reports on a bill to help that along. In 2005, regulations governing interstate commerce effectively prohibited local restaurants and retail outlets from buying clams directly from clammers; only licensed wholesalers could sell clams. Licensed wholesalers are periodically inspected and must keep records on the provenance of the clams they sell in case of illness. The bill being considered at the state level would allow in-state sales by harvesters to end-users. In theory, this would allow restaurants and other retailers to purchase clams dug hours instead of days before and perhaps at a slightly better price for both buyer and seller. The DMR just needs to figure out how to make sure that the clammers keep good records and practice safe clamming. Someone who dies of shellfish poisoning is truly an end-user.
Clam Guide
My old friend Jack Dunn dreamed of writing a comprehensive guide to all the fried clam emporiums in Maine that you could get to by water in a small boat. Our test bed was going to be a 21-foot Maine-style outboard that Jack built, but I would have to help with gas and clam costs. The project died when we realized that it would take the whole summer to cover the coast from Kittery to Eastport, during which time neither of us would be otherwise gainfully employed. The budget for gas, beer, and clams alone was greater than the potential income from the article. Jack claimed that he had a magazine sponsor for the project and I thought we could also get a medical grant to fund a study on the effects of three months' subsistence on a beer-and-fried-clam diet. Medical science and American literature are the poorer for our failure to complete the quest. Perhaps this account will encourage others to search out the unknown Fry-O-Later Masters of the coast.
Dinghy Down
For those of us with modest yachting dreams (much more modest recently), our principal accessory is some sort of a dinghy. Inflatables seem to be the current choice for all the obvious reasons: safety, light weight, stability, stowability, etc. But in the realm of big yachting, the accessory small boat has many permutations. You have your runabouts, your Herreshoff sailing dinghies, your Skidoos, your windsurfers, your submarines.... The April edition of
Supersail World
, a sister of the UK publication
Sailing World
, published a guide to the available personal submarines. These appear to hold from one to many beautiful people at a time, and cost between a pile and an enormous pile of money. Some are advertised to slip easily into the "garage," a transom-accessed cavern at the stern of one's superyacht; others require special handling, such as a personal freighter following behind. When I was a young man, I had the rare good fortune to work for Henry Hinckley, at once both a visionary and practical man. Henry sold many Dyer dinks to accompany his Pilots and B-40s as proper dinghies, but he yearned for a more stable alternative, perhaps prompted by the occasional inadvertent swim while boarding his boat after happy hour. So he invented the Hinckley Dinghy, known to insiders as the Hinky Dink. It was a square-ish, supremely stable small craft that could handle an unstable man in the throes of post-happy-hour conversation whilst boarding the mother ship. It was a proper dinghy because Henry made it, aesthetic considerations notwithstanding. I would like to find one myself as an alternative to the pervasive inflatable and as a link to a time when boats were yachts and boaters were yachtsmen. Plus my grandson has a habit of referring to my dinghy as "the deflatable."
See You Out There
Summer in Maine is like a reduced sauce; the flavors are concentrated into a tight season, simmering through the winter and long spring, and then bursting onto the main course. Always too late in coming, and always far too short. As Captain Jack would say, "Waste not a minute." Then repair to the Porch to plan tomorrow. Feet up, binoculars at the ready.

Long-time
MBH&H
Contributing Editor, freelance writer, and raconteur Peter Bass is an owner of Maine Cottage Furniture.
Click here to read other articles by Peter Bass >>
To submit your comments... newsy tidbits, photos, illustrations, clippings, rants, and raves for possible use in this column, use the form below. Or mail to "View From the Porch," P.O. Box 758, Camden, ME 04843 or fax to 207-236-0811. Items may be edited for length and clarity; materials become the property of Maine Boats, Homes & Harbors, Inc.
Share this article:
Digital Edition Available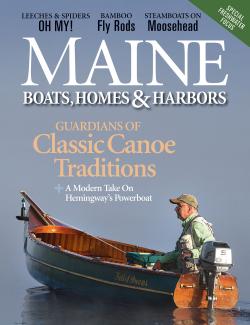 Can't get to the store to buy your magazine? We deliver the stories of Maine's coast right to your inbox. Sign up here for a digital edition.