Mainely Gourmet - Thistle Inn, Boothbay Harbor
Thistle Inn, Boothbay Harbor
By Peter H. Spectre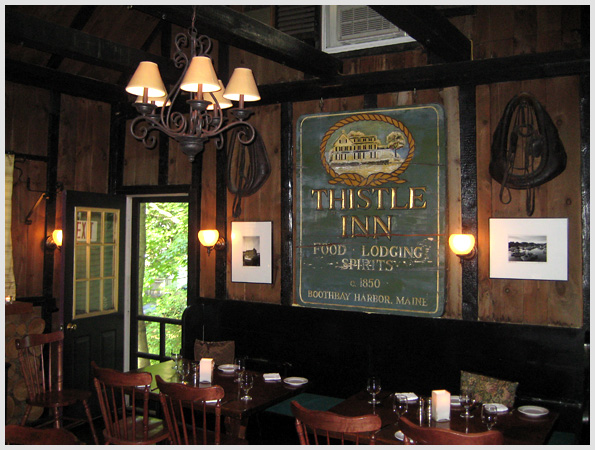 One of several dining rooms—all moderate in size—at the Thistle Inn. Photo by Peter H. Spectre
Boothbay Harbor is an intriguing place. At the end of a long peninsula bounded by the Sheepscot River on one side and the Damariscotta River on the other, it is one of those rare full-bore tourist towns that doesn't have a major road running through it. In other words, unless you're hit by a serendipity stick while aimlessly driving around, you have to want to go there to get there. When you do get there you find that you're not alone, that the town is packed to the rafters with vacationers whose main emphasis seems to be eating, drinking, shopping, or staring at boats in the harbor, or some combination of all of the above. That's in the summer. In the winter... well, let's put it this way—things are rather quiet. There's something to be said for both conditions. In summer, like all straight-ahead tourist towns, Boothbay Harbor has a certain joy that can be contagious. ("Whoopie! We're on vacation! No work, let's play!") The rest of the year it has a quiet melancholy that verges on serenity. Summer dining choices run the gamut, everything from hot-dog and hamburg joints to seafood restaurants with a heavy emphasis on lobster, from fast food to fine dining. In the winter, not much remains open. The Thistle Inn, however, does. In fact, winter could very well be the best time to visit the inn: calmness prevails, and two of the four dining rooms have working fireplaces. Primarily a restaurant with a small bed-and-breakfast operation on the side, the Thistle Inn, on the edge of downtown, is a spread-out establishment centered on a sea captain's home built in 1861. The theme is partly old-time country inn and partly nautical, but it's not over the top—except in the pub, which features a bar laid over a rowboat. The restaurant features fine dining; the pub serves food ("pub fare") as well as drinks. There is a happy hour every evening from 5 to 6 in the pub, when food and drinks are half price. Happy hours can be a coin flip. On the one hand you might have a pleasant time socializing with friends while eating well and drinking responsibly at a 50 percent discount; on the other, you might find yourself in the center of a maelstrom of noise and drink-addled celebration at best and boorishness at worst. Eileen and I prefer the former over the latter. We have eaten at the Thistle Inn twice. Once in the pub in the not-too-distant past, and once in the restaurant a few weeks ago. Both times the happy-hour atmosphere in the pub suited us just fine. On our recent visit we had cocktails alongside Glidden oysters served on the half shell with a special citrus sauce. Other appetizer choices included brandied lobster, crab cakes, sautéed black mussels, seared tuna, and more. Then we moved on to the restaurant. The menu can best be described as surf and turf, with greater emphasis on the surf than the turf—not standard fare, but not mysterious concoctions, either. Surf included Scottish salmon, yellow-fin tuna, Atlantic scallops, Maine shrimp, and lobster paella. Turf included roasted chicken, pork chops, and aged strip steak. And then there was Surf & Turf: half a lobster and beef tenderloin. Eileen had the lobster paella ("fresh Maine lobster, Andouille sausage, mussels, Maine shrimp, chicken, and white wine, with saffron risotto cake"). I had the pan-seared yellow-fin tuna ("sushi-grade tuna served with fresh bean sprouts, water chestnuts, and sweet botan rice"). Both choices were excellent, as was the service. When it comes to dessert, most fine restaurants these days are engaged in a game that might be called "Can You Top This?" The Thistle Inn is no exception. Gone are the days of plain old lime sherbet, or pie à la mode, or Indian pudding. Now we have—this is from the Thistle Inn menu—Fresh Fruit and Lemon Curd Martini ("seasonal fresh fruit served with lemon curd and house-made ice cream"), Mascarpone Tower ("sweet phyllo dough, fresh strawberries, and whipped cream"), Chocolate Decadence ("flourless chocolate cake and a dark cherry compote"), and more like that. Most diners' response: "Oh, that is too rich... no, I shouldn't... maybe if we share it... you want the Tower?... but I want the Decadence... oh well, it's only this once... let's have both." And why not? It's Boothbay Harbor and the living is easy no matter the season.
Pluses:
» There is outdoor dining during the summer on the shaded front porch. » On our recent visit, an honest mistake was rectified swiftly and politely, with good humor.
Minus:
» The waiter announced the specials but not the prices until specifically asked. A Message to All Restaurants: Many diners, too embarrassed to ask, will not order a special if they do not know the tariff beforehand.
The Thistle Inn
55 Oak Street Boothbay Harbor, ME 04538 207-633-3541
www.thethistleinn.com
Open at 5:00 p.m., 7 days a week for dinner (happy hour until 6:00 p.m.). Closed Thanksgiving Day and Christmas Day.
Share this article:
2023 Maine Boat & Home Show

Join Us for the Maine Boat & Home Show!
Art, Artisans, Food, Fun & Boats, Boats, Boats
August 11 - 13, 2023 | On the waterfront, Rockland, Maine
Click here to pre-order your tickets.
Show is produced by Maine Boats, Homes & Harbors magazine.