Mainely Gourmet - Table: A Farmhouse Bistro
Table: A Farmhouse Bistro
By Peter H. Spectre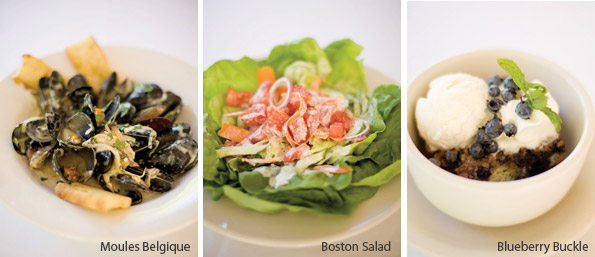 Photos by Alison Michael Orenstein, courtesy Table (3). Click on image to expand.
Table, a restaurant in the center of the town of Blue Hill, bills itself as "A Farmhouse Bistro," a phrase that hardly does it justice. In fact, it could be considered a misnomer. "Farmhouse" suggests a white wood-frame structure surrounded by fields, outbuildings, and barnyard animals. The dining room, family style in atmosphere, would be large and open, with a linoleum floor, trestle tables, straight-backed chairs, and a woodstove in the corner. The walls, decorated with old farm implements and pictures of cows, would be whitewashed. The menu would feature three unadorned categories—meat, potatoes, vegetables—with a token garden salad thrown in for the squeamish; i.e., the heart and soul of what the foodies derisively call "comfort food." "Bistro" suggests a small restaurant, not much larger than a cafe, with Toulouse-Lautrec posters on the walls and a Parisian chanteuse in the background. The waiters would wear short, white aprons; the menu would make reference to haricots verts and shiitake mushroom sauté. Table is none of that. (Has anyone noticed the reduction in restaurant names? Are Chair, Plate, or Spoon next?) Yes, if you stand in the middle of Main Street, Blue Hill, and squint your eyes to screen out the gas station to the right and the block of stores to the left, the building could possibly stand in for a farmhouse, but open the door and any similarity ends. So, too, does the possibility of Toulouse-Lautrec or the Parisian chanteuse. Situated next to a stream that tumbles down through the village and into the head of the harbor, it has three dining areas: a slightly formal room in front, with a bar; a more relaxed "bistro"-style room in the back; and a streamside room, open in the warm months, with a lovely view and atmosphere. Several readers have asked what we look for in a superior restaurant. There is the menu, of course; there are the ingredients; there is the preparation of the food; and there are the staff, the atmosphere, the elbow room, the consideration paid to the diners, and the actual location of the restaurant itself. In reference to the latter, we look for a place where we can walk after a fine, relaxing meal; where we can take a stroll through quiet streets and picturesque settings. In other words, we appreciate a fine restaurant that is part of a total picture, or, conversely, a total picture that includes a fine restaurant. By those standards, Table is superior.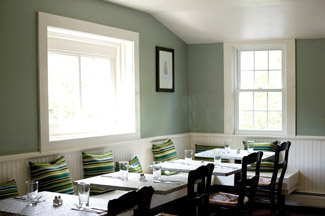 Photo by Alison Michael Orenstein, courtesy Table
Click on image to expand.
Like many contemporary restaurants with a conscience, the emphasis at Table is on local ingredients. Local fish, local meat, local vegetables (many, in season, from Artisana, the owners' own farm). While the items on the menu and the ingredients used suggest closeness to the farm—in other words, simple meals, modestly prepared—the reality is quite different. Consider our recent dining experience. For the main course I had Meatloaf d'Amour—beef, veal, and pork, served with bacon and bordelaise sauce, with mashed potatoes and peas. Meatloaf is big around my house. I won't go so far as to say I'm a connoisseur, but I will say I've eaten a lot of meatloaf and therefore know how to identify that which is exceptional. Table's was perfect; not too dry, not too moist, with just the right sauce to enhance the flavor. So, too, were the vegetables that accompanied it, especially the mashed potatoes that were enhanced with something beyond the main ingredient. Eileen had Grilled Flat Iron Steak—"Topped with Maytag blue cheese, served with a potato and root vegetable rosti and sautéed greens." She loved the steak, raved about the rosti, and was impressed with the greens (in this case, kale). Other menu choices included Pan-Seared Port Clyde Fish of the Day, "with cornichon remoulade, pickled cabbage slaw, roasted beets and potatoes;" Pork Rib Chops, "cooked in a slow oven with 30-Acre Farm sauerkraut, artisan smoked bacon, and fresh thyme, served with roasted potatoes and Rayes Mustard;" Pan-Served Aroostook County Lamb Chops, "with sorrel and mint gremoulata, served with roasted potatoes and fresh vegetables;" Vegetarian Risotto, "fresh seasonal vegetable simmered with imported arborio rice in an herb-rich vegetable stock enriched with Anne Bossi's Chevre;" and surely something out of the ordinary, Lobster Mac & Cheese, "a generous portion of fresh-picked lobster meat baked into our 5 cheese Mac & Cheese, served with a side of greens." There is, in addition, a wide selection of appetizers, soups, salads, and desserts. Especially notable is the cheese plate that features local product, including Seal Cove's Olga, Pineland's Cheddar, Anne Bossi's Pressed Goat Cheese with Thyme & Pink Peppercorns, and Nezinscot Farm's New Gloucester. In a nutshell, Table specializes in down-home food taken to a higher level. Anyone who would sneeringly refer to it as comfort food doesn't know much about the art of the kitchen.
Table: A Farmhouse Bistro
66 Main St., Blue Hill, ME 04614 207-374-5677;
www.farmkitchentable.com
Opens at 5:00 pm, Tuesday through Saturday
Share this article:
2023 Maine Boat & Home Show

Join Us for the Maine Boat & Home Show!
Art, Artisans, Food, Fun & Boats, Boats, Boats
August 11 - 13, 2023 | On the waterfront, Rockland, Maine
Click here to pre-order your tickets.
Show is produced by Maine Boats, Homes & Harbors magazine.