View from the Porch - Issue 110
Issue 110
By Peter Bass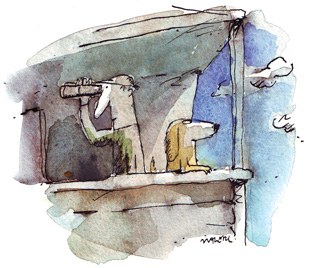 Illustration by Caroline Magerl.
Summer in Maine reminds me of the Kentucky Derby. Anticipated for months, we mill around the starting gate forever, getting the brush cleaned up and the water on at the cottage, getting the boats ready, etc., etc. Then sometime just before the Fourth of July we get in the starting gate, and then, "poof," it's over. By the first of October a slight hangover and a few memories of the party are all that's left. So here is my annual advice for June: Steal as many days as you can before the Fourth; they don't count against those ten weeks of the "high season." Days spent on the water in June are more savored, because they don't come out of the bank account of summer. Spend them with reckless abandon but keep a little time open to check in with us on the porch from time to time.
The Last Sardine
While it may not be made into a major motion picture with Tom Cruise, the closing of Maine's last sardine cannery in Prospect Harbor is a watershed event. The former Stinson Cannery had been operated by Bumble Bee since 2004 and was the last cannery on a coast that once supported 46 canneries, according to an article in the
Portland Press Herald
last April. The closure affects 130 jobs in a part of the state where there are few other options. Bumble Bee is owned by a private Canadian investment fund, Connors Brothers Income Fund, which in itself appears to be owned by a U.S.-based private equity fund, Centre Partners, neither of which probably gives a fig about 130 jobs in Prospect Harbor. Around the world, sardines, fresh or canned, remain a staple of many diets. Many herring-like fish are canned as sardines; the exact definition of a sardine is elusive, with many producing countries claiming the superiority of the particular species they use. Beach Cliff, the brand of sardines produced by Bumble Bee/Connors Income Fund/Centre Partners (hereinafter known as Bumble Partners), uses the Atlantic herring. Bumble Partners blames the closure on the 50% reduction in the Federal herring catch limit, although Bumble Partners had previously assured Senator Olympia Snowe's office that the plant would continue operations in spite of a reduction. Making fisheries managers the bad guys may be the truth or it could have been a convenient opportunity to close the plant without taking a public relations hit. I have two sardine memories. When I was less than 10 years old we had a closet in the cellar that was called either the coal closet or the cold closet. We neither burned coal nor had an unheated cellar, so I am not sure which it was. What I do remember is that someone had given my Dad what looked to me to be about a thousand cans of sardines, which were stored in that closet and which he seemed to have been eating over a period of years. My second formative sardine experience was my workingman's lunch in the Hinckley fiberglass shop. I would stop at the little market at the top of Mansell Lane and buy a small bag of peanuts, a can of sardines, and a coke. I am heavier now.
Topless in Portland
In early April, the
Portland Press Herald
reported on The March of the Topless Females, which some are hoping will become an annual migration, like that of geese or monarch butterflies. A young lady named Ty McDowell organized the march to protest the double standard between men and women regarding topless nudity. She is absolutely right and should be encouraged to continue these protests. Shockingly enough, the march's most ardent supporters, and those most moved to record the event for future reference, appeared to be men, a fact that reportedly "enraged" Ms. McDowell, and rightfully so. I too was shocked at the behavior of my brothers and urge them to limit such boorish behavior to the privacy of their own homes in the future. A more supportive role would be to march topless in quiet solidarity with their sisters in the war against inequality as did some men in the first march. I would join them on a warmer day. Equality is one thing, goose bumps quite another. In a follow-up some days later, the paper reported that a student at the University of Maine at Farmington had contacted Ms. McDowell for advice on organizing a similar protest march in Farmington. In the spirit of the occasion, the route I recommend would begin at the former Hidden Acres Dairy north of town and end at Giffords Ice Cream stand. Speeches to follow at Hippach Field, weather permitting.
America's Cup
In eons past, regional bigshots, warlords, clan leaders, and the like amused themselves and fed their egos by raising their own armies and engaging in combat with the meathead next door. As nations became more organized and warlords transformed into lovable robber barons, there was still that pesky ego problem that could no longer be assuaged by precipitating small wars. The
America
's Cup was invented to fill the gap. We think of the old cup campaigns as being fought by sportsmen with values, but the passage of time dulls the sharp edges of truth. These were highly competitive people with limitless resources, even a century ago. They didn't have the technology, a 24/7 news cycle, or quite as many lawyers, but were such weapons available I am sure the participants would have wielded them with great enthusiasm. I suspect many of us forgot that there was even a cup challenge under way until the racing began; the endless lawsuits between their billionaire /?#$$! and our billionaire /?#$$! dulled our usual interest. For me the ennui evaporated when I saw the boats go to windward at twice the wind speed. It was hardly a nationalistic quest; nearly all the players were sailing mercenaries. But then again, there aren't many New Englanders on the Red Sox roster, either, and we still follow them. Plus we have no more in common with team owners than we do with Oracle founder Larry Ellison. So stop whining about the loss of innocence, the Corinthian spirit, and gracious competition. Let's applaud going to windward at 16 knots in 8 knots of wind. Plus, no one died.
Ethanuts
In one of the great examples of the supremacy of politics over reason, the laws and policies of the Federal government have promoted the blending of corn ethanol with gasoline, an economically and environmentally dubious plan to enrich one industry at the expense of the public, and do it all under the guise of energy independence. The industry is so cheeky it calls its lobbying organization Growth (as in grow your own) Energy. What bothers us on the porch is not the self-delusion our representatives foist on us regarding the economies and green-ness of ethanol (on the porch we pride ourselves on being as self-deluded as anybody). Rather, it seems silly to us to ruin more marine engines and fuel tanks, as well as reduce the dependability of those engines and increase the likelihood of leaks and explosions. Ethanol creates a host of problems for boaters, who can't just pull off to the side of the road and wait for help. Boaters are coping with the problems of ethanol at its current 10% concentration. The industry wants to go to 15%, which will intensify the adverse effects we now experience. For instance, ethanol has required that fiberglass fuel tanks be replaced in gasoline-powered boats before they disintegrate, and that other expensive chemicals be added to gasoline to counteract the problems of fuel that might not be used immediately. I had to purchase a small vacuum pump to remove water and contaminants from outboard tanks. Fighting our battle is the Boat Owners Association of the United States (BoatUS), which is advocating reason over politics and is probably destined to fail for that reason. Should you wish to understand the science, please see their pressroom at
www.boatus.com/pressroom/
. There is a press release from April 7 and probably more on the subject added since. In politics, dumb seems to acquire as much momentum as smart.
Be true to your school
I am sure that the Beach Boys must marvel at the new opportunities to get your high school letter in something besides football or track. In 1963, when the Boys recorded "Be True to Your School," the opportunities for a high school or college letter probably did not include bass fishin'. It does now. We were tipped off to this brave new world by an item in the AuCoin Report, referring to a newspaper article in the
Times Daily
of Florence, Alabama. This spring saw the first statewide tournament in bassin' for Alabama high school teams, albeit at the club rather than varsity level. This follows on an Illinois program, which now includes 231 high schools. We are not sure about Maine; the school year and the bass fishing season would probably make it an early fall sport. Plus, we would need to learn how to properly pronounce "craink bayt" and "Kair-lynah rig." We could require that our boys and girls spend the first winter watching tournament bass fishin' on the TEE-vee. Ah can recommend the best shows if you'd lahk. Prep school teams would have to engage in the sport a little differently, perhaps stream fishing in waders for brookies using flies they tied themselves. After two hours of unsuccessful flailing, the teams would repair to the bank for a multi-course shore lunch followed by a nap. After catching a single trout during the evening rise, our team would return to camp, dine, and learn to play cards while discussing the qualities of various single malts. How better to prepare the leaders of tomorrow?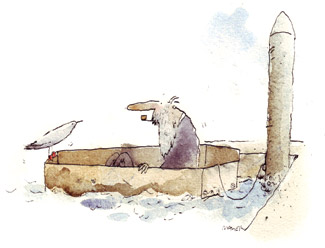 Illustration by Caroline Magerl.
Sleeping with the Fishes
Some years ago I wrote describing my concept for an assisted-living marina. The aging sailor beginning the long reach toward the distant horizon could come to Capt'n Pete's Marina and begin a succession of ever more restrictive activities, funded by exorbitant slip fees and boatyard bills for un-performed services. Dining options would include diesel-flavored beans and uncooked rice flambéed in stove alcohol. The life-concluding events would be nautically oriented also, if clearly tongue-in-cheek. Life, however, has now imitated art. It is now possible to have one's cremated remains (known as cremains in the death trade) tucked into a nook of an artificial reef made to look like the Lost City of Atlantis. We are not kidding. You must visit the website of the Neptune Society,
www.neptunesociety.com
, and click on the link "Memorial Reef." While I have scattered ashes at sea myself, there is something a little off about an undersea edifice for one's cremains. But I am inspired by their lead. My brother and I once dove beneath our dock in Boothbay and found a shallow cave inhabited by the largest lobster I have ever seen, in the wild or in an aquarium. We named this "The Cave of the Jaws of Death." The Porch Society will begin taking reservations shortly, prepaid in cash only.
When less is more
In an Associated Press article via the
Bangor Daily News
, we learn of a perverse economic reality in one of our most consumed substances, water. It seems that with less economic activity, the costs of municipal water systems are spread over fewer rate-payers, who themselves are also using less water. Fixed expenses in municipal water are not easily reduced in the short term, and the result is that the cost per unit of water is rising. It took us a while on the Porch to wrap our various (small) minds around the concept that using less of a commodity should cost more. That accomplished, we naturally turned our talents toward a solution. Officials blame the decreased water use and revenues on, among other things, decreased tourism, resulting in fewer showers and toilet flushes. This was clearly a problem we could work on. We propose that The Great State of Maine modify its tourism advertising to encourage our visitors to sweat more and eat more fiber to reverse this trend. Admittedly, the burden will fall on the hospitality trade, but think of the health benefits. Gastroenterologists will celebrate clean colons, and water rates will tumble. Come on people, let's think outside the bottle.
So live a little
In the recent past we have noted that boatyards have had more summer residents leaving their vessels high and dry than usual due to the economy. Let's hope that the trend reverses itself this season and that a rising tide lifts all boats. If you are returning to the seas this summer after an unwanted hiatus, remember that your rusty seamanship skills will be duly noted as you pass the porch. Feet up, binoculars at the ready.

Long-time
MBH&H
Contributing Editor, freelance writer, and raconteur Peter Bass is an owner of Maine Cottage Furniture.
Click here to read other articles by Peter Bass »
To submit your comments... newsy tidbits, photos, illustrations, clippings, rants, and raves for possible use in this column, use the form below. Or mail to "View From the Porch," P.O. Box 758, Camden, ME 04843 or fax to 207-236-0811. Items may be edited for length and clarity; materials become the property of Maine Boats, Homes & Harbors, Inc.
Share this article:
2023 Maine Boat & Home Show

Join Us for the Maine Boat & Home Show!
Art, Artisans, Food, Fun & Boats, Boats, Boats
August 11 - 13, 2023 | On the waterfront, Rockland, Maine
Click here to pre-order your tickets.
Show is produced by Maine Boats, Homes & Harbors magazine.