Mainely Gourmet - Heartstone Inn, Camden, Maine
Hartstone Inn, Camden
By Peter H. Spectre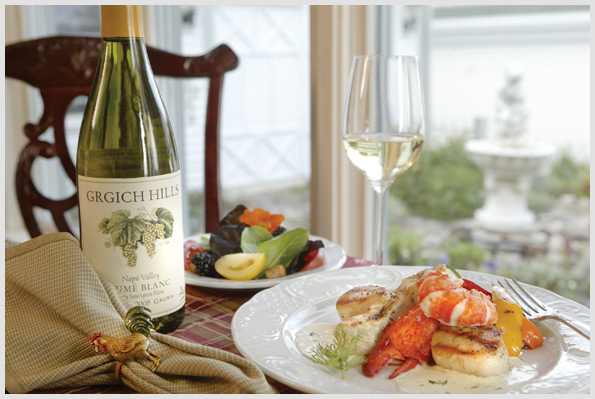 Fresh ingredients, appropriate to the season, cooked to perfection. Credit: photographs courtesy Hartstone Inn(3)
Many years ago I worked in an office building that had originally been a home. Actually, it had been what is euphemistically known along the Maine coast as a "cottage"—that is, a summer mansion with all the bells and whistles of a winter mansion but in a rustic setting. My office was in the middle of the building, on the second floor. Formerly one of the principal bedrooms, it had a fireplace, its own tiled bathroom, and a buzzer (which no longer worked) for summoning the help. The view was of Eggemoggin Reach and Deer Isle beyond. One day I was at my desk, scribbling away about one thing or another, when a little old lady stuck her head in at the door. "You know, young man," she said, "I spent my honeymoon right there where your desk is." "I bet you had more fun than I'm having now," I said, and we both laughed, and then she told me some war stories and that was the end of it. But it wasn't. Every time I walked into that room afterwards, I had an uneasy feeling that I was intruding in a private space, that I knew more about it than I ought to have known. A trespasser, I imagined that my mundane presence might annoy the ghosts of summers past.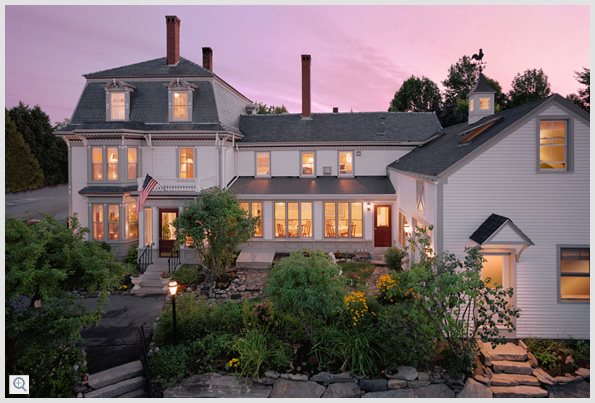 Hartstone Inn, in downtown Camden, Maine.
Click on image to expand.
I also generally feel that way about any restaurant situated in what had once been a home. My imagination runs rampant—what went on in there way back when?—and that's why when Eileen suggested we have dinner at the Hartstone Inn in Camden I said no. I could remember when the Hartstone had been a home. I had visions of eating broiled salmon in someone's bedroom. Eileen eventually prevailed—she always does—and to my great relief we didn't eat salmon in a bedroom. Rather, we dined downstairs in what might originally have been a parlor or a small dining room. The choice was either there or the enclosed porch, but the latter had a confined feeling, with tables close together and a view of the Rite-Aid driveway next door, and who needs that? We didn't have broiled salmon, either. We had a five-course dinner centered on halibut, and everyone else who was there that night had the same. At the Hartstone, the chef concentrates on one multi-course selection per night, and the management charges a set amount—prix fixe—$48.50 per person, cocktails and wine extra. The chef is not rigid, however. In a nod to my aversion to excess garlic, he kindly left that ingredient out of my potatoes. Dinner at most other multi-course restaurants can be a long, excessively drawn-out affair, but not at the Hartstone, at least not when we were there. The pace was relaxed, with plenty of time for conversation and reflective digestion between courses, but when we were ready to move on, the staff was ready to do the same. There was a rhythm to the meal that only the expert know how to maintain.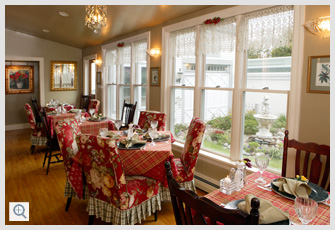 Click on image to expand.
This is what we had: First course: Seared Maine sea scallops with a spring pea cream and house-smoked salmon. Second course: Mixed spring greens with a strawberry-lime dressing and sharp Vermont cheddar. Third course: Maine blueberry sorbet. Fourth course: Grilled halibut tapenade with a lemon beurre blanc and garlic-smashed potatoes. Fifth course: Blueberry-almond soufflé with an Amaretto
crème anglaise
. If you like seafood and blueberries, you would have to love that dinner, especially considering the excellence of the preparation and presentation. But if you don't, you can wait for another evening to roll around and a completely different central ingredient will be offered—pork chops, veal, lobster, steak, duck, haddock, and more. To be certain that the chef's choice will be yours, call several days in advance or check the Hartstone's website. And, of course, make a reservation, especially in the high season.
Pluses:
» Cozy, intimate, inside dining room. » Prompt, first-class, friendly service, as you would expect in an establishment that bills itself as a gourmet restaurant. » Fresh ingredients, appropriate to the season, cooked to perfection. » The dessert: a nice finishing touch, and not indecently over the top.
Minuses:
They ask for a credit card number when a reservation is made, a practice that is—how should we say?—not standard on the coast of Maine. A gratuity beyond the prix fixe is automatically added to the bill, an option that is customarily reserved for the diner.
Hartstone Inn
41 Elm Street, Camden, ME 04843 800-788-4823; 207-236-4259
www.hartstoneinn.com
Open year round. Reservations strongly suggested.
Share this article:
2023 Maine Boat & Home Show

Join Us for the Maine Boat & Home Show!
Art, Artisans, Food, Fun & Boats, Boats, Boats
August 11 - 13, 2023 | On the waterfront, Rockland, Maine
Click here to pre-order your tickets.
Show is produced by Maine Boats, Homes & Harbors magazine.