Gunkholing with Gizmo: Robinhood, Riggs Cove
Gunkholing with Gizmo: Robinhood, Riggs Cove
By Ben Ellison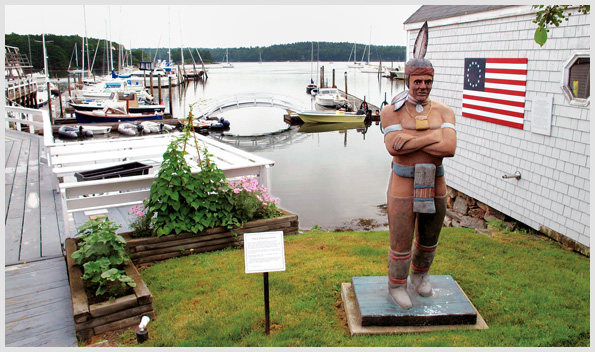 The RMC complex has a little bit of everything for your shoreside enjoyment. Photograph by Ben Ellison.
"Robinhood" is what everyone calls the boater's heaven located just across the Sheepscot River from Boothbay, and the name makes sense, given that Robinhood Marine Center (1) provides all the shore facilities and moorings that complement the natural beauty and protection found at the head of Robinhood Cove. But the RMC crew likes to reference Riggs Cove, partly because that's the proper title for their busy bit of waterfront, but mainly because the Riggs name is deeply entwined in the property's past, and a sense of history is one of several things that sets this marina apart from others. For example, the cozy "library," which serves as a refuge for visiting boaters and as the location for a series of weekly summer lectures, was originally built in about 1790 by Benjamin Riggs as a freight house. Nestled alongside are two more restored buildings loaded with historical photographs and memorabilia, including the interior cabinetry of the settlement's circa-1900 post office. Next door is the large and handsomely restored 1820 Riggs General Store, which is now the home of Spartan Marine Hardware, yet another facet of multifaceted RMC. Owner Andy Vavalotis, the founder of both Spartan and Cape Dory Yachts, thinks of RMC as a "destination marina," and he's worked hard to make it so. Visiting cruisers are offered not only a courtesy car, but also a courtesy Cape Dory daysailer, not to mention daily newspapers and a good jazz band on Friday afternoons. I even saw the dock staff pumping out tenders after a rainstorm. Also on the grounds is the Osprey Restaurant, which I found tasty enough this past summer to be a destination in itself. Last spring the ever-imaginative Vavalotis made all the pleasures of RMC available to those without a sleep-aboard vessel. He designed and built the first Island 40, a floating rental cottage that looks vaguely like a tugboat. We're going to discuss hull number one, the
Tessie Ann
, in the "Boats of the Year" section of the next issue of this magazine, but let me say here from personal experience that staying on board is a hoot. Swinging to a mooring and puttering around in the included skiff felt like cruising, yet without all the work and responsibility. The
Tessie Ann
's design permits tenants to tie their own larger exploration vessels alongside as well. One possible skiff-and-hike venture would be a high tide meander to the Josephine Newman Audubon Sanctuary (2). Then you might make a day trip to the preserve at Indianhead Island (3), which has its own dock, or picnic on Spectacle Island (4), or visit the venerable Five Islands lobster dock (5). A good yacht tender can make these trips in fair weather, and the more able can explore farther in all directions. Robinhood is a destination marina that's also a hub for small-boat adventures.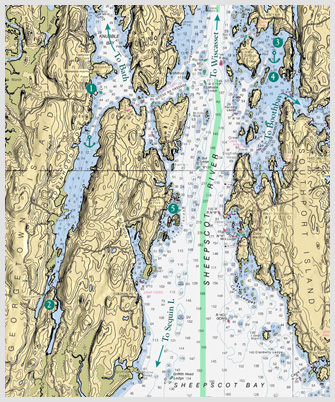 CLICK TO ENLARGE CHART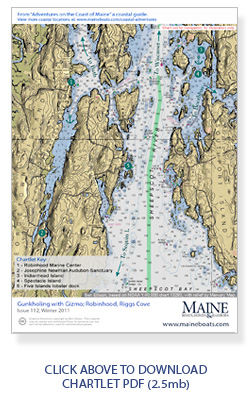 Charlet Key: 1 - Robinhood Marine Center 2 - Josephine Newman Audubon Sanctuary 3 - Indianhead Island 4 - Spectacle Island 5 - Five Islands lobster dock

E-mail Ben (
gizmo@panbo.com
) or leave him a note via the form below to tell him about restaurants, parks, and the like that he can visit aboard the M/V
Gizmo
.
Click here
to travel with Ben Ellison and
Gizmo
on other
coastal adventures
on the Maine coast.
Share this article:
2023 Maine Boat & Home Show

Join Us for the Maine Boat & Home Show!
Art, Artisans, Food, Fun & Boats, Boats, Boats
August 11 - 13, 2023 | On the waterfront, Rockland, Maine
Click here to pre-order your tickets.
Show is produced by Maine Boats, Homes & Harbors magazine.