Letters to the Editor - Issue 114
Issue 114
A Model Maker Found
In our Winter 2011 issue, MBH&H #112, we published a letter from Steve Shamburek of Anchorage, Alaska. Shamburek had a small wooden model of HMS Endeavour built by James Izzolo, sought more information about it, and wondered if any of our readers knew the whereabouts of the builder. Sure enough, Mr. Izzolo was tracked down and wrote back; part of his description of the model follows. –The Editors
My model of Captain Cook's HMS
Endeavour
is made completely out of boxwood. Boxwood is a very tight-grained hardwood that grows in specific climates in Europe, with the best coming from France and Turkey. It was the wood favored by model makers in the 17th and 18th centuries because of the fine grain and ability to be carved with precision. HMS
Endeavour
was originally a "collier brig," a merchant ship. It was slow and somewhat cumbersome. Cook chose it for exploration primarily because of its ability to navigate coastal waters, as well as its sturdiness and reliability. The model is framed as a merchant ship; that is, the frames are spaced farther apart from one another than they would be in a warship. Each plank was cut to scale and doweled into the frames using wooden dowels. This model is the only one I completely planked over. All the others I have made are planked down only to the wales, which technique shows the internal frames. The rigging, which was in a constant state of flux throughout the age of sail, is accurate to the time
Endeavour
was built (1760).
Jim Izzolo
Eureka, Nevada
Three Boatbuilders Recommended
For the past three years I have been converting a working lobsterboat to a picnic cruiser. In your "Boats of the Year" section in the February/March issue, MBH&H #113, something was missing. A little-known team, Ulrickson & Sons in Freeport, a father and two sons, are among the most talented boatwrights in the state. Don, the father, can do it all; Andy and Adam have skill sets that complement one another to cover all bases. They work mostly on workboats and are highly regarded by many fishermen in Casco Bay.
John Layng
Chebeague Island, Maine
We love to learn about Maine boatbuilders we might have missed and are happy to pass on such information to our readers. —The Editors
A Term Properly Used
I was just reading about Alan Villiers in "From Whence It Came" by Peter Spectre in the Winter 2011 issue, MBH&H #112. I noticed that Peter used what I have believed for years should be the correct term for ships of the likes of the Joseph Conrad, Mayflower II, and others—the term being "full-rigged ship." What a wonderful accolade for these ships. I won't even mention the other Stupid Ridiculous Term, as I don't want to see it in print. Thanks so much, Peter.
Ken Kemper
Marysville, Pennsylvania
A Delight for All
Upon opening MBH&H I check the contents page first, searching through the departments for the location of "Saltwater Foodways." Sandra Oliver's history of food is a delight for all those interested in what our sailing ancestors subsisted on, plus her rendition of the featured foods allows us to try these recipes in our own kitchens. This is one of the many articles in your magazine that we "non-boaters" enjoy.
Polly Kurowski
Spruce Head, Maine
A New Boat Owner Embarrassed
I enjoyed Capt. Pete Bass's "View From the Porch" in the Winter 2011 issue, MBH&H #112, especially the section entitled "Sideways" about Beneteau's "Dock & Go" system involving a pivoting saildrive and bow thruster. Capt. Pete imagined a day when "a new generation of bozos will never know the fine skill of landing a single-screw powerboat with a small rudder and no thruster." I have a story about today's unskilled: A gentleman, new to boating, purchased a boat at our marina. The salesman took him out for a familiarization run which lasted all of an hour. On leaving he gave the owner a plastic placemat chart of the bay. He wrote on the top of the chart in black marker, "Always leave red buoys on the right." The next day the owner went out for a spin. On returning to his slip he took off the pulpit of a beautiful sloop and hit three other boats. He stopped the boat by turning off the engines. Total cost: $11,000. The explanation by this very embarrassed individual: The salesman told him driving a boat was like driving a car; it's just that the salesman didn't tell him how to stop!
Captain Hank Jonas
M/Y On-Rush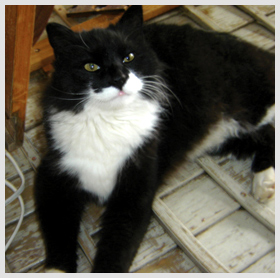 CORRECTIONS
In the "Boats of the Year" section of our February/March issue (#113), the phone number for Androscoggin Wooden Boat Works was published incorrectly. The correct number is 207-685-9805. Our apologies to AWBW's Chris Cushman and especially to Billi, the company's Boatyard Cat (above), who had to take time from his rigorous high-jump training schedule to set us straight. In the same issue, same section, the photo of the
Brenda Kay
on page 58 should have been credited to photographer Benjamin Mendlowitz, not to the builder.