View from the Porch - Issue 117
Issue 117
By Peter Bass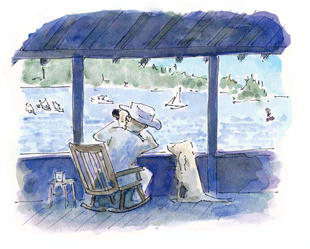 All illustrations by Ted Walsh
The hardest part of writing for this issue is that Labor Day is in the past, and the bank account of summer is running down to its winter paucity. July was warmer than average by nearly four degrees and was marked by a day or two in triple digits, occurrences I never remember as a child. August was right on the historical average for temperature, and both months were wetter than usual. For those of us who share a summer retreat with siblings and choose weeks in mid-winter, the averages hardly matter: the few weeks that make up each family's bit of heaven are the days on which the weather memories are based and no others. The magic of a big porch, however, is that good conversation is always abundant regardless of the weather. This column is your chair on the porch.
Nice Camp You Got They-ah
Cottages in Maine are often referred to by long-time in-state owners as "camps," although more recent erections by those from away never acquire that folksy appellation. Our cottage is little more than camp: open frame walls, no insulation, and seasonal water. It was therefore, as we say, "some fun" to read that a seasonal dwelling with the same basic purpose as ours—that is, having fun with the family on the coast—was sold this summer for something north of 12 million dollars, and not to someone from Franklin County.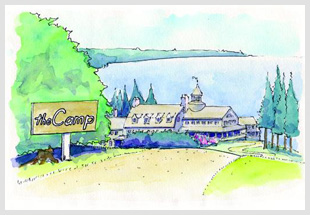 An article in the
Ellsworth American
in mid-July noted the sale of a ten-year-old summer home at the mouth of Somes Sound as the new record-setter in single-family, Maine real estate. Granted it is in the Upper-East-Side equivalent of the Maine coast, boasts 9,600 square feet of living space plus four acres of land, and nearly 1,000 feet of the most valuable shore frontage in the state; it still illustrates what some among us see as good value in these troubled times. Before you call your local broker to sell the camp and deer fly breeding farm on Upper Tidewater Marsh, bear in mind how its features compare with those of the new champion. Better to retain old Camp Lots-of-Fun for what it does best: keeping you in touch with your family along this great coast.
Bumpers and Fenders
I appreciated a letter from Ken Weeks of Round Pond noting our proper use of "fender" to designate the variously shaped and colored products we employ to protect our craft and egos from damage in docking. Reading his note reminded me of an early experience when I inadvertently used the base of my thumb for that purpose.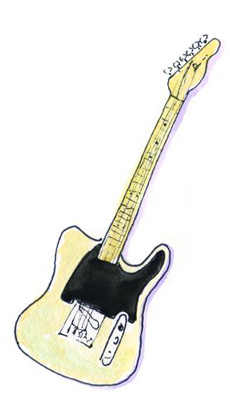 My dad owned an odd little utility boat made of steel, perhaps 15 feet long and 3 feet wide, powered by an old Evinrude with a wrap-on rope starter. He had had it for years before we were born. By the time my older brother and I had it at our disposal at age ten or so, it sported a Johnson "five-and-a-half," which was infinitely easier to start and run for a couple of kids. We were allowed to take out boats without adults as soon as we passed the Swim Across the Lake Test, a distance of about one half mile, in our case on Wilson Pond in Wilton, Maine. At ten years old it looked like an unmanageable distance, but we all did it at about that age, accompanied by a flotilla of small boats with adults aboard. Back to the body-part-as-fender tale. The old steel boat, known always by its proper name, the Old Tin Tub, and hereinafter referred to as the OTT, was the primary adventure vehicle for my siblings and me. In the tale of the thumb, my older brother John, probably 11 at the time and who later became a captain in the U.S. Navy among other maritime accomplishments, made a landing at a cousin's cottage. In nautical parlance the type of approach he employed would be described as a "t-bone," a simple but effective way of reconnecting to shore.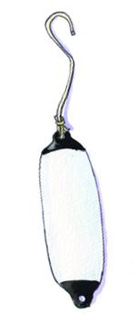 The OTT had a deck-level, welded-on rod in a U-shape as a bow eye. I tried to fend off (again, note the proper nomenclature) but managed to place a thumb between the eye and the wooden float. That was the summer I learned to swim with one hand in the air to keep the splint dry.
The OW Factor
In a story forwarded to me by an MBH&H editor that originated from the Associated Press and bostonherald.com, we learned of the unusual travail of a couple of live lobsters that had made it all the way to a Winn Dixie lobster tank in D'Iberville, Mississippi, only to be shoplifted and slipped into the cargo shorts of a light-fingered shopper, one Mr. Hardy. According to the local police, Mr. Hardy had two bags of jumbo shrimp and two lobsters in his shorts, and was attempting to slip a pork loin in also when he was confronted by store employees. He tossed the loin at the employees and tried to escape with the previously pocketed crustaceans but fell and was arrested at the scene. The condition of the lobsters was not disclosed; neither was the recipe Mr. Hardy was planning to use that evening. On the porch the best we could guess was that it could be a local version of Frogmore Stew, for which Mr. Hardy must have procured the vegetables on an earlier trip. We hope he was planning to roast the pork before adding it.
DMR Chief Torpedoed
Staying with our obsessive interest in all things lobster, we learned from the
Ellsworth American
in late July that the Commissioner of the Department of Marine Resources, Norman Olsen, resigned from his post in a dispute with Governor LePage. The resignation stemmed in part from Mr. Olsen's support of reopening the issue of lobster landings by draggers in Portland, a position that the Governor has since affirmed, though after he had fed Mr. Olsen to the wolves. Portland's share of New England groundfish landings has shrunk dramatically in favor of Massachusetts ports, which allow lobster by-catch to be retained and sold. Mr. Olsen wanted to re-open that discussion in Maine but ran into the buzz saw opposition that the lobster industry mustered against it. Mr. LePage chose to remove the lightning rod in the dispute but subsequently confirmed his support for lightning. The agency is now headed by an acting commissioner. The Governor commissioned a commission to study the Department of Marine Resources from "top to bottomus" in the words of the Cowardly Lion in
The Wizard of Oz
. The 90-page report is available on the DMR website. The only conclusion I could find on the issue that led to Mr. Olsen's demise supports his view: "Our conclusion is that Maine needs to review and revise its practices on these issues in order to ensure that the State is able to compete in the future with the neighboring States, and thereby enhance economic and job growth activity within the State." Good luck to the next commissioner as he or she implements the commission's recommendation.
COA Hooray
As the regular reader of this column remembers (Hi Mom!), we like to follow Bar Harbor's College of the Atlantic and its unique approach to undergraduate education. As a feature article in the Winter print issue of MBH&H indicates, they offer a single degree in Human Ecology, a multi-disciplinary approach that emphasizes our relationship with and effect on social and natural environments, or at least that's the best I can do to distill their mission in a few words. Had the college been founded a few years earlier, I might have attended and been better equipped to define that mission. What we would like to note here is the college's fortieth anniversary and the appointment of the first president of the COA who is also an alumnus, Dr. Darron Collins. When COA began in the waning days of hippie-dom, I was on the hull lay-up crew in the Hinckley Company's fiberglass shop, armed with a roller and a newly minted BA in English. I don't know if a degree in Human Ecology would have led to a different life, given my incurable obsession with boats, but it is nice to think of myself as Dr. Pete, bringing the light of boating to the far corners of the world, or at least as a regular on
Oprah
. My thanks to the Bar Harbor Times for keeping me up to date on the life that might have been. My apologies to Oprah.
Exit Marlow, Stage East(port)
One thing we were disappointed to hear this summer was that the long-developing plan of David Marlow and Marlow Yachts to acquire the Boat School in Eastport has come to naught, although at this writing a proposal is in line to use the property and preserve the Boat School. From a series of articles in the
Bangor Daily News
beginning a year ago we learned of negotiations between David Marlow and the city of Eastport for Marlow Yachts to acquire the Boat School property, build a manufacturing facility for his yachts, and expand the school. In July of this year it all dried up with little explanation. In keeping with our practice here on the porch of drawing conclusions out of thin air, we suspect that the economy and stress on the yacht market led Mr. Marlow to cancel plans to expand into Maine from his current manufacturing base in China. You may remember that we applauded the plan and reported on it a couple of times as things apparently progressed. We even promised not to misidentify one of Mr. Marlow's motoryachts as a Fleming, an Outer Reef, or a Grand Banks Aleutian as it passed the porch. Well, the honeymoon is over. We have torn out the Marlow pages from the Porch Yachtspotting Guide and pasted their profiles under "Unidentified Other." 'Tis better to have loved and lost, I guess. The latest development is the decision of the Eastport City Council, by a 4-1 vote, to sell the property to Perry Marine, a joint venture of a couple of Maine contractors who are building tidal turbines for Ocean Renewable Power Company. A competing proposal by The Friends of the Boat School, whose mission is to continue the school, is being incorporated into the Perry proposal, so it looks as if Eastport, the Boat School, and tidal power will all come out on top, probably a better though less glamorous outcome than Marlow Yachts.
Pas De Lieu Rhône Que Nous
In a short article/advertisement penned by Thorfinn Expeditions in the Bar Harbor Times, we read about a relatively new fitness sport that is increasing in popularity, stand-up paddleboarding. Having tried it, I must add that it is increasing in popularity among those with balance, but not among the unbalanced. The sport involves propelling oneself around with a long, single-bladed paddle while standing on a surfboard-like craft. I tried it myself, and I can report that it is an excellent aerobic workout. I was exhausted after climbing back on the board after only several hundred plunges into the ocean, although my adult children and offspring seemed to zip merrily to and fro with little effort. I would certainly recommend it based on their enjoyment. I think a somewhat larger board would have helped me. This triggered a memory of a trip made to Honolulu with my parents in the early 1960s. Dad wanted to take us surfing, so we rented boards and hired an instructor, a native Hawaiian named Al, from the hotel. My brother and I were relatively easy to equip, but Dad's answers to their questions about his height and weight sent the beach boys deep into the recesses of the equipment locker. They emerged with a surfboard that we could have used
en famille
. In retrospect it reminds me of the cut-down hull with an old Pontiac Sunbird mounted on it as a pilothouse that a Casco Bay lobsterman took to the lobsterboat races. At any rate, it worked for Dad, and we all caught a few waves. Paddleboard outfitters seem to be all over the place these days. See Thorfinn's website,
www.thorfinnexpeditions.com
, for more information. It looks as if they can get your adventure juices flowing in lots of ways. And finally, another self-indulgent bit of doggerel:
From the porch we have watched: Sail and power, and also lots Of human powered vessels like 'Yaks and prams and floating bikes.
Before the weather's out of sorts Try another water sport. Not too late, just October; The summer season's barely over.
Now the kids are back in school, They'll not see you play the fool. On your board beware the eddy; Feet up, binoculars at the ready.

Long-time
MBH&H
Contributing Editor Peter Bass is a freelance writer and raconteur who divides his time between porches in Maine and Virginia.
Click here to read other articles by Peter Bass »
To submit your comments... newsy tidbits, photos, illustrations, clippings, rants, and raves for possible use in this column, use the form below. Or mail to "View From the Porch," P.O. Box 566, Rockland, ME 04841 or fax to 207-593-0026. Items may be edited for length and clarity; materials become the property of Maine Boats, Homes & Harbors, Inc.
Share this article:
2023 Maine Boat & Home Show

Join Us for the Maine Boat & Home Show!
Art, Artisans, Food, Fun & Boats, Boats, Boats
August 11 - 13, 2023 | On the waterfront, Rockland, Maine
Click here to pre-order your tickets.
Show is produced by Maine Boats, Homes & Harbors magazine.