View from the Porch - Issue 119
Issue 119
By Peter Bass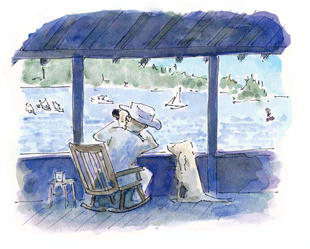 All illustrations by Ted Walsh
There is nothing like the issue of MBH&H that arrives just prior to the writing of this column, the annual "Boats of the Year" issue (March 2012, #118). It reminds us of the year past and the great contribution made by all things boat to our regional economy. It comes in the depth of winter when we most need our boating fix. And best of all, we know that when the next issue (this one) comes out it will be time for the Maine Boatbuilders Show, the vernal equinox, and 8-year-olds drooling over new fishing rods in the hardware stores. This last image hardly holds today; there are fewer local hardware stores and of those that still exist, few of them carry any fishing tackle. The Rockwell-esque image of a young boy or girl eagerly racing out of the hardware store, new rod in hand, just doesn't translate to the strip mall, big box, everything store. That's enough nostalgia. Let's see what obscure news caught the interest of the regulars on the virtual porch this winter.
A Few Smackerels
Our managing editor forwarded an article to me that seemed too good to be true, but after some poking around cyberspace it seems that the current currency in the underground bartering system of Federal prisons actually is vacuum-pouched mackerel fillets, one pack of which is a "mack." Officials don't like cans because they can be turned into weapons; i.e., mack the knife. What I found too good to be true is the wide variety of fish-related jokes a clever journalist can make out of such fodder, in this case Justin Scheck of the
Wall Street Journal
. The opening tagline of Mr. Scheck's article, titled "Mackerel Economics," was "Packs of Fish Catch on as Currency, Former Inmates Say, Officials Carp." Mr. Scheck describes many piscine transactions (his term) in this underwater economy (my attempt to get in on the fun). "Macks" are traded for all manner of goods and services, in the same manner that packs of cigarettes formerly were used. A pouch of mackerel fillets costs about a buck, although commodity spikes threaten the exchange rate. Mr. Scheck's article seems to be the source of most if not all of the other hits on the Internet. I hope that I have not been sucked in by some sort of journalistic April's Fool joke, although it would be poetic justice in my case, considering an article I wrote in this issue some years ago (
Thinking Outside the Hull
, "Off Off the Drawing Board," April 2007). It certainly seems to be true, and no, I'm not pulling your fin.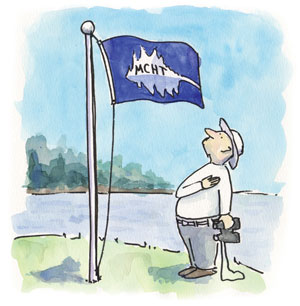 In the Trust We Trust
We were pleased to note that 2011 was a banner year for the Maine Coast Heritage Trust, which seeks to preserve areas of beauty and wildness along the coast of Maine for future generations, through easements and outright purchase where possible. An article in the
Bar Harbor Times
outlined a long list of easements, purchases, and donations in the year past. Two were of particular note: a purchase from a private owner of a 516-acre parcel in central Mount Desert Island known as the Kitteredge Brook Forest, and the donation of a 192-acre parcel on Long Island (a.k.a. Frenchboro). The latter was given to the trust by long-time benefactor David Rockefeller and described as "spectacular" by MCHT Communications Director Richard Knox. I have been a follower of MCHT since the 1970s due to an odd coincidence. I was an undergraduate at Dartmouth, and Ben Emory, an early executive director of MCHT, was an MBA candidate at Dartmouth's Tuck School. We crossed paths in what could be called an early "ecology" course, which was open to both graduate students and undergraduates. He was already excited about the nascent MCHT. As an undergraduate, I was mostly excited about what undergraduates at Dartmouth in 1970 were most excited about: where were the women? Anyway, after we graduated in our respective colleges/schools, Ben went on to lead MCHT and I entered graduate school at the Hinckley fiberglass shop working under Arnie Dow and Pete Gagnon. I value my graduate school education with Professors Dow and Gagnon highly.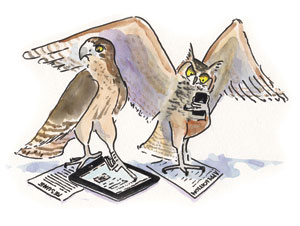 En-raptored
Here on the porch we keep an eagle eye out for headlines we find funny and about which we can make lame jokes. Imagine our delight when we read in the
Bar Harbor Times
that "Acadia seeks raptor internship applications." We immediately envisioned hundreds of unemployed raptors busily pecking away on their breast-top computers to snatch up the tasty job opportunity. The park is not looking for just any raptor: "Candidates should demonstrate proficiency in public speaking, computer skills, and knowledge of raptors. In return for 32 hours of work each week, the intern receives a uniform, housing, and a $100 weekly stipend." They will probably blow their stipends over at Jackson Lab on gourmet mice. Takes one to know one.
Commissioner Pat
In a past column, we weighed in on the fireworks surrounding the abrupt departure of Norman Olsen as Commissioner of the Department of Marine Resources. We were taken to task by an industry veteran for being off base regarding this particular issue, or perhaps better characterized as "all wet." We don't dispute that our analysis of the news is often spectacularly sophomoric and may be so in this case, although with cable news as a standard, whaddya expect?
We don't dispute that our analysis of the news is often spectacularly sophomoric and may be so in this case, although with cable news as a standard, whaddya expect?
In any event, we were pleased to see that the Governor appointed, and the Legislature confirmed Pat Keliher as Commissioner after he served a six-month stint as Acting Commissioner. Pat taught me to tie saltwater flies and roped me into various jobs in the Coastal Conservation Association. He is a clear thinker, clear speaker, and good guy. How he got himself into a politically fraught job like this one we can only guess. We offer our condolences, although we suspect that he will turn out to be a great choice.
Crustacean Corner
As good Mainers, when we take a break from consuming lobsters we like to switch to Maine shrimp, so crustacean reporting necessarily continues the year round. At this writing, shrimp landings are approaching the quota (see below), and the DMR reported that lobster landings in 2011 hit a record-breaking 100 million pounds, according to the Bar Harbor Times at the end of January. These large lobster landings further strengthen the industry's dominance in the overall fisheries conversations, since the value of lobster is nearly 70 percent of all seafood value landed in Maine. Record-breaking lobster landings generate lots of conflicting commentary. On the one hand, they are a testament to the self-regulation and conservation practices of the industry itself, which has maintained a sustainable and growing resource. On the other hand, the natural predators of young lobsters, such as codfish, are not the factor they used to be, and Maine's fishery has so far escaped the devastation of disease that decimated the Long Island Sound fishery. Doom-sayers argue that a lobster crash is just around the corner despite year after year of healthy landings. When these conflicting threads combine with the uneasy relationship between scientists and hunters, and between lobstermen and ground fishers, and then one throws in the Feds and the whales, there is no end to the fountains of rhetoric. Makes for a good gam though.
A Shrimpy Season
As expected, the Atlantic States Marine Fisheries Commission shut down the Gulf of Maine shrimp season when the quota was reached, and probably exceeded, on February 17, 2012. It was a short season with a quota less than half of last season's landings. Fishing was evidently good, and the low quota and short season received a lot of criticism from fishermen and processors, to say nothing of the whining by those of us on the consumption end. Maine has enjoyed a resurgence in the business in recent years, restoring a processing capacity that had been lost in a previous cycle. No party to the fishery wants that to happen again, including the end user. Speaking of the term "end user," I have always enjoyed employing the catch phrases of marketing, like "aspirational buyers" and "discretionary spending" and "end user." Eating something must be the best example of being an "end user."
Let's Talk About Boats, Bay-beeeee
This column coincides with the annual celebration of our happy disease, the Maine Boatbuilders Show, March 16-18. In most boat shows (except the one put on by this magazine in August), production boat builders present their wares in displays staffed by dealer salesmen (and women) who have been schooled on features and benefits, but not always on the finer points of boatbuilding. The Maine Boatbuilders Show puts you up close and personal with Maine's boatbuilders and their products in a building from Maine's industrial past instead of a soulless convention center. It is the first chance for the frozen people to get a boat fix without having to buy a ticket to Miami in mid-February, although there is something to be said for that, too. But there is another way to keep the flame alive in the off season: subscribe to the e-newsletter of Maine Built Boats (see mainebuiltboats.com). Their missive will appear in your inbox and keep you up to date on new boats and new projects. For instance, here are a few tidbits you would have received in the January 23 edition: In addition to the new T34 (see page 73), Hinckley has launched the magnificent new T48, Morris is building a civilian version of the 44-foot sail-training sloop that they built for the Coast Guard Academy, and Stephens Waring Yacht Design of Belfast has designed a vintage-looking 43-footer being launched by Florida's Rivolta Yachts. Fill your inbox with boats! In addition, from our own Shameless Marketing Division comes news of a new MBH&H venture, US Harbors, a digital coastal guide "Created for Boaters, by Boaters." It's got printable tide charts, weather forecasts, buoy data, weather radar, and local knowledge in the form of stories and posts that cover more than 1,100 harbors in 20 coastal states. Visit usharbors.com to snoop around. While there, set up your free account to receive newsletters and other perks specific to your home harbor.
The Governor's Perks
I was pleased to see that Governor LePage made a show of support for Maine's boatbuilding industry and attended the launch of the first Hinckley Talaria 48. He joined Hinckley CEO Jim McManus and a number of Hinckley employees for the occasion. I read about it on the 'net at villagesoup.com in an article by Laurie Schreiber, one of my favorite chroniclers of the coast. Were I the governor, I would probably attend every launching on the Maine coast, perhaps to the detriment of my other duties, which would lead to a single term or even a recall. It would be worth it to go to all those launchings, however. I have dropped in on a few in my time, including several in East Boothbay over the years. I think the first one was the motoryacht
Yellow Bird
at Hodgdon Brothers some time in the late 1950s or early 1960s. That was the first time I witnessed the effect of fish house punch on adults. The last one I attended there was of Scheherazade, the King-designed, Hodgdon-built 154-footer.
The Boat Names Are In, the Boat Names Are In
Another word sport that we indulge in this time of year is reading and marveling at the most popular boat names as reported annually by BoatUS. Some of the usual suspects are there, such as
Seas the Day, Aquaholic
, and
Liquid Asset
. A new one I particularly liked was
Blew By You
. If you want to see the archives go to BoatUS.com/boatgraphics; it's always fun. I recently saw a great boat name on a 30-foot sportfishing boat, the type that guys spend a lot of money on to catch a few fish with the help of expensive electronics. The name was
Debt Finder.
Remember, don't neglect the annual events that are upon us: the Boatbuilders Show and the all-important vernal equinox. Time to work the brown liquor supplies down to just-for-emergency levels and lay in a stock of Cold River. See you out there.
Enjoy you now our largest city While you read my silly ditty Wandering among the boats and the gear This happy weekend of the new year.
Snowbanks have now begun to wilt A beer and hot dog without guilt Get you to the builders' show Celebrate the passing of the snow.
The rocker awaits on porch so steady Feet up, binoculars at the ready.

Long-time
MBH&H
Contributing Editor Peter Bass is a freelance writer and raconteur who divides his time between porches in Maine and Virginia.
Click here to read other articles by Peter Bass »
To submit your comments... newsy tidbits, photos, illustrations, clippings, rants, and raves for possible use in this column, use the form below. Or mail to "View From the Porch," P.O. Box 566, Rockland, ME 04841 or fax to 207-593-0026. Items may be edited for length and clarity; materials become the property of Maine Boats, Homes & Harbors, Inc.
Share this article:
2023 Maine Boat & Home Show

Join Us for the Maine Boat & Home Show!
Art, Artisans, Food, Fun & Boats, Boats, Boats
August 11 - 13, 2023 | On the waterfront, Rockland, Maine
Click here to pre-order your tickets.
Show is produced by Maine Boats, Homes & Harbors magazine.