Book Review: Maine's Favorite Birds
A guide that focuses on best-known and best-loved species.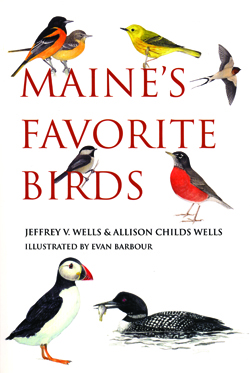 Maine's Favorite Birds
by Jeffrey V. Wells and Allison Childs Wells, illustrations by Evan Barbour Paperback, 72 pp., 100-plus color paintings, $15. ©2012. Tilbury House Publishers, Gardiner, Maine. 800-582-1899;
www.tilburyhouse.com
Birding is a big deal in Maine. With nearly 400 species to see, including Atlantic puffins and boreal songbirds, the state attracts people from near and far to follow birding trails, attend bird festivals, and report their sightings on a popular and active listserv:
https://sites.google.com/site/birding207/
. For many, encounters with Maine's birds are incidental, accidental, or serendipitous. These are the readers who will most appreciate the slim and well-designed Maine's Favorite Birds. "Favorite" here doesn't mean every single bird one is likely to encounter. It means Maine's "most-loved and best-known," so the authors are reaching for an audience that associates Maine with certain birds, such as the Atlantic puffin or the common loon, or that wants to identify a regularly seen or heard species, or simply wants to know more about the birds everyone else is talking about.
This book provides a description of each bird that includes such details as distinctive markings, migration patterns, habitat preferences, and bird-song cues.
I welcomed this book because it is limited in scope while also being rooted in place. For inexperienced birders, the heft of most bird guides can be intimidating. This is the book to turn to first for common sightings, and also for birds that are difficult to identify within their type, such as warblers, sparrows, and raptors. I myself seem to have a tendency to overlook the obvious answer (female cardinal) and instead identify a bird as something foreign or exotic (it's a pyrrhuloxia!). Chances are that sparrow I am fascinated by is just a house sparrow, a mundane "little brown job" constantly ferrying between the feeder and the open-mouthed juveniles that shiver from their perch, crying to be fed.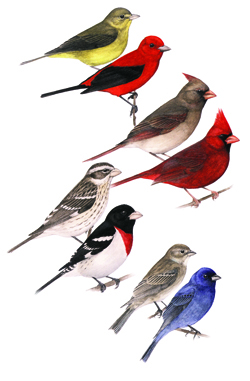 This book provides a description of each bird that includes such details as distinctive markings, migration patterns, habitat preferences, and bird-song cues. The watercolor illustrations by Evan Barbour are effective, although they don't always show the distinguishing features that are described in the text. The phonetic descriptions of calls and songs may not work for aural learners. They might also want to go to online sources such as:
www.allaboutbirds.org
,
http://macaulaylibrary.org/
, or
http://birds.audubon.org/species
. Author Jeffrey Wells has spent his career in bird conservation. He has conducted research with the authoritative Cornell Lab of Ornithology and now serves as Science and Policy Director of the Boreal Songbird Initiative to protect birds of the threatened northern forest. His co-author (and spouse) Allison Wells is Senior Director of Public Affairs for the Natural Resources Council of Maine. Their insights from years of birding experience offer Maine-specific clues that are often missing from guides that cover larger regions. Take, for example, the chimney swift. The book's description: "[this] familiar summer bird of cities and towns…flies with narrow, pointed wings in a rapid flutter of wingbeats high in the air…[its] constant, rapid, high-pitched chattering—an obvious giveaway to its presence—is the background sound of summer in many cities and towns." These details helped me to be fairly sure that the birds that swirl and click above my downtown roof in the July twilight are swifts and not swallows. Added bits of knowledge and context like this can instill a bit of confidence in novices that their identifications are correct. Seasonal timing cues are given that can also help with identification: wood ducks return to Maine in March, but some hooded mergansers stay through the winter. Among the warblers, the yellow-rumped warbler is the first to arrive here and the last to leave, the palm warbler also comes early, and the blackpoll warbler is among the latest of the warbler arrivals. State-specific histories round out the species descriptions. The reader learns, for example, that the wild turkeys seen in Maine fields today are descended from a flock of 41 Vermont birds that state wildlife biologists reintroduced to Maine in the 1970s. Part how-to guide for beginning birders and part travel guide for birding destinations, Maine's Favorite Birds is a good starter field guide for children, a gift for visitors or seasonal residents, or something to keep on hand wherever bird sightings are likely.

Catherine Schmitt is a science writer with Maine Sea Grant at the University of Maine. She lives in Bangor, where she eagerly awaits the return of goldeneye ducks to the Penobscot River every November.