Letters to the Editor - Issue 124
Issue 124
Why red over white?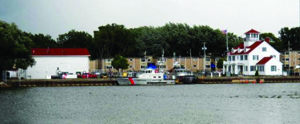 The U.S. Coast Guard Station at the port of Rochester, where the author grew up.
Images in Mimi Bigelow Steadman's article, "A Rock and a Hard Place," in MBH&H #123, February/March 2013, brought to mind a question I've yet to have answered for the many decades that I've asked it. Is there a reason for the more-or-less standard color scheme for U.S. lighthouse structures? The Coast Guard buildings on Eastern Cuckold were painted white and had red roofs. By my observation of Coast Guard stations from coast to coast to coast I have noted that, for the most part, if the buildings are old structures they are usually painted white and have red roofs. Exceptions do abound: buildings from the 1960s and more recent were often built of red brick. When I have had the opportunity I have asked members of the Coast Guard where the tradition of red roofs over white sides came from. I've never had an answer. Perhaps it's as simple as white paint or whitewash used to cost less, and red shingles were cheaper as well. Perhaps it was for visibility: Would sailors at sea looking toward land more easily see a white building than one of some other color?
Roy Heberger
Boise, Idaho
Why not Morris?
How could you write about Maine boatbuilders in the "Life on the Coast" special section of MBH&H #123, February/March 2013, without mentioning, at the very least, Morris yachts? We owned a Hinckley Souwester and sold it so we could have a Morris. They are both terrific boats, but the ongoing service and quality of Morris is second to none. Hard to believe that you have failed to mention the finest builder in the state.  
Jim Noyes
Brooklin, Maine
Morris does indeed build terrific boats, and they rightly have many very loyal customers. Our special "Life on the Coast" section in the March 2013 issue was not intended to be a comprehensive roundup of all the builders throughout the state. Rather than publish a "Boats of the Year" section, as in past March issues, we chose to open things up a bit by focusing on a representative sampling of boats and builders, and by adding some home and harbor stories to the section to round things out. We have covered Morris many times in the past, and we'll no doubt be publishing more about them in the future. And we will, of course, be publishing more about the many other topnotch boatbuilders at work in our state. — Editors
Why no concern?
Is anyone but me concerned about what barbering all the seaweed is doing to the ecosystem? (see "Maine's Kelp Highway," MBH&H #122, Winter 2013). My neighbors and I along the shores of the New Meadows River have noticed a sharp fall-off in duck and shore-bird activity since rockweed-harvesting began. I'm trying to get some answers from state marine biologists. The barbers, of course, insist that everyone around neighboring Quahog Bay is quite satisfied with their work.
Phil Showell
Phippsburg, Maine
and Glen Ridge, New Jersey
Correction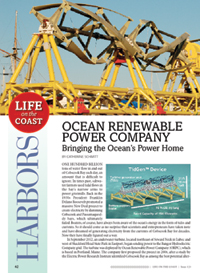 The URL for Ocean Renewable Power listed on page 62 of the February/March issue (MBH&H #123) was listed incorrectly. It should be
www.orpc.co
(not orpc.com). Be sure to include your name, phone number, and postal address. Send to Maine Boats, Homes & Harbors, P.O. 566, Rockland, ME 04841; fax to 207-593-0026; or e-mail us via
www.maineboats.com
. All materials become the sole property of Maine Boats, Homes & Harbors, Inc. Letters may be edited for style, length, clarity, or to see if anyone is paying attention.