Bill Buchholz's new old iceboat: Monotype XV
A classic design sails out from behind the Iron Curtain
By John K. Hanson, Jr.
The phrase
Fast Piece of Furniture
referred to loose and easy women in the 1920s. While this iceboat is hardly easy, it is very fast, as Bill Buchholz showed when he sailed it last winter on Lake Chickawaukie in Rockland. Photograph by Alison Langley
By John K. Hanson, Jr. Mention iceboat, and many people envision the Currier & Ives print of a gaff-rigged, stern-steerer on the frozen Hudson River with a steam train racing by in the background. To contemporary iceboat sailors, though, that image is, well, quaint. The world of iceboats has evolved to modern bow steerers with streamlined fuselages; wing–like rigs with helmeted skippers piloting their craft at close to 75 miles per hour. The builders of these boats combine engineering, art, composite technology, woodworking, and metal machining to craft their subsonic speedsters.
For 50 years, the Monotype XV iceboat class lay hidden behind the Iron Curtain.
One of those builders, however, has decided to go back to the past. With scores of state-of-the-art iceboats in his portfolio, Bill Buchholz of Apache Boatworks in Camden, Maine, built and launched a two-person, Soviet-era stern-steerer last winter. For those not familiar with ice-boat sailing, stern-steerer means the steering runner is placed at the stern, with the crossbeam (runner plank) and its port and starboard runners up front. That setup is reversed in bow steerers, which are guided from their front runner. Aptly named
Fast Piece of Furniture
, the new boat is a Monotype XV. Designed in 1932 by Eric von Holst, a German designer living in Estonia, the Monotype XV was a successful one-design racing class in the years leading up to World War II. After the war and the descent of the Iron Curtain, the class fell into obscurity in Western Europe, but continued to thrive under the Soviet system. "For over 50 years the Monotype XV iceboat class lay hidden behind the Iron Curtain," Buchholz said. He first learned about the class on the Internet about five years ago. Today in Europe, the Monotype XV is the second most popular iceboat class after the DN. "I found the boat captivating, especially the wooden steering wheel and twin cockpits, so I began to build one," he said. "But it's a really big boat by local standards and I came to my senses early in the project and packed away the parts I'd built, which included a nice wooden steering wheel." Bill's wife is from Finland and they travel there every summer to spend time with her family. From there it is short trip to the island of Hiiumaa in Estonia and the workshop of Velo Jurjo, a shipwright who built his first Monotype XV in 1959. Here Buccholz was inspired again, but this time a few other pieces had fallen into place, literally. When a fast skeeter iceboat from Matinicus capsized while sailing on Lake Chickawaukie in Rockland and broke its mast, Buccholz got the boat. He repaired the mast, and used it along with the skeeter's rig and runner plank to complete the Monotype XV that he had started years earlier.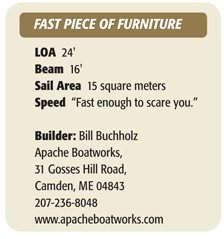 The not-quite-finished iceboat was the centerpiece of the Chickawaukie Iceboat Club's display at the 2012 Maine Boats, Homes & Harbors Show in Rockland. To even the uninitiated, it was gorgeous. The fuselage is made from highly varnished quarter-inch Khaya ribbon-striped plywood. The steering wheel is mahogany and stainless steel, and the runner plank is spruce. The two cockpits have padded leather seats. According to Buchholz, the Estonian master builder Jurjo thought
Fast Piece of Furniture
was too beautiful to sail fast. So far, though, after a season of hard use, the elegant racer has stood up to the test. "After sailing the modern boats, like sports cars, this is like sailing a powerful Cadillac, smooth with a lot of carry," Buchholz said. It is hard to say whether the Monotype XV class will take hold in this country. At 24 feet long it is twice the size of the popular DN class. As for Buchholz, there are more iceboats, and regular boats, to build. Ask him about the Whizz, a 1950s
Popular Mechanics
design for a mini-skeeter iceboat. He has the plans right at hand. Publisher John K. Hanson, Jr. owns many boats, including an antique stern-steerer named
Numb Nuts
that he sails on Chickawaukie and Megunticook lakes in midcoast Maine. For More Information: For more on this boat, see the story by Bill Buchholz in
WoodenBoat
's Jan/Feb 2014 issue (#236).
Share this article:
2023 Maine Boat & Home Show

Join Us for the Maine Boat & Home Show!
Art, Artisans, Food, Fun & Boats, Boats, Boats
August 11 - 13, 2023 | On the waterfront, Rockland, Maine
Click here to pre-order your tickets.
Show is produced by Maine Boats, Homes & Harbors magazine.