The Saga of the Lorna R.
Sold out of the family, a beloved boat is found again and restored to top racing shape
By Kristina Day Osgood
In many lobstering families, the boats are members of the family, endowed with personalities and souls. Often, families hang paintings and models of their boats in their homes. When, much to his dismay, a lobsterman must let a boat go, his sons will sometimes go to great lengths to bring that member of the family home again, even if it takes 14 years.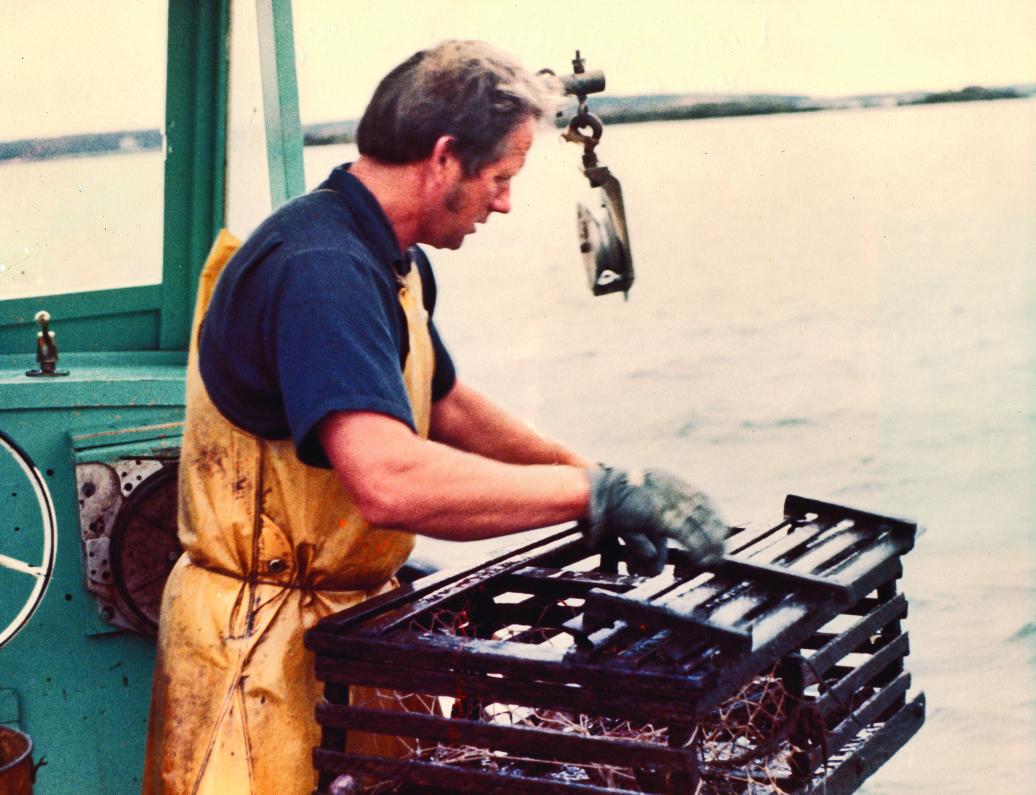 Dick Alley, shown here hauling traps, was forced to sell the Lorna R. when he got cancer. Photos courtesy of Kristina Osgood (2)
Beals Island lobsterman Rocky Alley still remembers the day in 1989 when his father, Dick Alley, sold his beloved lobsterboat, the Lorna R. Dick didn't want to sell, but he had become ill with cancer and could no longer fish.
"He cried when she left," said Rocky. "He drove up on the Beals Bridge and watched her go." 
Fourteen years later, Rocky's brother, Galen Alley, set out to bring the Lorna R. home. "It was my father's pride and joy," said Galen, "and the last boat my great-grandfather ever built. When my father got taken sick with cancer he was forced to sell, and it about killed him."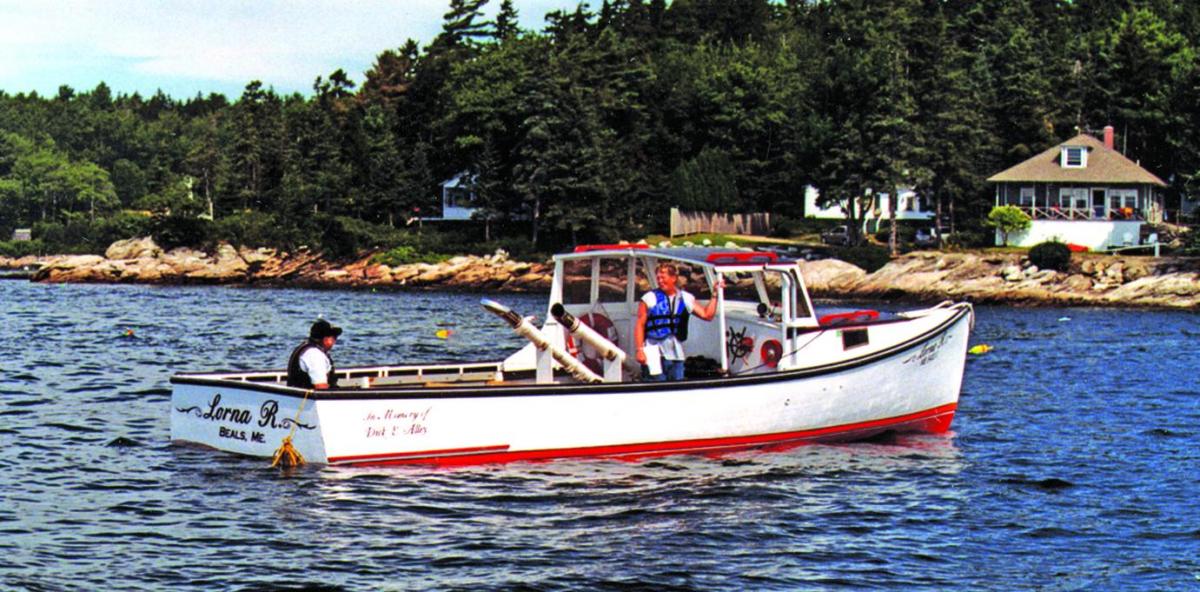 Galen and Rocky Alley, shown here at the Pemaquid Lobster Boat Races in 2007, dedicated their race in the Lorna R. to their father lobsterman Dick Alley.
The Lorna R. was a family affair—built in 1972 by Dick Alley and Riley Beal, a well-known downeast boatbuilder and the grandfather of Dick's wife. Dick, who had no boatbuilding experience, had always wanted a boat built by Beal. He made a half model to show Beal what he wanted and at the age of 83, Beal set to work on the boat with Dick's help. When Riley Beal became ill, his son Adrian Beal, and Adrian's son, Lester Beal, helped Dick finish the boat. Named after Dick's wife, the boat was launched in June 1973. Thirty-one feet long with a beam of 9.5 feet, built of cedar over oak with bronze fasteners, she was everything Dick ever wanted in a lobsterboat. 
Galen eventually found the Lorna R. on Vinalhaven—where the boat had been since Dick sold it, while changing hands several times—and he convinced the current owner to sell her back to the Alleys. "I was excited," said Galen. "It was like a member of the family had come home."
Galen planned to use the Lorna R. to uphold the family tradition of lobsterboat racing. However, she wasn't quite the same boat that he remembered. A previous owner had fiberglassed the hull inside and out. He raced the boat anyway that first year and won his event. The next winter he set out to restore the original wooden hull. It took a month to remove all that fiberglass. The Alleys also replaced the hauling house, trunk, and flooring, and sanded her to bare wood. 

The Lorna R., shown here racing during the 2005 Searsport Lobster Boat Races, was fast even before the Alleys removed the fiberglass that had been installed over her wooden hull. Photo by Sam Murfitt
Galen remembers the day they took the Lorna R. out for sea trials. "I wasn't supposed to take her out," he said. "I was just supposed to take her to the wharf. We didn't even have lifejackets on." Galen was running the boat around 50 mph when disaster struck. As they were going along at top speed, a plank blew off the bottom of the boat. It turned out that the Lorna R. had not been refastened before being fiberglassed.
"There was water shooting into the air. My heart sank down to my toes," said Galen. In all, the Lorna R. lost 18 planks, timbers, and the stern before sinking.
When they hauled the boat up, every one of the 50 or so fisherman watching said the best thing would be to burn the boat. But when well-known builder Calvin Beal, Jr., said he thought the boat could be repaired, the Alleys set right to work. During the rebuild they kept the boat as close to original as possible, while making a few alterations to increase the speed. They lowered the floor and tore the house off three times, eventually building it out of luan plywood. Two weeks and two days later, the Lorna R. went back in the water, ready to race.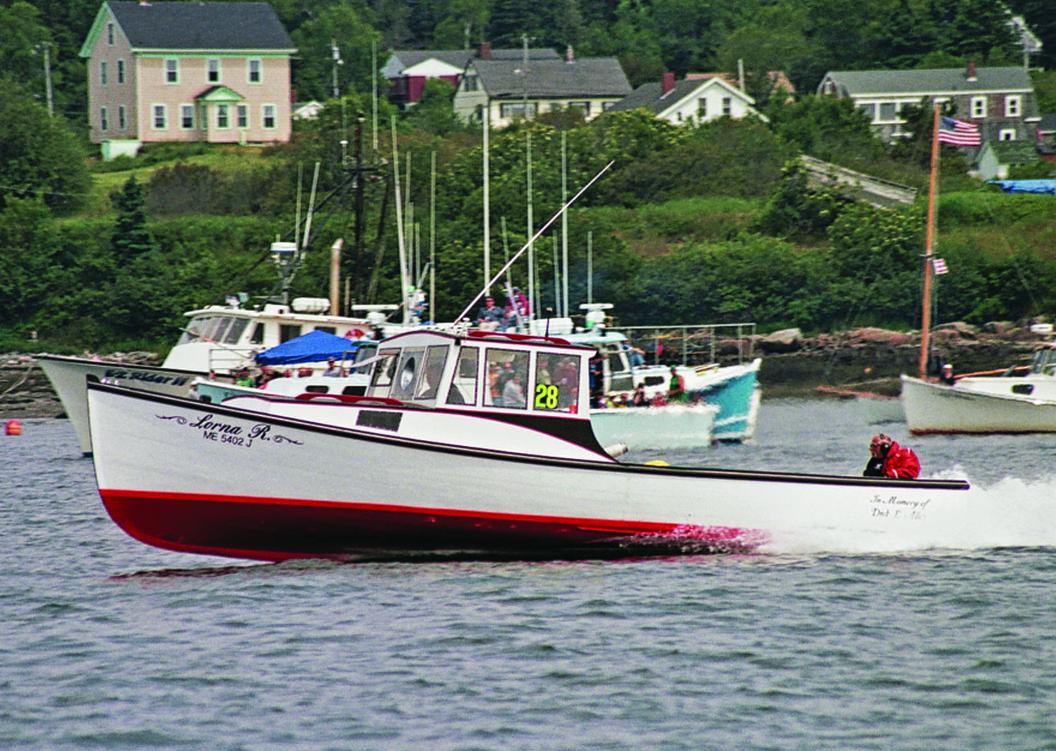 This photo shows the Lorna R. when Galen Alley drove her 53.6 miles per hour to win first place and the title of World's Fastest Lobsterboat on July 4, 2006 at the Moosabec Lobster Boat Races in Jonesport. The engines in these racing boats are so loud the crew must wear earmuffs. Photo by Sam Murfitt
Since then, the Lorna R. still competes and has won almost all of her races, but for Galen, the first race after the accident was the most memorable. On July 4, 2006, the Lorna R. won the title of World's Fastest Lobster Boat at the Moosabec Reach Lobster Boat races in Jonesport, clocking in at 53.6 mph. Galen and Rocky Alley raced as a team to honor their father, Dick. 
"He really, really loved to race. I think he would have been so proud of that race," said Galen. "I felt he was right there with me, he was a part of me. It was overwhelming. It meant so much. It was the best race we ever will be in."
---
Kristina Day Osgood lives on a small island in midcoast Maine. She married into a multi-generational lobstering family and enjoys learning about Maine's lobstering heritage.
---
On Your Mark, Get Set, Go! 
Lobsterboat racing in Maine involves fast boats, really loud engines, big waves, white spray and sizable spectator fleets. Dating back to the days of sail, when lobstermen raced each other in Friendship sloops, the races in their current form were organized in 1963 in Jonesport, according to Maine Lobsterboat Association Racing President Jon Johansen. "The idea was to see who was faster so they had bragging rights," he said. 
Many of the boats that campaign on the race circuit now are built to compete first and lobster second, featuring souped-up engines—sometimes lifted out of race cars—and huge exhaust systems to keep them from exploding.
The current speed record is 72.8 miles per hour, set in 2011 in Stonington by Galen Alley in Foolish Pleasure, a gas-powered 30-foot fiberglass boat molded from the Lorna R. The diesel record of 58.9 miles per hour is held by Alfred Osgood of Vinalhaven in Starlight Express. Lorna R.'s 2006 record of 53.6 miles per hour remains the fastest speed for a wooden boat, Johansen said. 
This year's races should be exciting, he added, because one racer has installed a 12-cylinder diesel on a 28-foot boat, while another has installed a Lugger diesel with "a lot of horsepower" on his small vessel.
"It's going to be interesting to see if they can stay upright," Johansen said.
Share this article:
2023 Maine Boat & Home Show

Join Us for the Maine Boat & Home Show!
Art, Artisans, Food, Fun & Boats, Boats, Boats
August 11 - 13, 2023 | On the waterfront, Rockland, Maine
Click here to pre-order your tickets.
Show is produced by Maine Boats, Homes & Harbors magazine.