View from the Porch - Issue 131
Issue 131
By Peter Bass
Lobster shells, lobster balls, lobster landings
Ah, summer. Our short season is packed with more events, shows, fairs, and festivals than one could attend in 10 summers, especially if time is set aside for those low intensity pursuits that summer is also about. I speak, of course, of lazing about outside, eating, walking, talking, swimming, fishing, snoozing, and porch sitting. Perhaps we can forego the big events this summer (except the Maine Boats, Homes & Harbors Show of course, August 8-10) and make it to some offbeat, but essentially Maine events.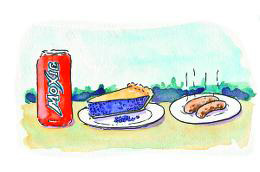 Illustration by Ted Walsh
Here are three ideas, although the first may have been held by the time you read this. (1) The Moxie Festival (moxie festival.com), July 11-13, in Lisbon Falls. Include a side trip to Maurice Bonneau's Sausage Kitchen (sausagekitchen.com). You can go to Lisbon for the Sausage Kitchen and a can of Moxie even if the festival is over. (2) The Wilton Blueberry Festival (wiltonbbf.com), August 1-2. This is my annual shameless plug for my hometown. (3) The 41st Annual International Seaplane Fly-In (seaplanefly in.org), September 4-7, in Greenville. I like seaplanes, plus Greenville is a really cool place. Climb Mt. Kineo for the best view in the state of Maine. Don't forget to leave time for some quality hangin' about. On to the news!
My Holy Trinity: Lobsters, scallops, and clams
When you spend a lot of time on boats, docks, and ocean-side porches, marine life is in the forefront of many conversations, especially the ones that begin with, "Pass me that bowl of melted butter, would you?" So let's do a quick catch-up on the status of some of our underwater neighbors. We thank
The Working Waterfront
for some of these tidbits. The Department of Marine Resources reported another banner year for lobster landings in 2013, coupled with a small increase in average price paid to the fishermen, although the price is still at historically low levels in today's dollars. Our recommendation: eat more lobsters to get the price up. So far this season it seems to be working, at least at the retail level. On the scallop side, the 2013 harvest jumped to 425,000 pounds of meat from 286,000 in 2012. This tightly managed fishery has rebounded nicely. Our recommendation: search for frozen Maine scallops and keep a bag or two in the freezer at all times. As reported in previous issues, we are following the green crab menace and the supply of steamers. Hopefully it will turn out that the hard winter took a toll on the crabs, and we won't be ordering just a fried clam, or a lobster with a clam on the side this summer.
The elver report
Our reader will note that, in addition to our obsessive reporting on coffee brandy sales, we also have a peculiar attraction to the managed mayhem that is the elver (juvenile eel) fishery. We do not want to disappoint. The elver season last spring ended May 31. In an
Ellsworth American
article in mid-May, Steve Rappaport reported on a widespread investigation into elvers being transported from states where harvest is illegal, and into Maine for sale, also known as "elver laundering," a term I give Mr. Rappaport full credit for coining. And speaking of eels and the fish that love them, the striped bass fishery is in for a long rebuilding period. Only one of the recent spawns (2011) was strong. Some of these fish may get to the minimum size of 20" this year; the slot size to keep stripers is 20" to 26" in Maine. We predict that they will all be 19" this summer and 27" in 2015. Maine imposes much stricter limits than the Chesapeake states, which also have a commercial fishery. Sometimes it seems like Maine protects stripers for harvest in other states.
Tooting our own fog horn
Our founder and publisher, John K. Hanson, Jr., and editor-in-chief, Polly Saltonstall, were honored at the Penobscot Marine Museum's fundraiser in mid-July for their long-time support of the museum and all things marine in Maine. You may have missed the event but the museum is open in Searsport 10 a.m. to 5 p.m. every day but Sunday, when the hours are noon to 5 p.m. They host multiple events during the season (penobscotmarinemuseum.org).
The Sacred Code of the East
One of the main reasons the lobster fishery has flourished is because of self-policing by fishermen and intolerance for those who don't play by the rules. In May there was an arrest for what Marine Patrol Major Jon Cornish said was "one of the most egregious violations I have seen." From a press release from the Department of Marine Resources we learned that the Maine Marine Patrol charged a lobsterman with possession of 269 short lobsters and 123 V-notched females. Lobstermen who catch an egg-carrying female cut a small notch in a tail fin indicating that it is a successful breeder and will always be returned to the water. It is a practice developed by the lobstermen long before becoming law. The charged fisherman also had 20 traps belonging to another fisherman. The violations could involve jail time, upwards of $50,000 in fines, and the possible loss of his license for a period of time. I can't imagine he will be welcome again on the water.
We'll stay right here, thanks
From #Maine (hashtagmaine.bangordailynews.com) we had fun with a couple of stories. This site, our reader will remember, chronicles how Maine is reported on the Internet. Seth Koenig reported on a Gallup poll which asked at least 600 residents in each state the following question: "Regardless of whether you will move, if you had the opportunity, would you like to move to another state, or would you rather remain in your current state?" It seems that Maine, Montana, and Hawaii tied for the top spot; only 23% of the people surveyed in those states said they would like to move. There is a map graphic that colors each of the 50 states in five categories from "Highest desire to move" to "Lowest desire to move." In New England, residents of the northern three states want to stay put and residents of the southern three (and every coastal state south to Virginia) have a higher desire to move. Had I been called and asked if I would rather "remain in my current state," I probably would have assumed it meant 64 and bald and answered no.
Mapping the absurd
We found another map at #Maine that was good for a "can you guess" quiz on the porch. An article reported that one of
Slate
's (slate.com) staff writers isolated the most used word in Wikipedia's entry on each state. For Maine, I guessed "wicked" and "Moxie." It is in fact, "shipbuilding," which certainly is plausible. Here are some others: Vermont is "Marble," which is OK, but New Hampshire is "Die," as in "Live Free or Die." Nevada is "Divorce," Utah is "Salt," and Colorado is "Cannabis." One you'd never guess is North Dakota: "Dancers." Go to
Slate
and search on articles by Ben Blatt and look for "How does Wikipedia describe your state?" Trust me, it is good for a couple of rounds of adult beverages. My favorite is Illinois: "Corruption."
Contemplating chum
After eating a meal of lobsters, clams, or mussels, is it okay to toss the shells over the side? Or is that a violation of the International Convention for the Prevention of Pollution from Ships (known as MARPOL, short for marine pollution) regarding disposal of food waste inside the three-mile limit? This prohibition appears in the waste management placard found on any boat over 40 feet. If fish waste can't be dumped inside the three mile limit, does that mean that a lobsterman can't toss spent bait from a trap into the sea when rebaiting? All fishermen routinely clean fish, keep the filets, and drop the rest over for the crabs and lobsters. And where does chum fit into MARPOL? Can you still chum for flounder with canned corn? If MARPOL and derivative local laws apply to deep-sixing your lobster shells off the dock or a boat after a meal (after making sure there are no rubber bands in the mix), does that also mean that scallop fishermen shucking scallops can't toss the shells back, or a kid smashing a periwinkle for bait can't sweep the shell bits over the side? Obviously a commercial operation producing a mountain of shells can't simply dump them off their pier in downtown Camden, but small deposits of fish bits for the scavengers, including lobsters, would seem to be at least harmless, if not beneficial. We don't want to see some summer rusticator clapped in irons for feeding the lobsters under his dock. We appeal to our vast readership for help on this one. As Click and Clack would say, "Write your answer on a $20 bill and send it to me at
MBH&H
."
Lobster balls
Speaking of coastal traditions, what about golf balls sailing into the sea from seaside golf courses? I have a slice that could push the three-mile limit, although it never seems to go very far when I hit my annual straight drive. Cruise ships stopped the practice of driving golf balls into the sea as recreation for passengers after the MARPOL conventions prohibited the dumping of plastic. The industry is seeking a biodegradable option, which brings us to our next topic: golf balls made from lobster shells.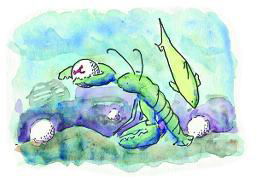 Illustration by Ted Walsh
In
The Working Waterfront
, Wanda Curtis tells us that a University of Maine graduate student came up with the idea of using lobster shells as a primary component in biodegradable golf balls a few years ago. The idea has been developed at UMaine, patented, and is ready for production. We'll be looking for it in the local pro shop. Other uses mentioned for lobster shells included using shell pigment in salmon feed, shells in solid surface countertops, and components in medicine. We may not need to answer the vexing question about deep-sixing the shells after a feed after all. My younger brother will gather them up and sell them, just as he does with all the returnables after a big family gathering.
Ferry docks and a (Nova) star is born
Ferry service from Bar Harbor and later Portland, Maine, to Yarmouth, Nova Scotia, and back ended during the recession when the costs of running the ferries couldn't be covered. This left Bar Harbor with an unused terminal and waterfront site owned by the Canadian government, and no ferry service at all. For Yarmouth, Nova Scotia, in particular, the economic loss was staggering. Times have changed. Bar Harbor, the Maine Port Authority, and the local Chamber have backed a bill in the Maine Legislature seeking a $3 million bond to buy the terminal from the Canadian government. The property would then be redeveloped into a cruise ship terminal. Bar Harbor is expecting 136 cruise ships to visit with more than 150,000 passengers this season, according to Laurie Schreiber in
The Working Waterfront
. Currently passengers are brought ashore on tenders and arrive into downtown Bar Harbor. The other news is that a new ferry has begun service between Portland and Yarmouth, Nova Scotia, much to the delight of the citizens of Yarmouth. The ripple effects at both ends will be enormous. The ship is a 528-foot, Singapore-built ferry with capacity for over 300 cars and 1,200 passengers, kennels for dogs and cats, restaurants, bars, and a casino. Google Nova Star and read all about it. Much as I'd like to stay and chat, the summer season is in full swing and I have lobsters to eat and grandchildren to chase. Half the season is still in the bank, so waste not a minute. I like sausages and Moxie, Blueberries in hot cakes With Maine maple syrup; There can't be any fakes. When it comes to dinnah Lobster feeds are swell. I'll take two of everything But where to put the shells? Next time you hear from me The season's winding down Good time to take the ferry And visit Yarmouth Town. In the meantime sail on by And keep your courses steady. We see all, but won't recall; Feet up, binoculars at the ready.

Illustrations by Ted Walsh Peter Bass is a long-time
MBH&H
contributing editor who especially enjoys wasting his Ivy League English degree reporting on coffee brandy and composing silly rhymes at the end of each column. The working title of his memoirs is reputedly "A Life Well Squandered." To submit your comments... newsy tidbits, photos, illustrations, clippings, rants, and raves for possible use in this column, use the form below. Or mail to "View From the Porch," P.O. Box 566, Rockland, ME 04841 or fax to 207-593-0026. Items may be edited for length and clarity; materials become the property of Maine Boats, Homes & Harbors, Inc.
Share this article:
2023 Maine Boat & Home Show

Join Us for the Maine Boat & Home Show!
Art, Artisans, Food, Fun & Boats, Boats, Boats
August 11 - 13, 2023 | On the waterfront, Rockland, Maine
Click here to pre-order your tickets.
Show is produced by Maine Boats, Homes & Harbors magazine.