Lyman-Morse: e33LM
A hybrid wood and fiberglass daysailer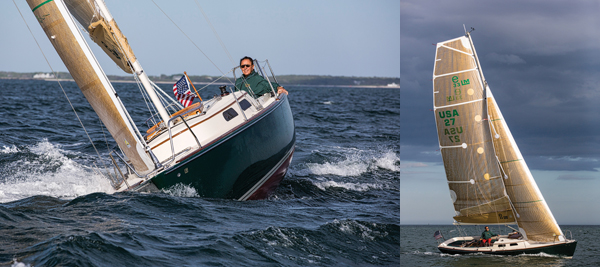 Photos by Billy Black (3). Owner Nick Lazares wanted a boat he could sail by himself. The square-top main is not only efficient and fast, but it de-powers automatically because the top naturally twists open with wind gusts.
By Polly Saltonstall You hear a lot about building a fiberglass version of a classic wooden boat, but not so much about going the other way. You hear even less about building a boat that is half wood and half fiberglass, yet that is just what Lyman-Morse Boatbuilding Co. of Thomaston did with the new e33LM. The sleek daysailer is fiberglass below the waterline and cold-molded strip-planked cedar above.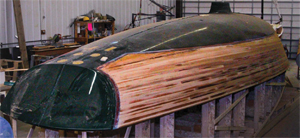 Photo courtesy Lyman-Morse. This construction shot shows the fiberglass hull bottom and strip-planked cedar side. Layers of cloth were added to both the exterior and interior to tie the structure together.
The result is a modern sloop with the strength and low maintenance of fiberglass, combined with the traditional feel of wood. The wood composite hull also ended up being 16 percent lighter than the previous all-fiberglass versions of the e33, said Lyman-Morse owner Cabot Lyman. It's also fast. The first e33LM, named
Flash
, was finished last May, trailered to Hyannis Port where it was launched and rigged. The next day, sailmaker Robbie Doyle, who helped develop the boat, Drew Lyman (son of Cabot and president of Lyman-Morse), and the owner and his son, sailed Flash to a first-place finish in the prestigious Hyannis-Nantucket Figawi Race. They beat 79 other competitors in the spinnaker class, and finished the 25.6-mile race, which included four miles of beating through six-foot seas against the current, in 3.5 hours. Above decks, the e33LM is rigged for easy single-handed sailing, with a self-tacking jib, small winches on the deckhouse and a long tiller. The square-topped main, while perhaps not as classically pretty as a regular Marconi rig, is extremely efficient and can handle higher winds without being reefed.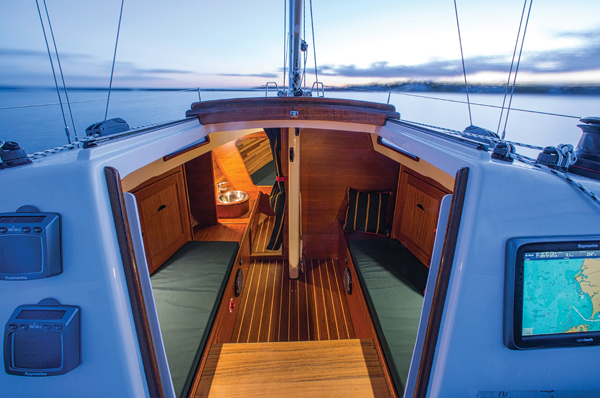 The owner of the new e33LM wanted the convenience of fiberglass but the feel of wood. The various types of wood on the interior were cut on Lyman-Morse's new C&C router for easy replication.
The interior is all mahogany trim and veneers and feels classic, with that special indescribable wood smell. There is a small head with a sink, two bunks, and a V-berth.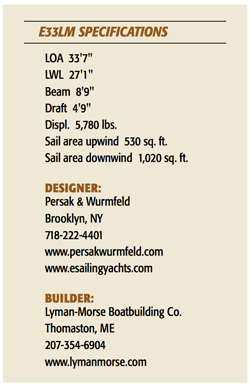 A joint project with Lyman-Morse and e Sailing Yachts, the e33LM is a newer version of an all-fiberglass boat designed by Jeremy Wurmfeld that has been in production since 2006. I sailed on one of the first e33s, which performed with as much speed, stability, and responsiveness as an Etchells 22, but with a much more comfortable cockpit, with room for as many as seven people. Flash's owner wanted a daysailer that would not take too long to rig and that could be easily sailed singlehanded, as well as have room for friends. He sailed on an e33 and liked it, but wanted a few changes, including more wood finish down below. Cabot Lyman, who had been looking for an excuse to test his theories about joining cold-molded wood with fiberglass, jumped at the chance to craft a solution. "Wood is a perfectly good material and it's not used enough," he said. Other differences between this version and the previous e33s include a shallower-draft keel that reduces the depth from 5'9" to 4'9", and a self-tacking jib. The boat is powered by a 14-hp Yanmar engine. Traditionally, wooden boat construction costs more than fiberglass and that certainly was the case with this hybrid. But computer technology that allows wood pieces to be perfectly cut made the process much easier, Lyman said. In future models, the company will offer both the more expensive cold-molded hull version or a version with a complete fiberglass hull and a full wood interior. Polly Saltonstall is Editor in Chief of this magazine.