Hinckley: Talaria 43
Changing the way boats are used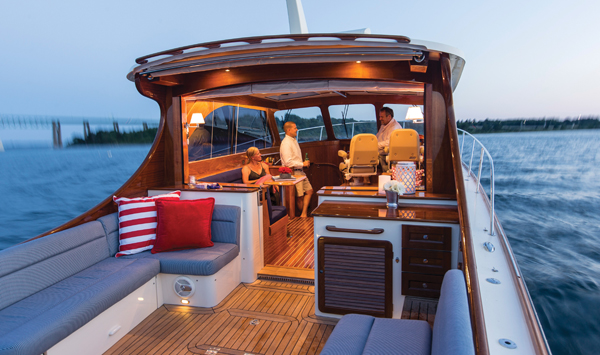 The windows between the salon and the cockpit in the Talaria 43 slide down to form an open entertainment area. Photo courtesy Hinckley Company
By Laurie Schreiber The signature accomplishments of the Hinckley Company's new Talaria 43 express are a reconfiguration of the traditional layout and the addition of retractable windows. First, the layout: the Talaria 43 fea- tures a single-level expanse of living and entertaining space that stretches from the helm to the transom. The salon and galley, usually below-decks, have been moved to the forward enclosure of the upper deck, making room below for a master cabin, double guest quarters, and a head with shower. That was the easy part.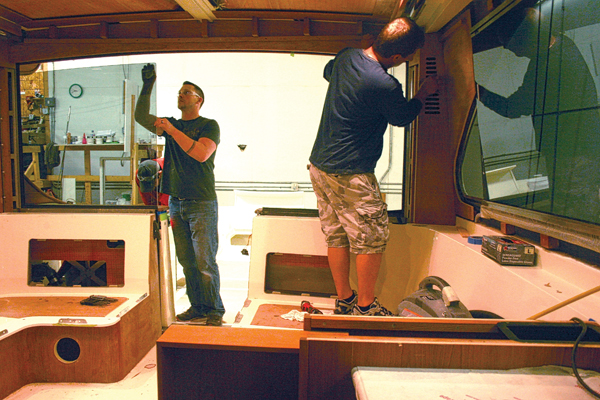 In the Hinckley shop, Ben Meek, left, polishes up the glass of retractable windows on a Talaria 43 under construction, while Jason Ball polishes up interior woodwork. Photo by Laurie Schreiber
The technological innovation comes from a patented system for electrically retracting the enclosure's glass windows and sliding door into the cabinetry. This creates an unimpeded, window-level opening between the salon and the cock- pit. Plus, when the windows and door are closed, the salon is shut off from engine and outside noise, making possi- ble normal conversation levels while under way. The T43 made a soft debut a year ago on the West Coast, and again this past October at the United States Powerboat Show in Annapolis, Maryland. In that time, 20 were sold, with three in the water and eight in various stages of construction this fall. In the T43, the company wanted to create a versatile vehicle both for entertaining and cruising. Hinckley contracted with naval architect Michael Peters, of Sarasota, Florida, to design a fast hull bottom to be outfitted either with twin Cummins QSB 550s and a pair of Hamilton water jets—currently the company's standard—or twin Volvo IPS 600 pod drives. For the rest, Hinckley's staff produced countless 3D computer designs and a full-size mockup. The result is a sporty boat that feels like a home. "When we designed the 43, we said, 'Okay, how do people use their time on the water?'" said Hinckley Vice President of Sales Phil Bennett. "It boiled down to a boat that could accommodate a couple comfortably in the forward cabin, with its own head and shower. Then we said, 'Let's put in a second cabin for the kids or guests.' Then we said, 'Let's give them a nice galley and a big social area in the salon. And let's give them a big cockpit, so if it's a beautiful day, they can be out- side and socialize.' Then we said, 'Let's connect all those spaces in a way that makes sense.'" The way it made sense, Bennett said, was to put in a lot of windows in the salon. "And finally, we said, 'Wouldn't it be cool to have a door and windows that could drop out of sight at the push of a button?' That's what we have in the 43." The mechanisms that make this pos- sible are similar to automated car windows—but not. It was quite complicat- ed to engineer sliding windows that will work in a complex waterborne environ- ment, particularly in a tightly configured package. "The design and engineering behind that is mind-boggling," said Hinckley Chief Engineer Burr Shaw. "Inside the compartments is a system of counterbalances, cables, and custom drive wheels that allow us to raise and lower those windows with a very small motor. Not an easy thing to do." For instance, the door contains a track system that carries its window up and down; the door must also be able to latch open and shut. "There's a bit of smoke and mirrors in terms of how those linkages go together," said Shaw. "The steel rod that goes up and down to latch the door, goes down and under the carriage system for the window, comes back up the other side, goes down around a little linkage, and then goes into the track.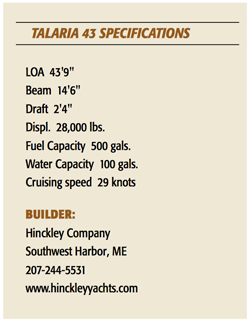 You wouldn't know it by looking at it, but that one thing is very complicated." In addition, the engineers had to ensure the T43's mechanisms would tolerate a dynamic environment of salt spray, vibration, temperature changes, and the sheer force of being tossed around on the waves. "We had to be careful not to be too precise, in order to allow these mechanisms to work in any conditions for years to come," Shaw said. Noise was eliminated by a combination of acoustic dampening material and air baffles to and around the engines, as well as customized seals around the windows. The automated-window solution is a matter of pride. "When that final window shuts, the outside noise completely goes away," said Shaw. "It's not just a cool thing that goes up and down. It changes the way you use the boat. It's part of what the design of the entertainment space is about. We got there because nobody else can do this." Laurie Schreiber has written for newspapers and magazines on the coast of Maine for more than 20 years.