Small Adventures: Kittery Foreside
The Other Kittery
By Mimi Bigelow Steadman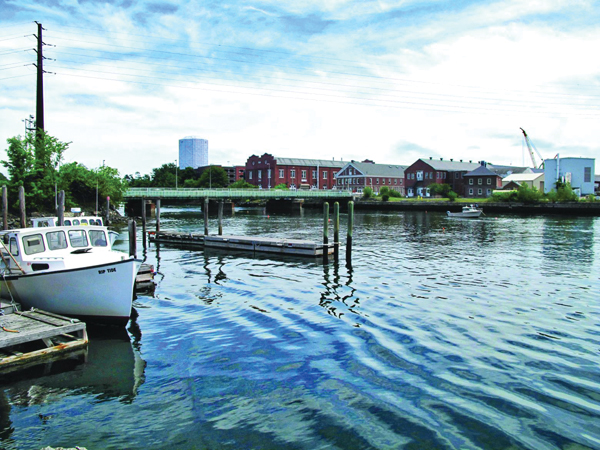 Kittery lobsterboats tie up just across from Seavey Island and Portsmouth Naval Shipyard.
Photos By Mimi Bigelow Steadman | Small Adventures Kittery used to mean just one thing to me: outlet shopping. Then last summer I found the other Kittery, a charming, historic town perched on the Piscataqua River opposite Portsmouth, New Hampshire. I learned that Maine's southernmost and oldest town is graced with neighborhoods of turreted Victorian manses and cozy capes, well-preserved 1700s-era houses and, rimming the rocks along Kittery Point, rambling mansions looking out to sea. There are two notable forts dating from the 1800s, as well as the community-supported Kittery Historical and Naval Museum. "It's a warm and welcoming town," said Amy Richards, a Midwesterner who moved to Kittery a few years ago with her husband. "You don't have to have been here forever to be part of it." Active in many local organizations, Richards also works in a shop in Portsmouth. "I'm like the Miss Chamber of Commerce for Kittery over there," she said with a laugh. "I say 'Let me tell you about a pearl you didn't know about.'" Over the years, my husband and I have come close to discovering this pearl. We once spent a night on a mooring six miles offshore in the Isles of Shoals, beside Appledore Island, which is part of Kittery. But we were delivering a boat from Cape Cod to the midcoast, and didn't detour to the mainland harbor. We've also sailed into Portsmouth (with sails up, no wind, an engine that wouldn't start, and a swift current carrying us toward a low drawbridge that wasn't opening fast enough—but that's another story).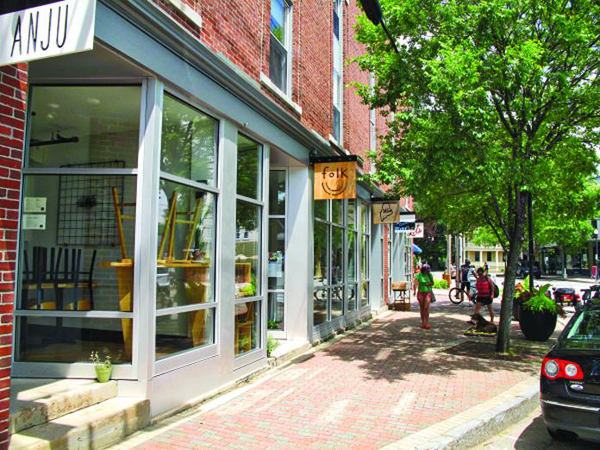 Wallingford Square is at the center of Kittery Foreside's revival.
More recently, I'd been intrigued by reports of a renaissance in Wallingford Square, at the heart of downtown Kittery and a few minutes from the strip malls. It was time to go exploring. Tucked next to the bridge to Portsmouth Naval Shipyard on Seavey Island, pocket-sized Wallingford Square has had its ups and downs during its 200-year existence. By the 1980s, it was mostly downs. Lifelong lobsterman Steve Lawrence told me about those days, when the square's only businesses were a couple of bars, a sandwich shop, and an adult bookstore. Happily, those tough times are lost in the fog. Today, rebranded as Kittery Foreside, downtown bustles with shops, galleries, and eateries. Among the dining options are two highly regarded American bistros; fine Indian, Asian-fusion, and Mexican restaurants; and a handful of welcoming pubs and cafés. Thanks to regional and even national acclaim for several of the restaurants, Wallingford Square sometimes overflows with patrons. "It can get mighty pinched up on a Friday night when I'm trying to drive down to the dock to unload bait under the hoist," Lawrence observed. Clay Wyman, an enterprising young man who grew up on the edge of the square, opened Stella's Sweet Café with his mother about a year ago. As I savored a lobster pot pie from his kitchen, I asked whether the Foreside is attracting more people than the small area can handle. "We do need to make sure there's enough parking," he observed. "But without this new business, we were going to be a ghost town. I'd rather deal with a bit of traffic and see Kittery thrive." Some have expressed concern that Kittery's traditional fishing activities—there are about 100 local lobstermen—might get squeezed out by "gentrification." Pepperell Pier, a working wharf, has recently been refurbished to include six transient slips, for example. (There are also six town moorings for visitors.) "It's important to keep a balance," harbormaster Derek Jacobs declared. "The restaurants bring new business into town, and recreational boaters are a big economic booster, too. But this is one of Maine's larger working waterfronts. We have to sustain it. It's what Maine was built on."
---
Mimi Bigelow Steadman lives on the Damariscotta River in Edgecomb.
Share this article:
Digital Edition Available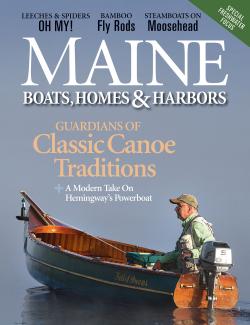 Can't get to the store to buy your magazine? We deliver the stories of Maine's coast right to your inbox. Sign up here for a digital edition.