Dockside Dining Spots
Spending time on the water in Maine is a feast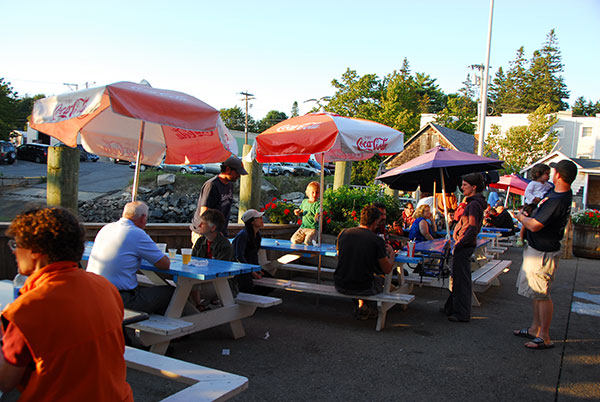 Beal's Lobster Pier in Southwest Harbor is one of the dockside dining spots along the coast of Maine where boaters can tie up at the dock and enjoy a meal on the pier. Photo credit: Image courtesy Beal's Lobster Pier
Spending time on the water in Maine is a feast for the senses that can leave you hungry for more… food that is. One of the great treats of the summer boating season is being able to pull your craft alongside a dock and order a fine meal just steps away. The following is a list in alphabetical order of some of the dockside restaurants along the coast. Not all of these restaurants run their own docks, but those that do not are near public docks. Some of the docks are pretty small, too, so get there early! The list is far from complete, so if your favorite dockside-dining spot is missing, let us know so that we can add it. Also, you will have to look to your charts, not to us, for directions on how to get to these establishments!
Beals Lobster Pier, Southwest Harbor.
In operation for more than 80 years, customers at Beals can tie up their boats and feast on fresh seafood while watching the activity of an authentic working fish and lobster pier.
www.bealslobster.com
The Charles at the Chebeague Island Inn
on Chebeague Island has moorings and a free launch service and runs an inn as well as a restaurant.
www.chebeagueislandinn.com
Dennett's Wharf, Castine.
Smack-dab in the middle of Castine's waterfront.
www.dennettswharf.net
Diamond's Edge Restaurant and Marina on Great Diamond Island.
A nice place to stop during an excursion on Casco Bay. There is even an inn available if you decide to stay longer than one meal.
www.diamondsedgerestaurantandmarina.com
DiMillo's, Portland.
Not only can you bring your boat into DiMillo's Marina to eat at Dimillo's on the Water but if your meal has put you in a good mood, you can also buy a new Back Cove or Sabre poweryacht from DiMillo's Yacht Sales.
www.dimillos.com
Dip Net, Port Clyde.
Now owned by Linda Bean and her lobster marketing company, the Dip Net is next door to the Port Clyde General Store and the Monhegan Ferry. Note that dock space is very limited.
www.lindabeansperfectmaine.com/mainekitchen/restaurant/the-dip-net/
Dockside Grill in Falmouth.
A division of Handy Boat Marina in Falmouth Foreside in the heart of Casco Bay.
www.thedocksidegrill.com
Dolphin Marina and Restaurant, Harpswell:
Members of the Saxton family have been running the marina and restaurant since 1966.
www.dolphinmarinaandrestaurant.com
Eastport Chowder House, Eastport.
You can fill up your personal tank at the restaurant and then your yacht's tanks at the Diesel Fuel Depot.
www.eastportchowderhouse.org
Harraseeket Lunch and Lobster, South Freeport.
Tie up at the nearby town dock and eat seafood prepared by the same company that caught it.
www.harraseeketlunchandlobster.com
Islesford Dock Restaurant on Little Cranberry.
Not only can you pull in on your boat, but after sampling the culinary creations, you can visit the art gallery for more lasting cultural creations.
http://islesforddock.info
Kennebec River Tavern, Bath.
The tavern is right downtown so you can walk off some of your meal with an ambulatory tour of Bath.
www.kennebectavern.com
Morse's Cribstone Grill, Bailey Island.
The grill has a brand new dock.
www.morsescribstonegrill.com
Olivers Cozy Harbor Wharf, Southport.
In Cozy Harbor next to the yacht club.
oliversrestaurant.com
The Oyster Bar
at the Pearl just opened in the summer of 2015 in Rockland. It is located at the site of the former Pearl Restaurant and offers New Orleans-inspired cuisine. Open for dinner, but not lunch.
www.oysterbar.me/#about-marquee
Saltwater Grille in South Portland.
Great views of both pleasure and working boats.
www.saltwatergrille.com
Slipway, Thomaston.
Go up the St. George River and the Slipway's great seafood will be your reward.
www.facebook.com/TheSlipway/info
The Waterfront Restaurant in Camden.
A longtime fixture on Camden Harbor, the Waterfront does not own the dock in front, but boaters can come in to the nearby public landing.
www.waterfrontcamden.com
Whale's Tale and Seafarer's Pub in Boothbay Harbor.
This dockside eatery is part of the Carousel Marina in Boothbay Harbor.
www.carouselmarina.com/whalestalerestaurant/