One World: Two Visions
Artists bring new eyes to scientific research
By Carl Little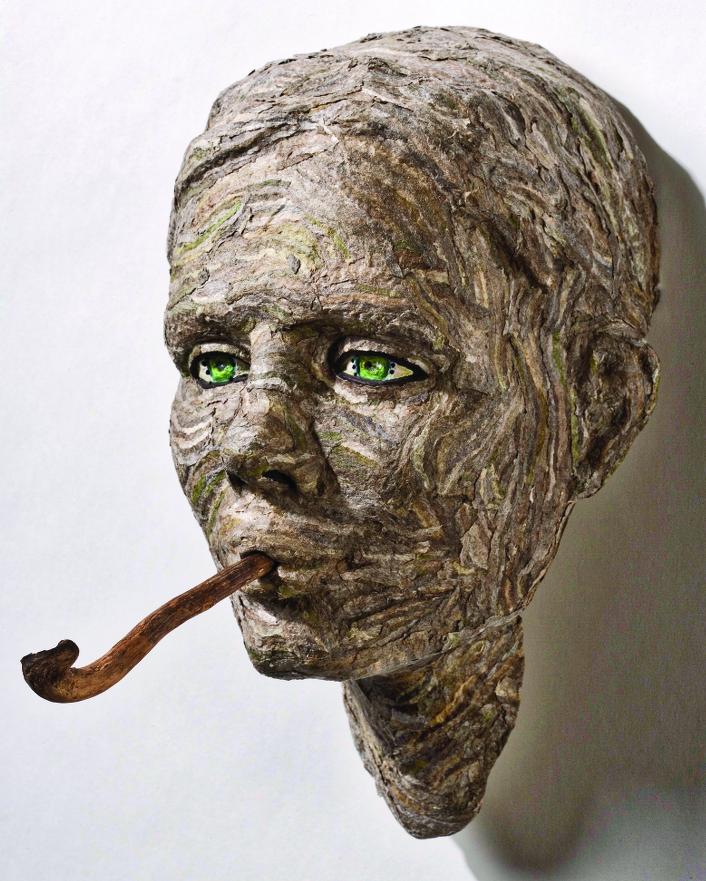 Back in the 1990s when our children were little, we used to go to the Mount Desert Island Biological Laboratory in Salisbury Cove for special family science events. One of our favorite activities was brushing our hands against the rough skins of dog sharks and skates in the touch tanks.
Since its founding in 1898, the lab has focused its research on a variety of such sea creatures, in quest of ways to help improve the lives of humans.
Seeking to think outside the box, the MDI Bio Lab launched a program in 2012 to attract new audiences. Contemplating the bare walls in several newly constructed buildings, the lab's special events coordinator, Bonnie Gilfillan, invited artists to exhibit at the lab as a way to entice the public to visit and to learn about its research. In its first year, Art Meets Science featured 15 local artists who displayed their work alongside scientific images in the research buildings. 
This summer, 40 Maine, national, and international artists will take part in the program, which includes several artist-scientist collaborations. A new lecture series, established in partnership with the Littlefield Gallery in Winter Harbor, will feature informal talks by artists that highlight ways in which their work is influenced by science.
"Both artists and scientists use creativity and the discovery process to create images of the world," said Gilfillan. That shared purpose lies at the heart of a range of cross-disciplinary explorations going on in Maine and beyond. More artists are turning to science as a way to enhance their personal vision, to help explain the mysteries of diverse realms, and to enlighten audiences about the forces that affect their lives. For their part, scientists appreciate the creative approach that artists take in visualizing their often-complex research. 
One of the featured artists at the lab this summer, sculptor Kimberly Callas of Belfast, is collaborating with lab biologist James Coffman, PhD who is using tropical zebra fish to study the connection between stress and inflammatory diseases. As part of her ongoing "Portraits of the Ecological Self" series, Callas made an image that combines a portrait of Coffman with the patterning from a zebra fish tail, a key element of his research. 
During her distinguished tenure as curator of the Atrium Art Gallery at Lewiston-Auburn College, Robyn Holman became an impresario of the art-science connection. She organized a series of outstanding exhibitions that explored how artists draw on natural history, geology, biology, and other sciences in their work. Subjects included invertebrates, pollinators, and vernal pools. Maine Sunday Telegram critic Philip Isaacson turned ecologist when he called the vernal pool exhibition "an advocate for small temporary universes that in time give up their products to benefit larger and more stable ecologic enterprises."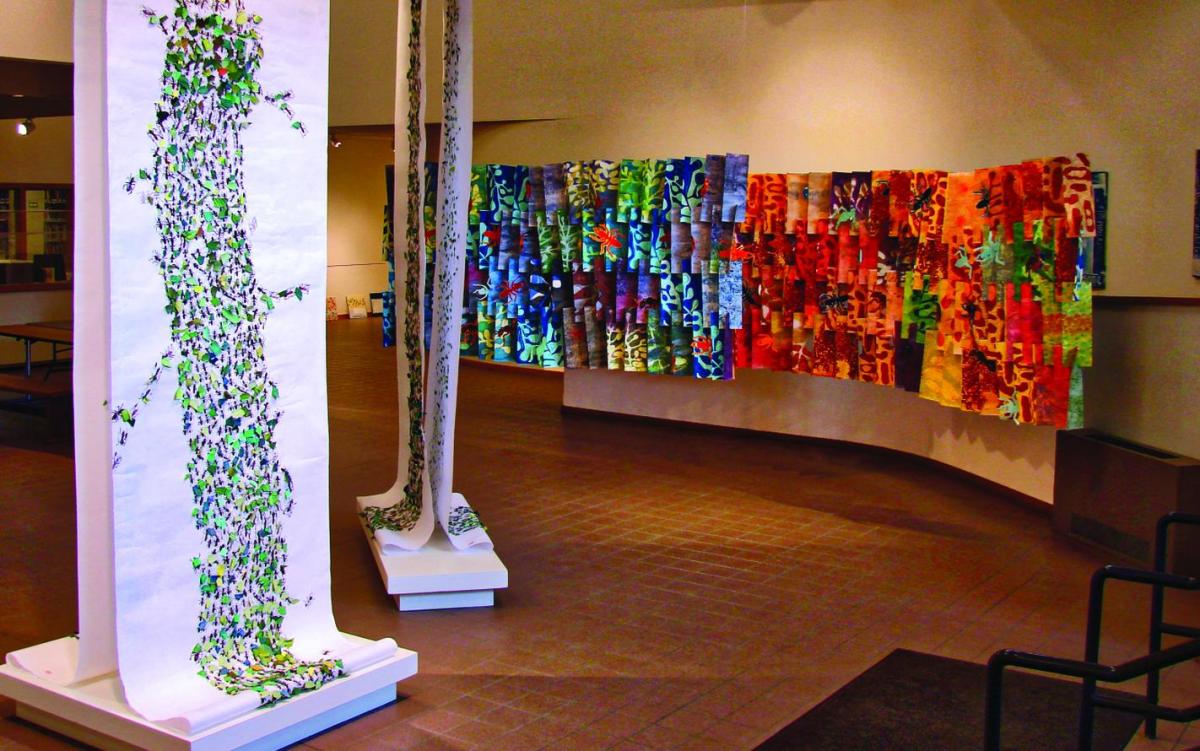 A group of artists calling themselves the Ant Girls have produced works inspired by scientist E.O. Wilson's research on leafcutter ants. Shown here is a view of an installation at the Atrium Gallery on the University of Southern Maine's Lewiston-Auburn campus. Courtesy Atrium Art Gallery
Last year Holman invited the Ant Girls, a Portland-based artists' collaborative consisting of Colleen Kinsella, Rebecca Goodale, Vivien Russe, and Dorothy Schwartz, to occupy the space. Inspired by the research of E. O. Wilson, the foursome put together "Ant Farm: At the Nexus of Art and Science," a tribute in diverse mediums to leafcutter ants. They chose this species because of its cooperative nature as a superorganism. "Working together ant-style," the group explained in a blog post, "our colony of four created works we never could have imagined or achieved on our own." The work has also been shown at the L.C. Bates Museum in Hinckley, Maine.
It is not surprising that today's artists might respond to climate change with their work. Painter Anne Neely, who divides her time between Boston, Massachusetts, and Jonesport, Maine, has explored water issues, using mosaic-like imagery to evoke watersheds and other aquatic sources. The work is not polemic—it is gorgeous—yet it often has an underlying message of the threats posed by global warming. 
For a recent show at the Museum of Science Boston, Neely sought, in her words, "to clarify and illuminate issues around water through visceral connections that paintings often elicit from viewers while raising public awareness." One of her latest works, Squall, evokes climate change, specifically water flooding coastal villages.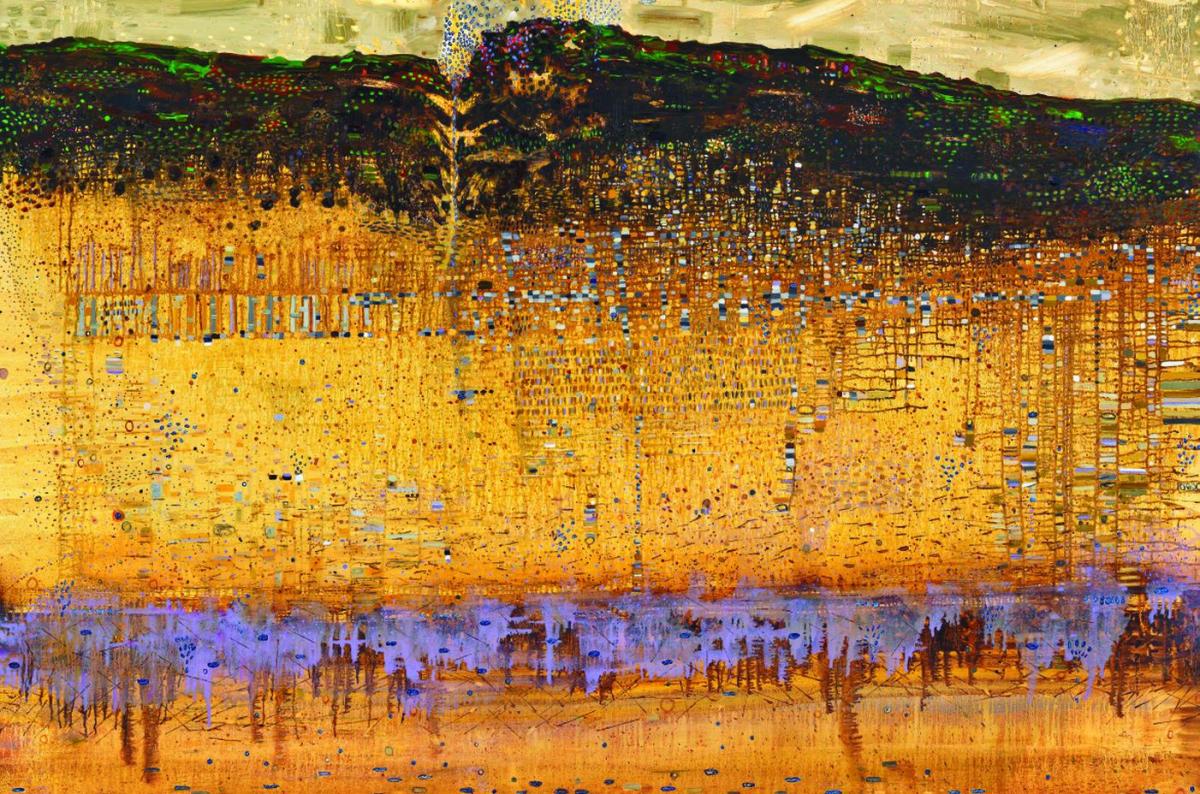 Beneath, oil on linen, 60" x 80" by Anne Neely, is part of a series first exhibited at the Museum of Science in Boston that was inspired by global water issues. Some of the paintings contain cross-sections of aquifers. Courtesy Anne Neely
"For me, art attempts to reveal the wonder of the unknown, and science seeks to answer and solve that very unknown," she noted, adding, "I find it endlessly fascinating, the connection."
Speaking of Maine artists in Boston, Kim Bernard, who is based in Rockland, has served as artist-in-residence in the physics department at Harvard University. A preeminent practitioner of encaustics, Bernard turned to kinetic sculpture to create installations that translate such concepts as the lattice form of the super-material graphene into engaging visual constructs.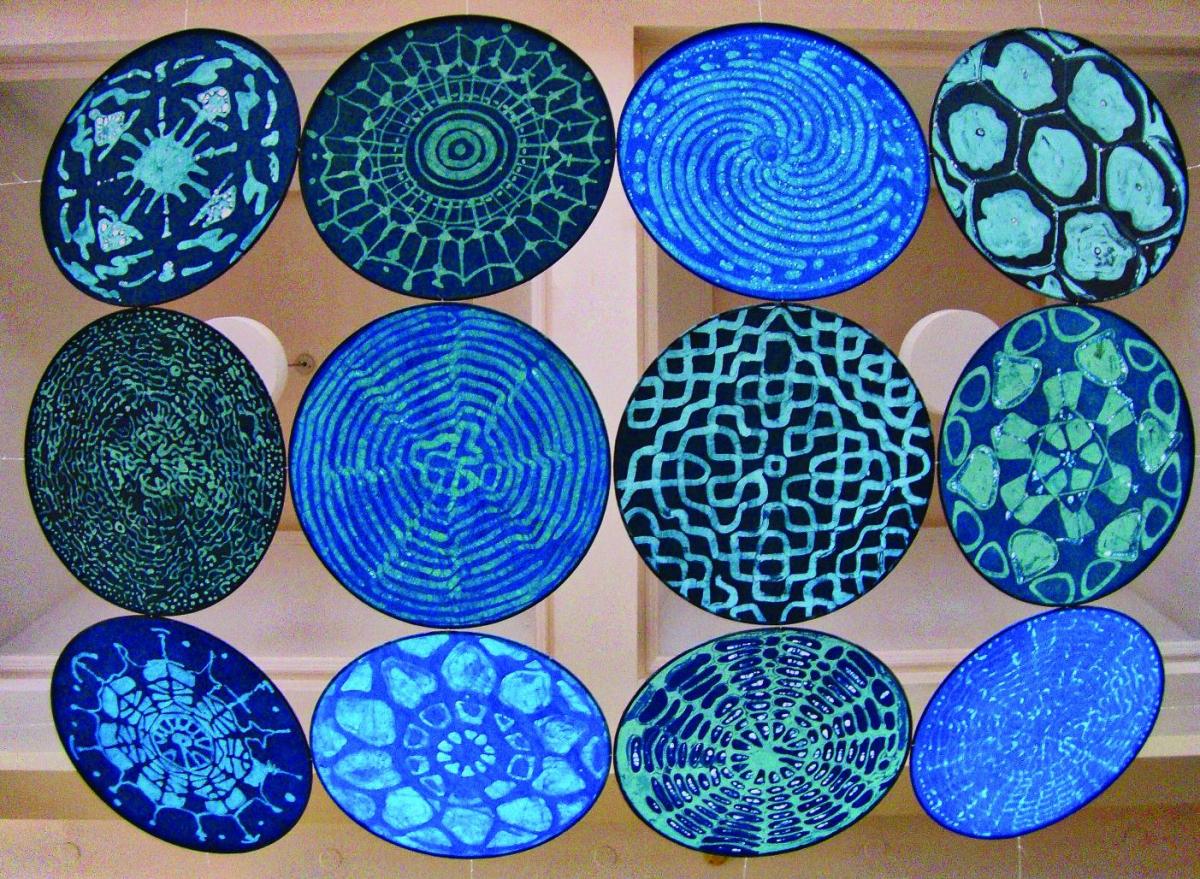 Wave Phenomena II, an installation of 12 24"-diameter discs of fiber, wax, and ink by Kim Bernard, was inspired by scientific images of sound vibrations. Courtesy Kim Bernard
Like Bernard, Grace DeGennaro, a painter based in Yarmouth, wants to convey a sense of the unseen structure of the universe. To that end, she creates stunning patterned paintings that reflect her studies of a wide range of systems, including Sanskrit algorithms that define the Fibonacci sequence, the Golden Mean, and other "philosophical geometries." DeGennaro's work was included in the ground-breaking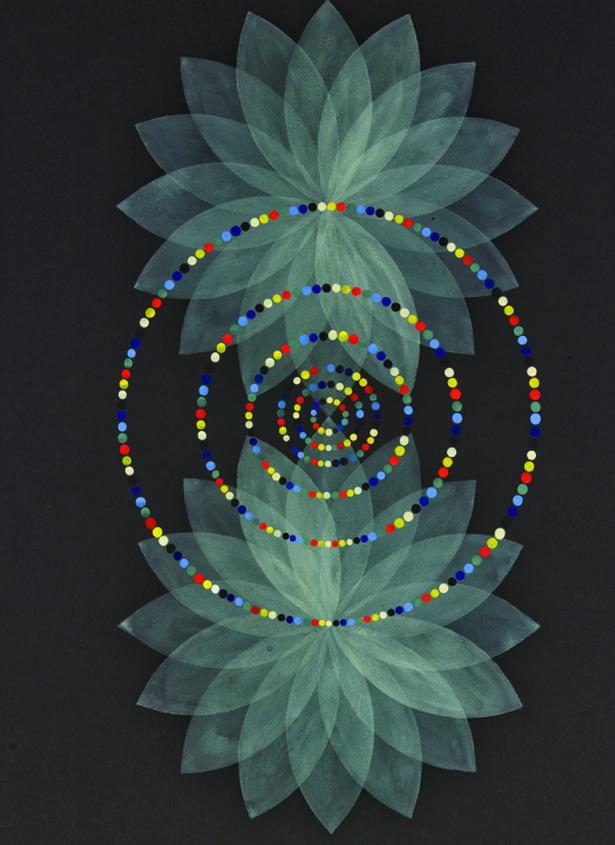 In Geometry 7 by Grace DeGennaro, six circles of colored beads are superimposed on two transparent flower forms. The circles expand using the Fibonacci ratio, which is based on a sequence where each number is the sum of two numbers that precede it. Courtesy Grace DeGennaro 2008 exhibition "Infinity and Beyond: Mathematics in Contemporary Art" at the Heckscher Museum of Art in Huntington, New York.
A short list of other Maine artists engaged in similar work includes Thomas Berger, a sculptor with a background in soil science; Fred Michel, a master gardener who takes remarkable photographs of botanical specimens; Melanie West, whose polymer clay work is inspired by marine invertebrates; Sara Crisp, who embeds organic objects such as starfish, butterfly wings, and fossils into the wax surfaces of her paintings; and the late Maggie Foskett, who, at 94, was documenting through photography the life cycle of a zebra longwing from microscopic egg and ravenous caterpillar to chrysalis.
Maine museums picked up on the correlation between art and science. The Bowdoin College Museum of Art recently highlighted the work of Dorothy Rockburne, which is based on mathematical facts and geometric proportions. The L.C. Bates Museum in Hinckley has consistently showcased artists involved in natural history, including the drawings of renowned biologist Bernd Heinrich and the fantastic marine species paintings of Chris Augusta.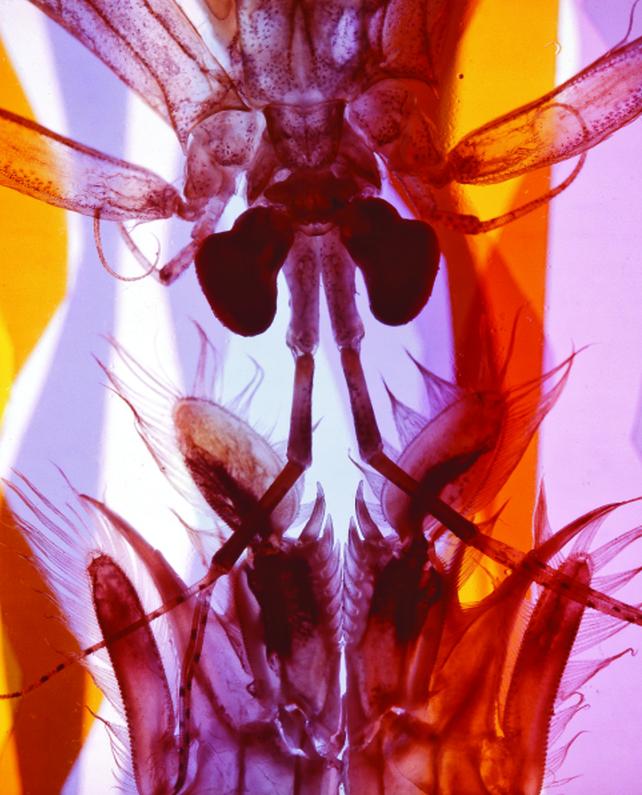 Shrimp, a photo by the late Maggie Foskett, was made by placing shrimp parts between two pieces of glass slides and exposing the slides through an enlarger directly on photographic paper. Courtesy Caldbeck Gallery
Educational institutions also are making the connection. The STEM—Science, Technology, Engineering, and Math—movement, which is aimed at getting more students involved in these disciplines, received something of a makeover when art educators insisted on adding an A to the acronym—now it's full STEAM ahead. The adjustment made total sense: all of these disciplines require an element of creativity. 
Last but not least, the Maine Center for Creativity has encouraged the exploration of links between art and science. Earlier this year they hosted Dr. Edison T. Liu, president and CEO of the Jackson Laboratory and pianist, who showed by way of a lecture and piano recital the impact of creativity and innovation in art and science. 
"It seems as if those worlds [of art and science] have collided and the ARTSCI movement has grown to be internationally recognized as a new field for collaboration and discovery," said Annette Carvajal, an artist and an organizer of the Art Meets Science program at the MDI Bio Lab. Maine artists and institutions are right there, helping to further the connections.   
---
Carl Little's book Jeffery Becton: The Farthest House (Marshall Wilkes) will be available in August 2015.
Share this article:
2023 Maine Boat & Home Show

Join Us for the Maine Boat & Home Show!
Art, Artisans, Food, Fun & Boats, Boats, Boats
August 11 - 13, 2023 | On the waterfront, Rockland, Maine
Click here to pre-order your tickets.
Show is produced by Maine Boats, Homes & Harbors magazine.