Schooner Rebirth
Two windjammers find new life with new owners
By Bill Mayher
Photographs by Benjamin Mendlowitz
When good news is in short supply, the sight of a historic schooner plying my home waters along Eggemoggin Reach and out in Jericho Bay always has the power to raise my spirits. Boats can do this, and schooners are the best of boats. 
The lifeblood of coastal Maine for better than a century, schooners were the 18-wheelers of yesteryear. Handsomer than they needed to be, big-shouldered yet full of grace, they defined the seagoing heritage of our state. As their active commercial era came to a close, it was their very handsomeness—their sheer lovability—that saved a handful of them to live on and earn their keep by carrying passengers on cruises along the Maine coast.
Recently, though, even that trade seemed headed for trouble. The passenger demographic the business had relied on for decades was aging into oblivion. Younger families, who might have filled the gap, take fewer vacation days than did previous generations and have more options about what to do with the ones they have. The resulting squeeze helped push two of Maine's passenger schooners into financial receivership. For coastal doomsayers (a formidable group in these parts under any circumstances) the beginning of the end appeared to be at hand. This despite the fact that the rest of the Maine windjammer fleet, including the eight schooners in the Maine Windjammer Association and Capt. Ray Williamson's three schooners, remained active.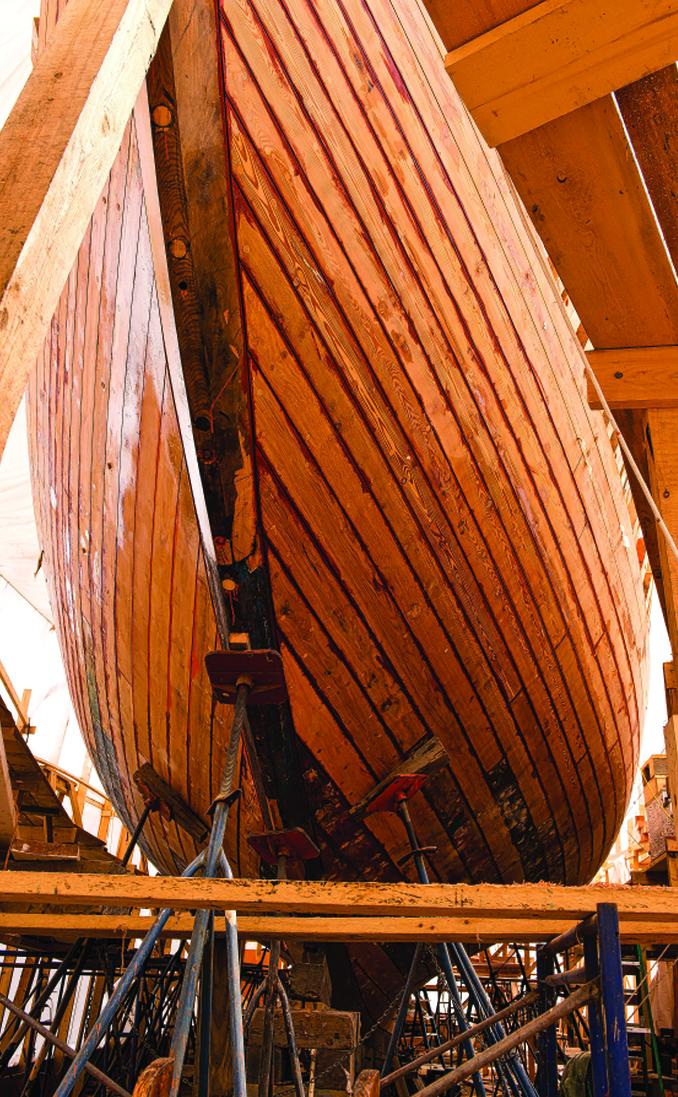 The schooner Nathaniel Bowditch undergoing reconstruction in 2015 on the grounds of Lyman-Morse Boatbuilding in Thomaston, Maine.
Then the two schooners in distress were snatched from the portals of doom by young energetic entrepreneurs whose manic love for historic vessels knows no apparent bounds. One, the Nathaniel Bowditch is being totally rebuilt and the other, the Timberwind, is undergoing a timely refurbishment. As news of these resurrections spread last winter, the feeling of relief along the coast was palpable.
In addition to enhancing the scenery, Maine's passenger windjammers allow people from all over to experience traditional sailing, and the recent rebuild projects have allowed seasoned Maine shipwrights to mentor a new crop of young sailors and woodworkers. Maine is home to such greatly skilled craftsmen that the state of Massachusetts, custodian of the schooner Ernestina-Morrisey, decided to send her to Boothbay Harbor Shipyard for a complete rebuilding rather than having the work done in her home state.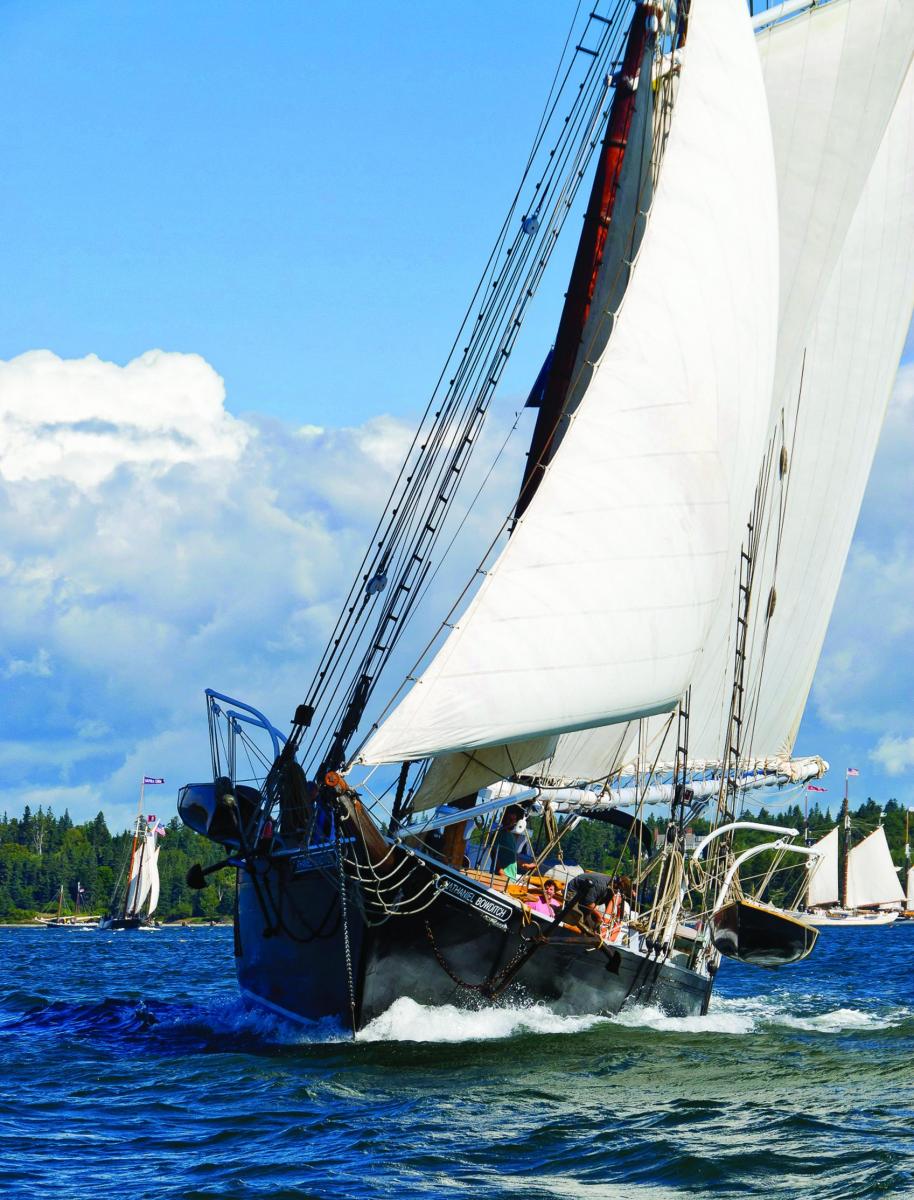 Mike Rogers, who is leading the Bowditch project, is part of this tradition. Twenty years into the trade he is leading a young and energetic crew and the results are remarkable. To replank the topsides, he is using big double-sawn oak frames hoisted into place, and 4x10 heart pine planks that were recycled and resawn from 19th-century factory buildings. Below the waterline, Rogers is using oak planks, steamed and spiked home. Looking over the vast weave of timbers, planks, and deadwood, it is hard to believe that such skill, tenacity, and love for the work itself still exists in this screen-besotted world of ours where most of us push buttons for a living instead of swinging a maul or an adze. The existence of these skills is surely one of the great ancillary effects of the windjammer fleet. 
The Bowditch project has been undertaken by Noah Barnes, a second-generation schoonerman. Although some scratched their heads in wonderment over the economics of his decision to plunge into such a costly undertaking, Barnes is no rookie in the schoonering trade. His parents, Ken and Ellen Barnes, bought the schooner Stephen Taber when Noah was just six years old and he has been aboard in one way or other his entire life. Eleven years ago, he purchased the Taber from his parents and took over as master. In the years since he has earned a reputation as a successful skipper in the windjammer fleet, filling the Taber with paying passengers week in, week out. "I hang my hat on my ability to know what my guests want," he commented.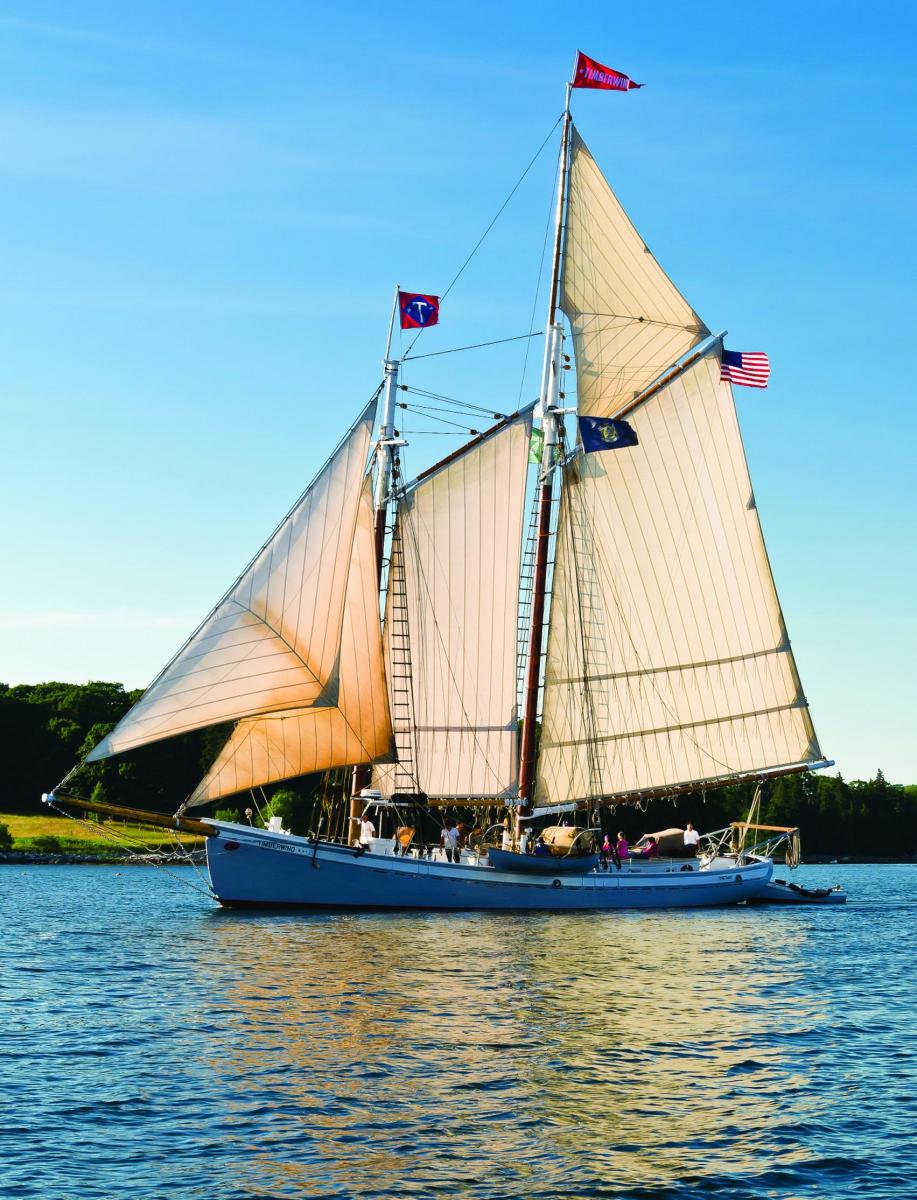 Barnes's plan to make the rebuilding of a nonagenarian schooner pay off rests on several strategies. First, he will pay homage to the vessel's elegant history by giving her back her original name, Ladona, which is what she was called when she slipped down the ways in East Boothbay as a racing yacht in 1922. Next, a totally new interior, made possible by this extensive rebuild, will feature cabins with queen-size berths, semi-en suite bathroom facilities, and accommodations for a mere 16 guests for a more intimate experience than the 24 previously carried on the Bowditch. 
Maine's passenger windjammer business was started in the late 1940s by an enterprising character named Frank Swift who bought up several semi-derelict remnants of the state's once vast commercial schooner fleet and put them under the command of various old salt skippers for one-week cruises around Penobscot Bay. The cuisine was downeast wholesome, accommodations were fashioned out of pine boards nailed up in former cargo holds, and toilet facilities were often little more than outhouses set up on deck. Yet the price for a week aboard was reasonable, the scenery unfailingly beautiful, and the passengers a cheerfully resilient group.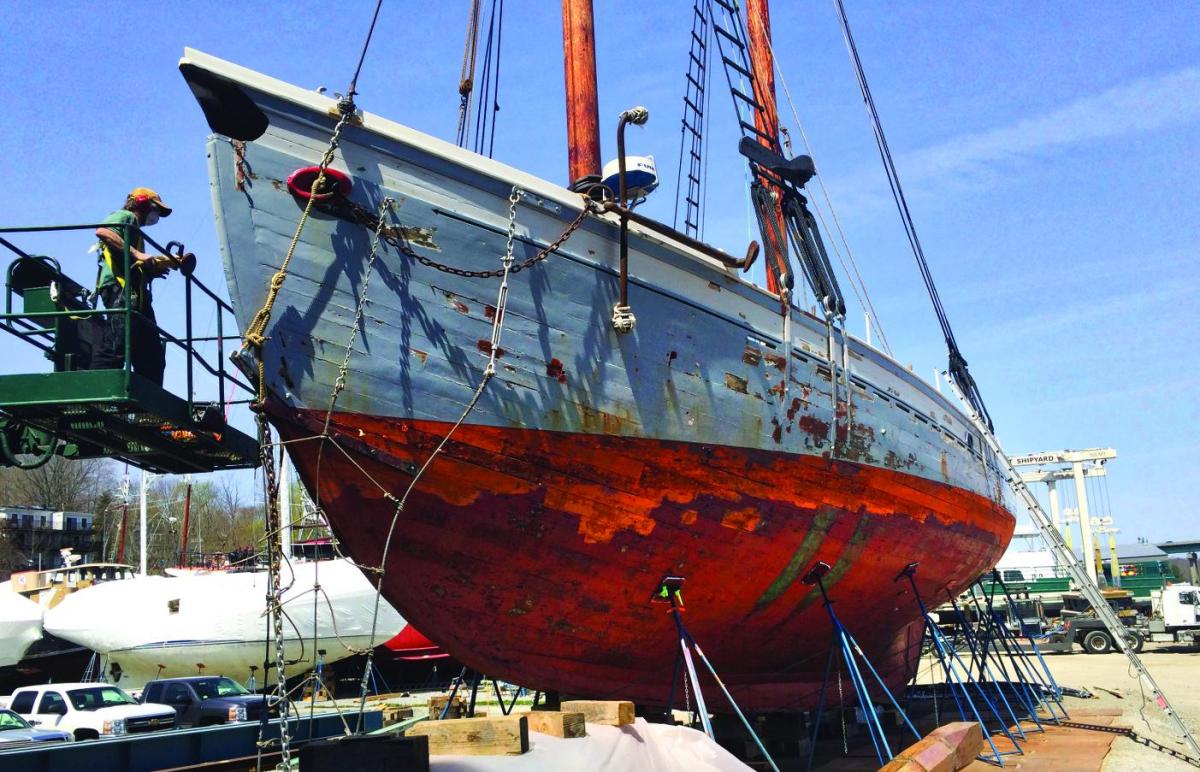 Things have certainly improved since those rough-and-ready beginnings. The food now is way good, the accommodations cozy and comfortable, and the toilets have water in them. Still, sailing on a windjammer remains fairly low-key.
Barnes hopes to move things up-market a couple of notches aboard Ladona without spoiling the tradition of unscripted adventure. Life aboard the rebuilt and re-christened Ladona will be more comfortable, but not, Barnes noted, to the point that you have to take your shoes off to come aboard. And just as with the other vessels in the fleet, when Ladona leaves the dock at the beginning of the week, she will go where the wind takes her, her passengers will eat lobsters on whichever beach comes to hand, and they will sail into whatever in the way of sunsets presents itself. In other words, upscale or not, life aboard Ladona will avoid the canned and industrialized Disneyfication that has become the hallmark of the modern cruise ship industry.
Barnes loves the old vessels. He loves "crashing around the bay" showing people the hidden wonders of the coast and, he admitted wryly, "I'm totally unemployable doing anything else." 
Of course this is utter nonsense. Running a large cruise schooner calls on a wide repertoire of skills such as sailing in a way that keeps passengers totally at ease no matter the conditions, and running a small floating American-plan hotel where the cook helps hoist the mainsail and you can't just go down the street for bananas if you run short. Finally a schooner owner must have the requisite skills to maintain a large, often ancient, wooden vessel to Coast Guard-approved standards.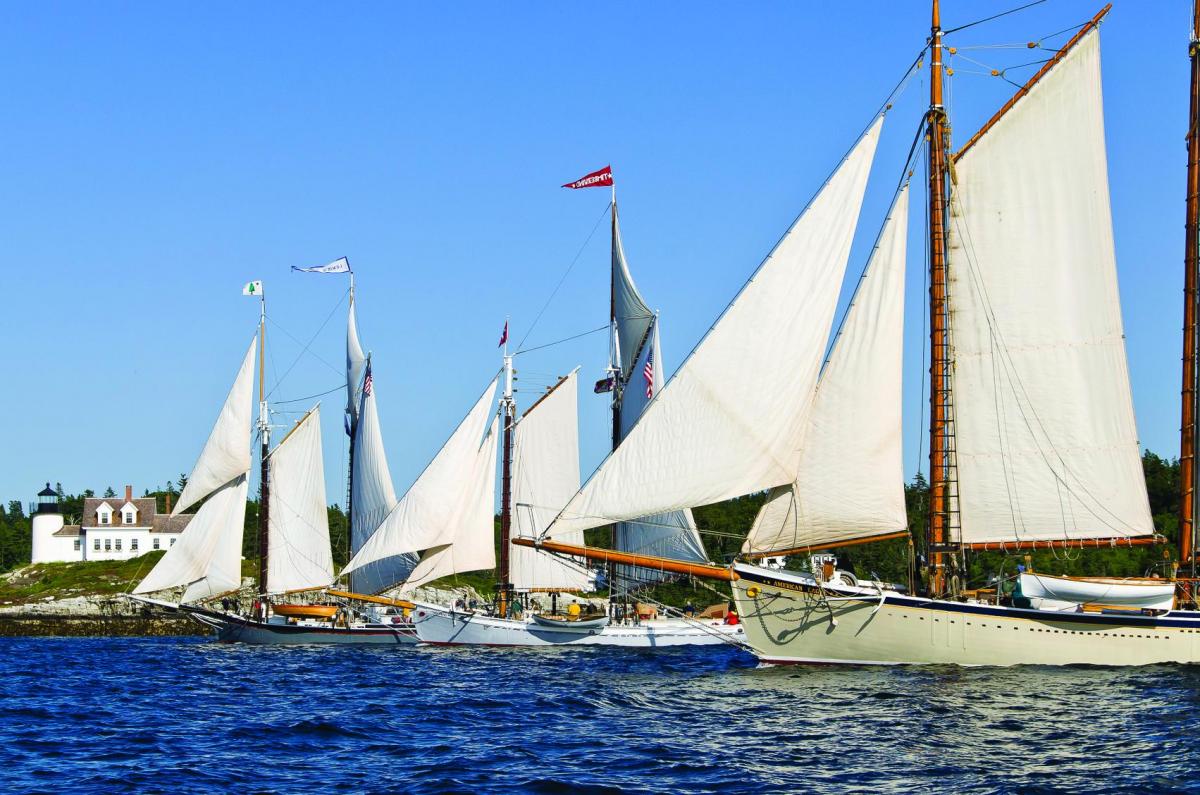 Schooner rendezvous are a summer highlight along the coast. Here the Lewis R. French, Timberwind, and American Eagle pass Pumpkin Island Lighthouse at the entrance of Eggemoggin Reach.
The Timberwind project, although not as dramatic, speaks volumes about what the next generation of schooner sailors is willing to do to keep these vessels sailing. Built in Portland in 1931, the Timberwind served as a pilot boat until she was refurbished as a cruising schooner in 1969. In receivership a year ago, she was bought at auction after Mike Rogers gave an encouraging report on her overall condition to buyers Captains John Finger and Annie Mahle, skippers of the schooner J. & E. Riggin. Instead of operating it themselves, Finger and Mahle have leased the Timberwind to Captain Lance Meadows, a former mate on the Riggin who was doing time running tugboats in Alaska while pining for Maine. 
This summer Meadows has been taking out three two-hour charters per day from Belfast Harbor, recruiting passengers via a skillful use of social media which allows them, among other things, to book passage on their cell phones while still on the road. Once aboard, several cameras placed around the vessel film the trip. Passengers can download the images and forward videos and blogs to their friends via social media.
Belfast has proven to be a wonderful homeport. Plenty of onshore breezes give passengers the feel for what Timberwind is like going to windward as the vessel often did when she put out to sea to meet ships entering Portland Harbor.
Meshing a 19th-century experience with one from the 21st, as the schooner fleet continues to do these days, provides remarkable sailing experiences to Maine visitors of all ages. For those of us who look forward to seeing a schooner or two magically appear across the bay as they have done for so many summers, this is good news indeed.  
---
Bill Mayher lives in Brooklin, Maine, and is one of the founders of the maritime web site offcenterharbor.com.
For more information: Visit www.maineboats.com for more about the windjammer fleet.
Share this article:
2023 Maine Boat & Home Show

Join Us for the Maine Boat & Home Show!
Art, Artisans, Food, Fun & Boats, Boats, Boats
August 11 - 13, 2023 | On the waterfront, Rockland, Maine
Click here to pre-order your tickets.
Show is produced by Maine Boats, Homes & Harbors magazine.