Did you know you can spend the night at a Maine lighthouse?
The First Light of Day: West Quoddy Head
By Mimi Bigelow Steadman | Photos by Rick & Mimi Steadman
The beacon atop West Quoddy Head Light flashed every 15 seconds as we stood quietly in the gloom, our eyes fixed on the eastern horizon. Seals barked in the distance. A loon's cry rippled the air. A lobsterboat steamed out through Quoddy Narrows, its helmsman flaunting his local knowledge as he slipped between treacherous Sail Rock and inshore ledges.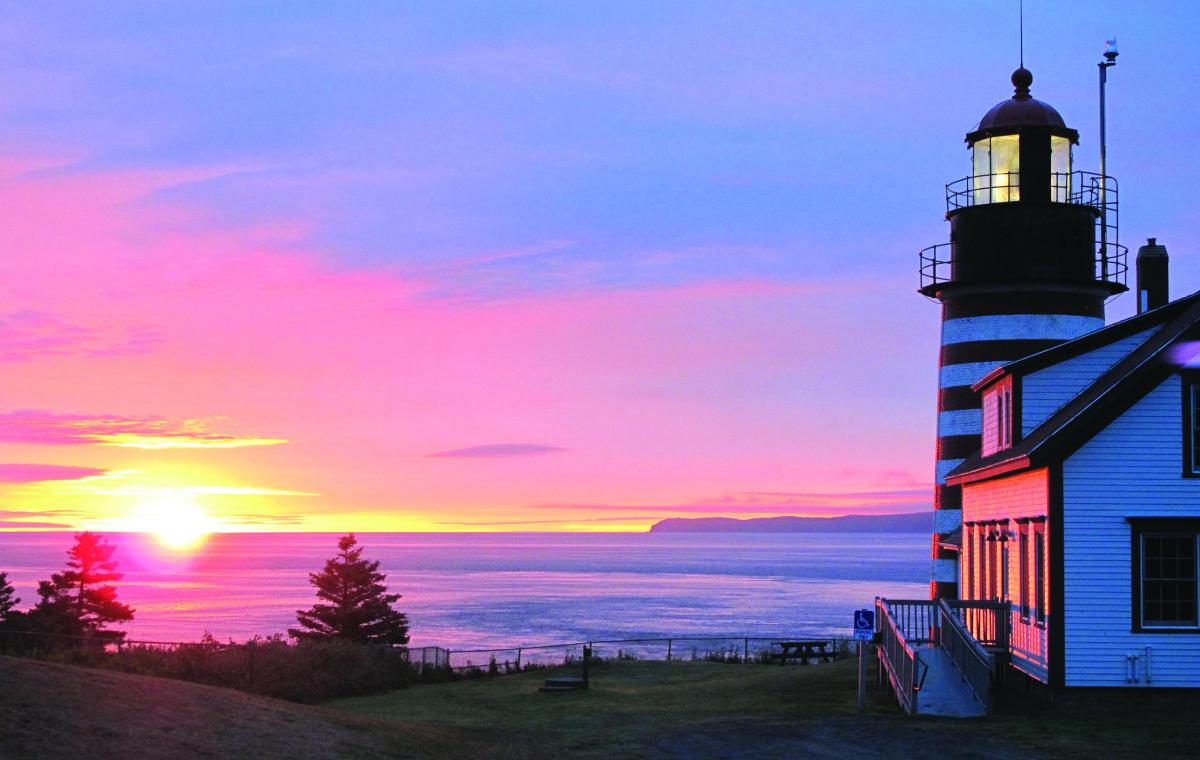 Sunrise at the West Quoddy Head Light.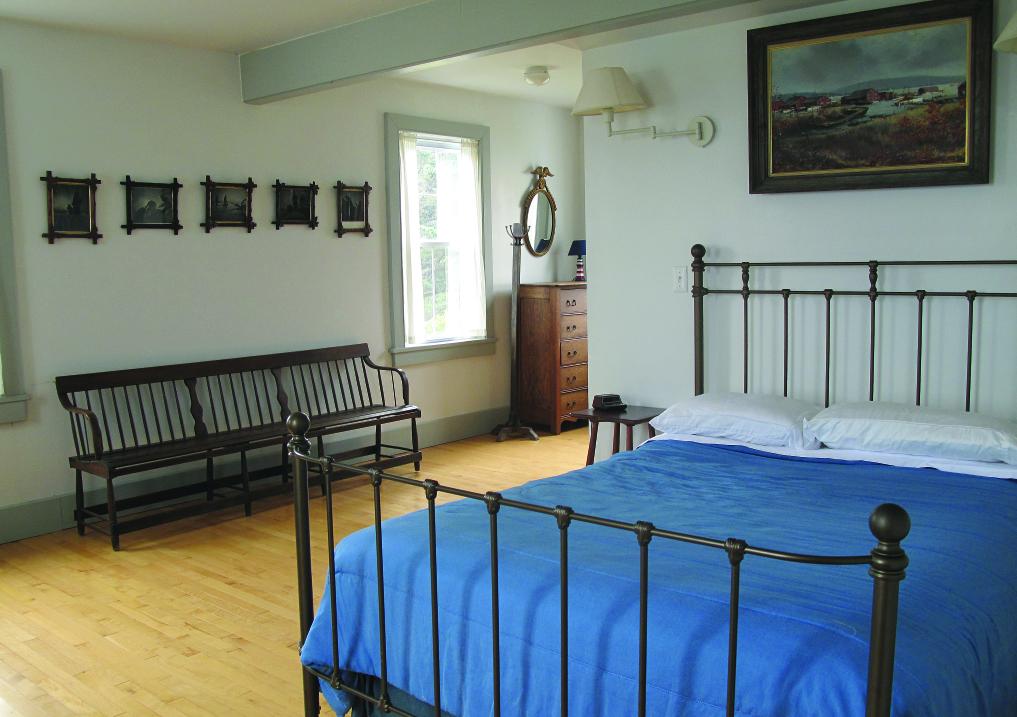 One of the nice rooms at the West Quoddy Coast Guard Station, available for nightly rental.
Increasingly vibrant bands of purple and rose illuminated the clouds overhead. Then, right on schedule, the big yellow sun popped up from the sea, gilding the lighthouse with its rays. It was more than worth getting up before dawn to see the sunrise at the easternmost tip of the continental United States.
The distinctive, red-and-white-striped West Quoddy Head Light was built in 1858, replacing one erected in 1808. Automated in 1988—but retaining its original Fresnel lens—its 30-foot-tall tower stands 83 feet above sea level on a promontory just outside Lubec, an old sardine-packing town that now boasts good restaurants, small galleries, two chocolate shops, and a craft brewery.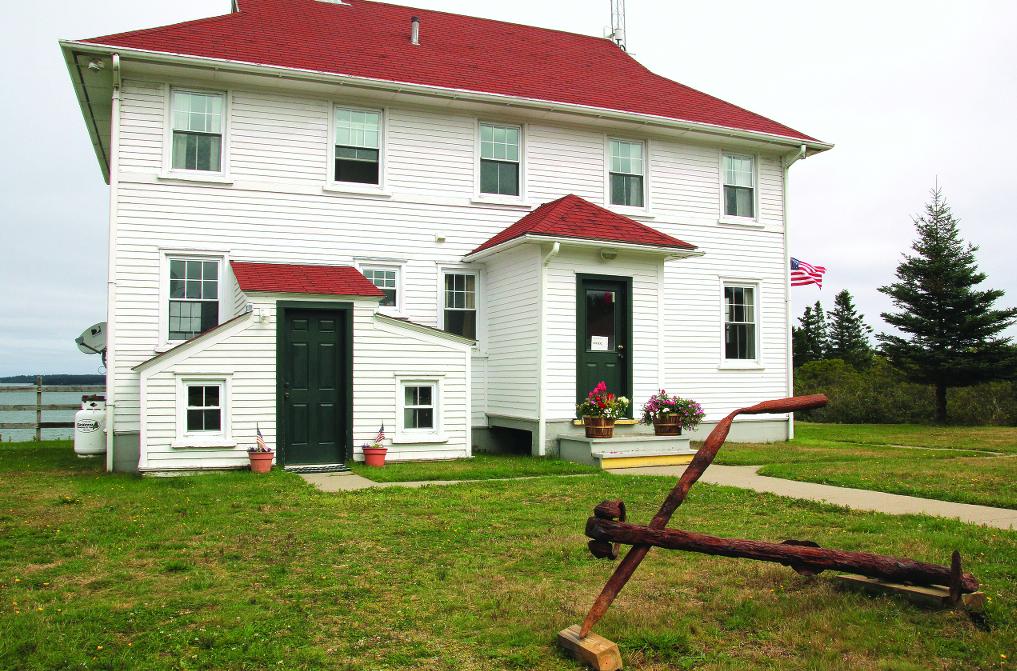 Guests now stay in this building that once served as headquarters and lodging for Coast Guard officers and enlisted men. A short walk from the lighthouse, the historic, decommissioned West Quoddy Coast Guard Station provided ideal lodging for our group of six. Established soon after the Coast Guard was formed in 1915, and designated Station 1 in District 1, its main building has been beautifully restored by owner Bill Clark. Where Coast Guard officers and enlisted men once lived and conducted lifesaving and other maritime operations, guests now settle in amid U.S.C.G. memorabilia and period antiques. Clark has also converted a storage shed and a maintenance building to comfortable accommodations, and added two small structures, one a replica of the 1808 light keeper's house (the current keeper's house, now a gallery and museum, is the third built at the light). The compound overlooks broad expanses of water that turn to acres of mudflats when the 18-foot tide recedes.
Various members of our group hiked in Quoddy Head State Park; kayaked to Treat Island, owned by the Maine Coast Heritage Trust; and crossed the Roosevelt International Bridge to tour the former President's summer cottage on Campobello Island. We're all looking forward to a return visit—and another spectacular sunrise way downeast at West Quoddy Head Light.     
---
Contributing Editor Mimi Bigelow Steadman lives on the Damariscotta River in Edgecomb.
---
---
A Night in the Sparkplug: Goose Rocks Light
By Polly Saltonstall
After eating a wonderful meal cooked on the big outdoor grill, we sat on the covered porch listening to the gentle sounds of the high tide's lapping waves below. To the west, the setting sun sank behind North Haven Island sending bright waves of color across the still ocean surface. To the east, tendrils of fog crept in with the night, chilling the air and swallowing up the fading light.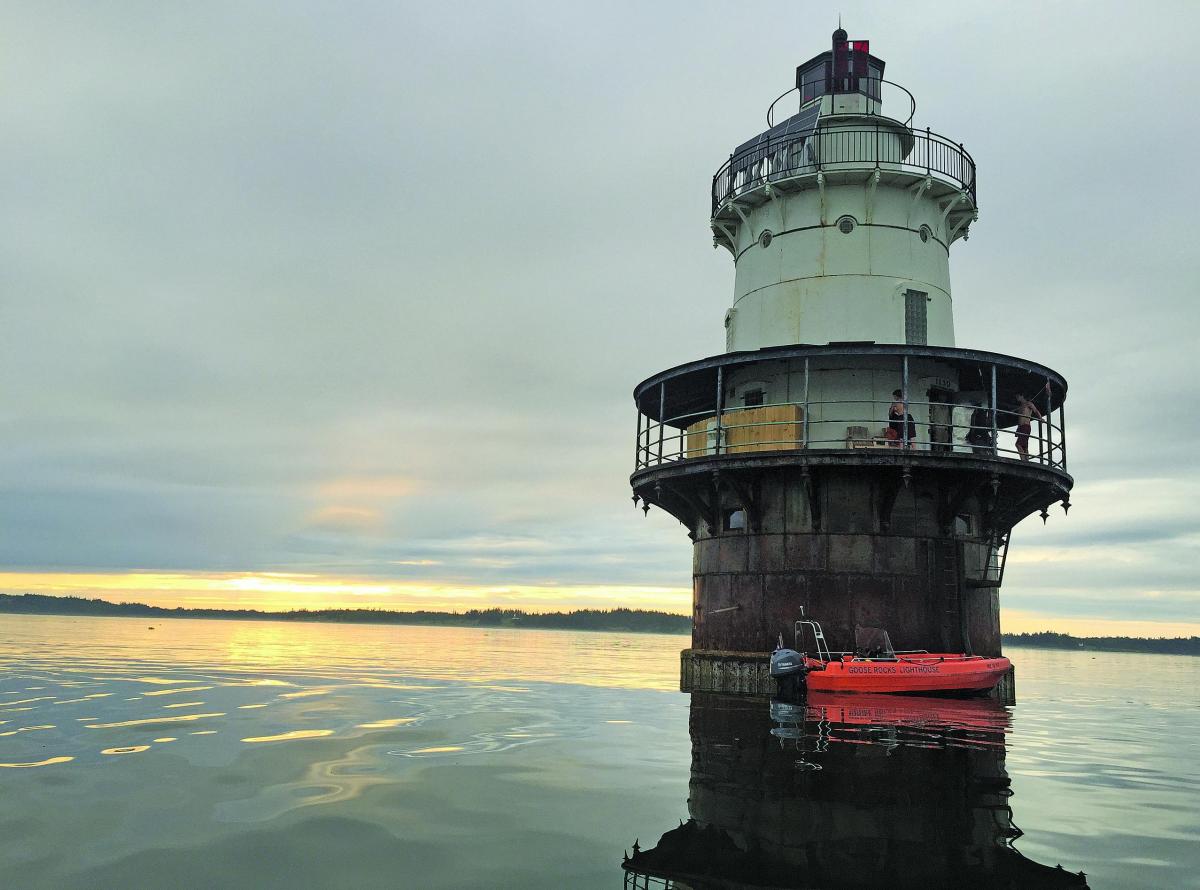 Goose Rocks is surrounded by water at low and high tide. Guests are ferried to and from the light on this orange tender. Photo by George Lewis IV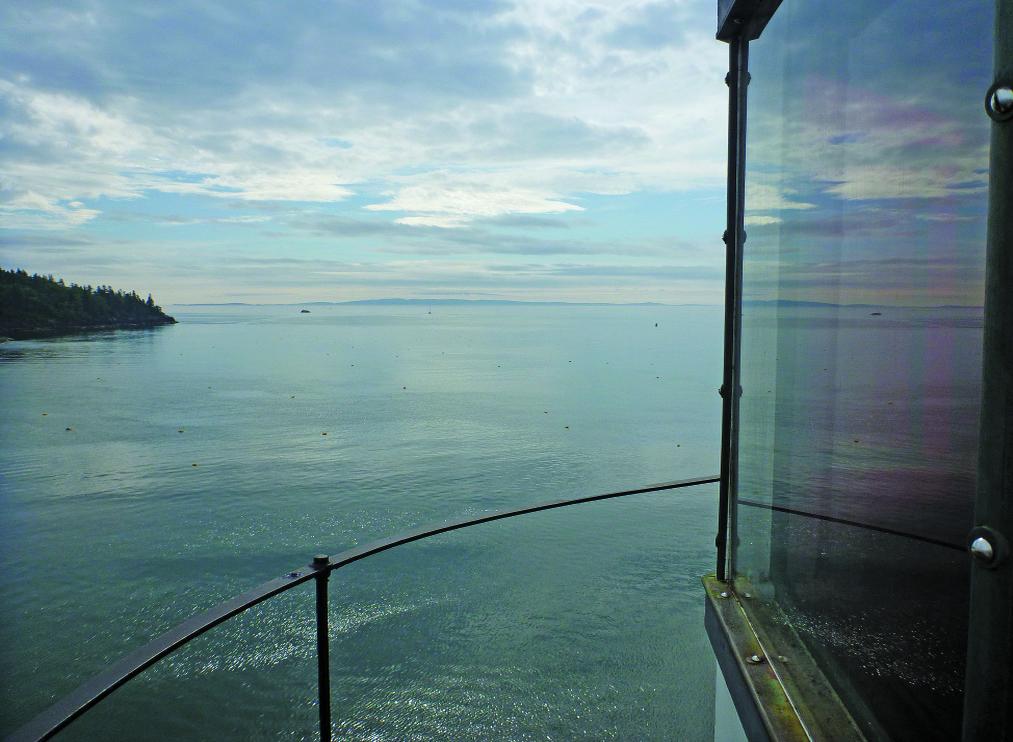 The views from the top deck of the light are spectacular on all sides. Photo by Polly Saltonstall
Simply put, the setting was spectacular.
Then just as we were preparing to wash our dishes, we heard a strangled honking sound. Ten seconds later, the sound came again, only a little louder and a little longer. It was the foghorn.
When we first decided to spend the night at the Goose Rocks Light in the Fox Islands Thorofare, we wondered whether we'd hear the horn, and whether it would keep us awake. Here's the good news: It didn't.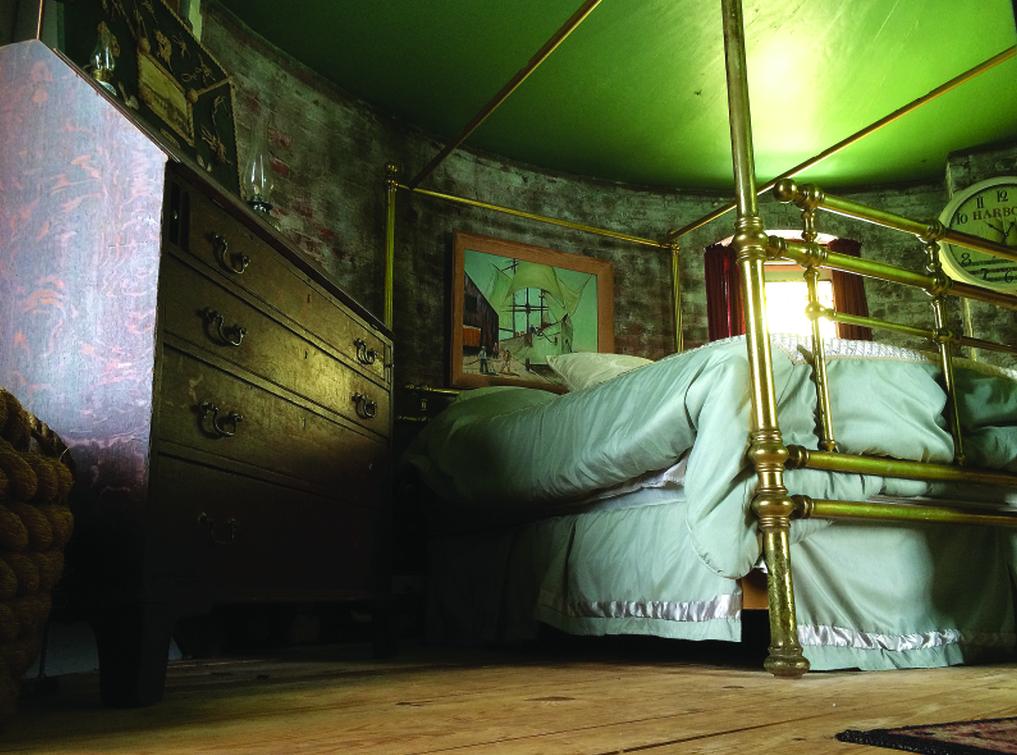 One of three antique-filled bedrooms. All the furniture was brought out by boat and hauled up and inside. Photo by Polly Saltonstall We slept well—some of us did not even use the earplugs we'd brought along just in case—and thoroughly enjoyed our overnight in one of Maine's iconic working lighthouses. The tradeoff of a little noise was well worth the amazing 360-degree water views. Plus we came away with a greater understanding of what it might have been like for the two keepers who lived there year-round until the light was automated in 1963.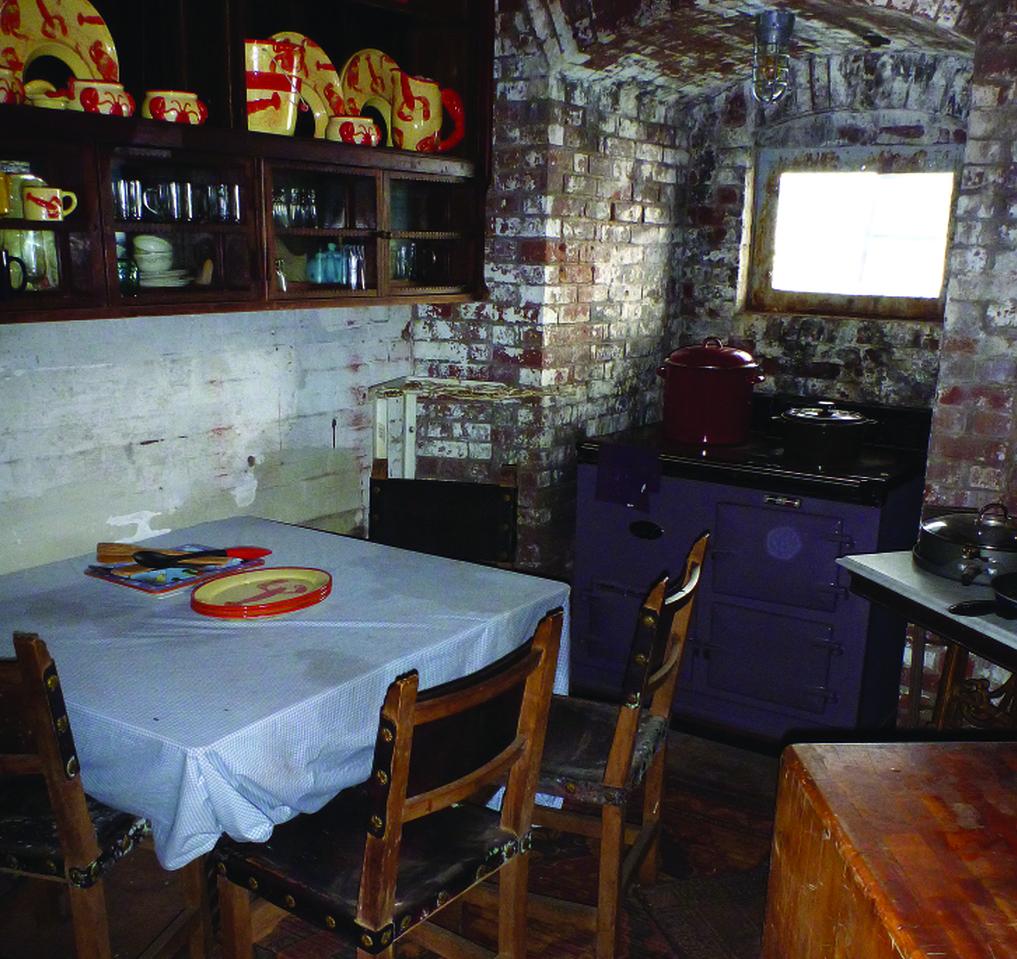 The kitchen has an AGA stove, but it doesn't work. Guests cook on the grill outside. Photo by Polly Saltonstall Affectionately called the Sparkplug because of its circular shape, Goose Rocks Light was built in 1890 out of cast iron with a concrete and brick base. Added to the National Register of Historic Places in 1988, it rises about 60 feet up from ledges between North Haven and Vinalhaven. The nonprofit Beacon Preservation Inc. bought the light in 2006 (the Coast Guard still maintains the light and horn) and has restored the once-empty shell into a sumptuously furnished living space available for overnight stays. The ground floor contains a bathroom with a composting toilet and a kitchen—the latter is mostly for show since you do your actual cooking on the gas grill. One level up is a living room and a big circular covered porch. The next two levels each have a room with a queen-sized bed. Then up a ladder comes a room with a bunk bed and a small outside catwalk. One more ladder gets you to the actual light at the top, which is now run off solar power, as are the living quarters.
Guests, who are met at the North Haven ferry landing and taken out to the light on a big workboat, must scramble up two metal ladders, a climb of 10 to 20 feet depending on the tide, to access the living areas. I recommend timing your arrival with high tide—makes the climb much less scary. Guests must bring their own food and towels. Bed linens and water are provided, as are kayaks should you choose to climb down the ladders and explore the surrounding waters.
When I was a child my grandfather used to tell me the keepers at Goose Rocks "raised their own vegetables." Guests still do the same today. Bags and food are "raised" up by rope and pulley, the same system once used by the keepers.     
---
Polly Saltonstall is editor of this magazine.
---
---
The Light Brigade
Of Maine's 62 lighthouses, eight currently offer lodging opportunities. Amenities run the gamut 
from Spartan to five-star. Nightly rates range from around $150 to more than $500.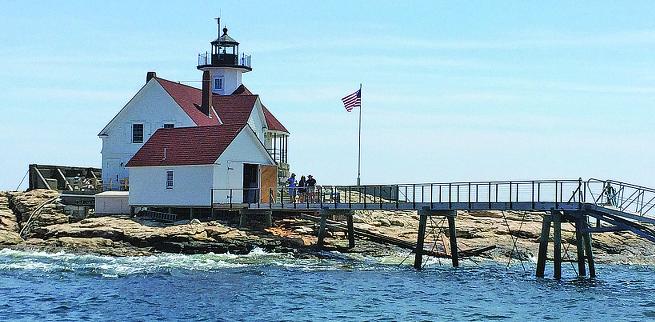 The Inn at Cuckolds Light, Southport
855-212-5252
Built 1892; automated 1970s
Crowning a rocky outcropping off Southport Island, near Boothbay Harbor, Cuckolds comprises two elegant, cottage-style suites with high-end bedding, cashmere throws, marble bathrooms, and mini fridges stocked with gourmet snacks. Breakfast and teatime treats are included. On request, the innkeepers also serve dinner or a lobsterbake, and take guests ashore in a restored Navy whaleboat for dining and sightseeing. Spring–fall. 
Goose Rocks Light, North Haven
beaconpreservation.org; 203-400-9565
Built 1890; automated 1963
Available by the night or by the week in return for a donation to the ongoing preservation efforts. June-fall. (See story.)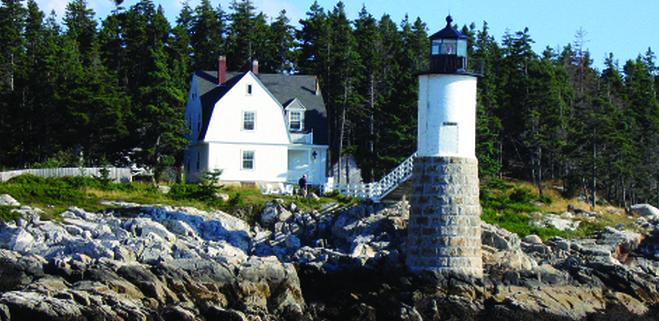 Photo by Bob Trapani Keeper's House Inn/Robinson Point Light, Isle au Haut 
keepershouse.com; 207-335-2990
Built 1907; automated 1933
This rustic inn offers four guest rooms with two shared baths in the keeper's house plus a handful of rooms in simple outbuildings. Candles plus gas and kerosene lamps provide evening lighting. Guests arrive at the inn's dock aboard the Stonington mailboat. All meals, with local ingredients and fresh-baked breads, are included. Late May–mid October.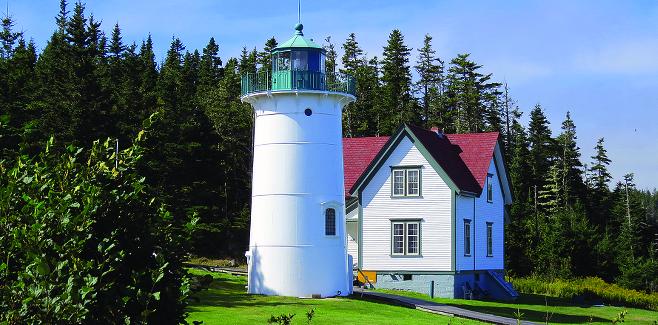 Photo by Bob Trapani Little River Light Station, Cutler
littleriverlight.org/overnight-stays 877-276-4682
Built 1876; automated 1974; deactivated 1975; relit 2001
This downeast lighthouse stands on a 15-acre island at the mouth of the Little River, a 12-minute boat ride from the Cutler town landing. Three sparsely furnished bedrooms in the 1888 keeper's house are rented separately. Guests bring food, drinking water, and linens, and share the kitchen and two bathrooms. Mid June–end of August.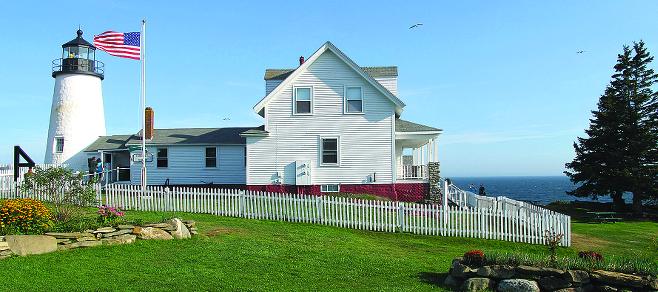 Pemaquid Point Light, Bristol
mainecoastcottages.com/cottage/105
207-563-6500
Tower built 1835; automated 1934; keeper's house built 1857
Guests have this popular lighthouse to themselves before and after the 9-to-5 tourist hours. The Fisherman's Museum, on the ground floor of the keeper's house, displays lighthouse and maritime artifacts. Upstairs, a small apartment, available for weekly rental only, accommodates up to four. April–Thanksgiving.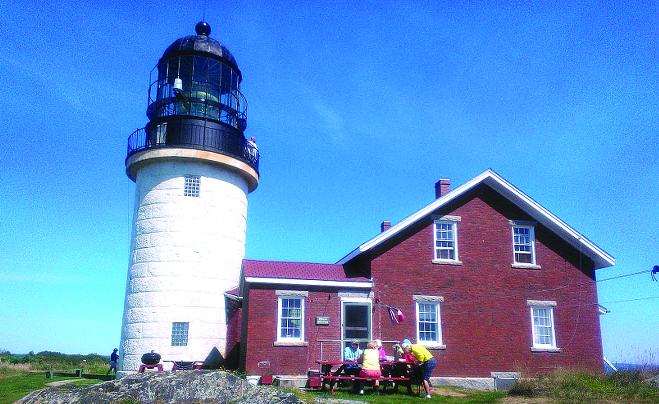 Photo by Marnee Small Seguin Island Light, Georgetown
seguinisland.org; 207-443-4808
Commissioned 1795; current structure built 1857; automated 1985
Maine's tallest lighthouse tops imposing Seguin Island, 2.5 miles off the mouth of the Kennebec River. Two upstairs bedrooms in the keeper's house have three twin beds and one double bed; additional guests may bring sleeping bags. Cooking facilities are limited to a microwave and grill. Lodgers must arrange transport (private vessel; ferry from Popham; charter boat from Freeport, Bath, Boothbay Harbor, or Portland). They must also bring food and lug bags up a steep path. With no dock, disembarking involves scrambling over rocks. June 15–Columbus Day. Group must include a member of Friends of Seguin Island Light.
West Quoddy Head Light
Quoddy Station House, Lubec
quoddyvacation.com; 877-535-4714
Original lighthouse built 1808; current tower built 1857; automated 1988
Available for nightly and weekly rental year round. (See story.)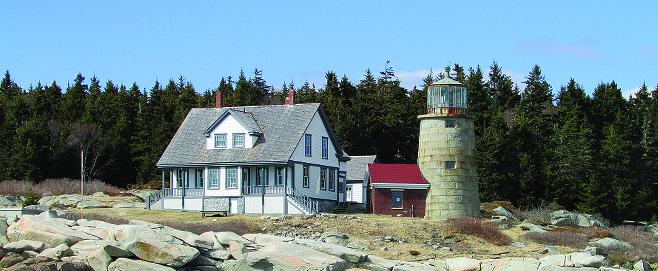 Photo by Bob Trapani Whitehead Light Station, St. George
207-200-7957
Original lighthouse built 1803; automated 1982; keeper's house built 1891
Ninety-acre Whitehead Island lies at the southern entrance to Penobscot Bay, about eight miles southwest of Rockland. The large keeper's house sleeps up to 14 in seven bedrooms, all with private baths. Lodging possibilities include unstructured R&R weekends and multi-day sessions focused on cooking, wine and craft beer, knitting, and self-awareness. All guests may explore the 11 acres owned by Pine Island Camp. Guests travel from Spruce Head aboard the Whitehead Light Station Boat. June–September. Choose by-the-room rental (available two weekends per season) or whole-building rental (not available in July).